Interior Design
15-render-FG.jpg (JPEG Image, 1000x750 pixels) - Scaled (87. 20 Insanely Creative Bookshelves: Pics, Videos, Links, News. Contemporary Bathroom Inspiration from Laufen. Pour a Glass of Wine and Sink Into One of These Unusual, Luxurious Bathtubs. This is the photo that got me busy writing this ideabook.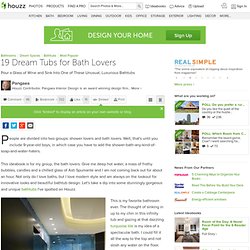 I had never before seen a glass-sided bathtub, and this one completely appeals to my minimalist tendencies. The architect, David Stern, says the client wanted this custom made tub for the kids bathroom and wanted it to feel fresh and fun. Well, he succeeded. But here is what I want to know: Why should the kids have all the fun? Make a Big Splash: Clear Glass Tub Boston Home Magazine | Apartment Therapy Boston. Perfect Office #24. We've seen some great gadgets and equipment for designers.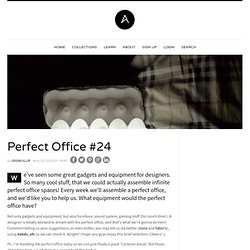 So many cool stuff, that we could actually assemble infinite perfect office spaces! Every week we'll assemble a perfect office, and we'd like you to help us. What equipment would the perfect office have? Not only gadgets and equipment, but also furniture, sound system, gaming stuff (for lunch time!). Love Mattress: Modern Sleeping Bed for Couples. Sleeping entwined with another is a novel concept, but there's always the problem of that extra arm.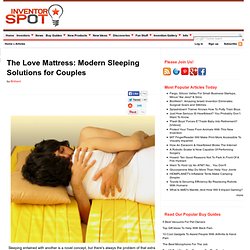 Where does one put it? Mehdi Mojtabvi's Love Mattress offers a simple solution for the chronic limp arm that often results from sleeping while wrapped in a prolonged embrace. Cool "Lost in Sofa", the Black Hole of Small Objects. This comfy armchair design comes from Japanese architect Daisuke Motogi and is called "Lost in Sofa".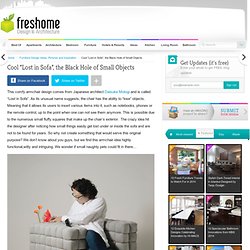 As its unusual name suggests, the chair has the ability to "lose" objects. Meaning that it allows its users to insert various items into it, such as notebooks, phones or the remote control, up to the point when one can not see them anymore. This is possible due to the numerous small fluffy squares that make up the chair's exterior. 15 Creative and Unusual Chairs. Collection of the most creative modern chairs and unusual chair designs that will look great in any living room or office.
Pata Chair Innovative chair by Japanese designer Hiroyuki Morita transforms into a floor mat when not in use. [link] Conrad Maldives Rangali Island's unique underwater suite (NOT photoshop) Another Way To Hide The Bed: Put It In A Box. We often show ingenious ways of hiding the bed .
French architects Emmanuel Combarel Dominique Marrec offer a new one: turn it into a sculptural element, in this case a box hanging from the ceiling. Watch Video: World's Greenest Homes From the other side, it is a short step up from the existing mezzanine. Mobile Living: The Unicat. When designing a LifeEdited, there is a lot to learn from boats, trailers and RV about how to live in small spaces.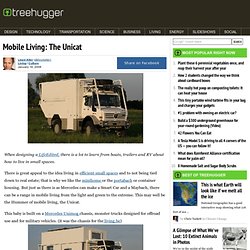 There is great appeal to the idea living in efficient small spaces and to not being tied down to real estate; that is why we like the minihome or the portabach or container housing. But just as there is as Mercedes can make a Smart Car and a Maybach, there can be a range in mobile living from the light and green to the extreme. This may well be the Hummer of mobile living, the Unicat. This baby is built on a Mercedes Unimog chassis, monster trucks designed for offroad use and for military vehicles. (it was the chassis for the living.be) Redneck Home Remodels. Everyone has their dream home but because the expense often outweighs the reality, we work with what we have and remodel piece by piece.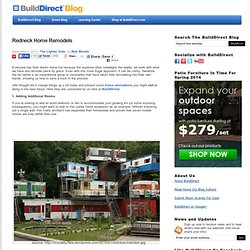 Even with this more frugal approach, it can be costly; therefore, the list below is an inspirational group of visionaries that have taken their remodeling into their own hands, showing us how to save a buck in the process. (We thought we'd change things up a bit today and present some home renovations you might not be doing in the near future. Green Style: Chalkboard Kitchen Cupboards | Apartment Therapy Re-Nest.
Amazing Water Taps. Old Garage turned Mini Dream Home! | Hello there!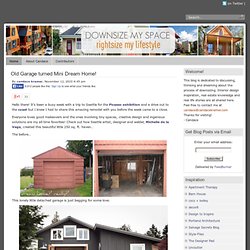 It's been a busy week with a trip to Seattle for the Picasso exhibition and a drive out to the coast but I knew I had to share this amazing remodel with you before the week came to a close. Everyone loves good makeovers and the ones involving tiny spaces, creative design and ingenious solutions are my all time favorites! Check out how Seattle artist, designer and welder, Michelle de la Vega, created this beautiful little 250 sq. ft. haven… The before… This lonely little detached garage is just begging for some love. My Life in 80m² by Poliform. 10 Most Awesome Floors Ever Created | Floorstoyourhome. Posted on January 8, 2010 by Frank A new part 2 of this article is now posted here!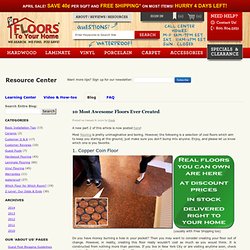 Most flooring is pretty unimaginative and boring. However, the following is a selection of cool floors which aim to keep you staring at the ground; just make sure you don't bump into anyone. Enjoy, and please let us know which one is you favorite. Heike Weber Installations. Wall Decals inspired by Mother Nature - WALLTAT.com. Wall Decals have been creating quite the buzz lately and more and more people are using them to decorate and transform everything from living rooms, kids rooms and nurseries, even bathrooms and glass. The designs are fun and installation is a breeze. However, as you are searching for your perfect design it is important to note that not all wall decals are created equal. Here are a few things to consider when purchasing wall decals online Size of Wall Decal: this seems like an obvious one but be sure to review the dimensions of your product with the picture shown. Raewyn_haughton_big.jpg (JPEG Image, 1049x786 pixels) - Scaled (83%)
Make Room! Cool Color-Changing Walls for Your Home. This may be the best room-changing design idea since interior house paint: forget your white living room walls, green bedroom or brown kitchen and bring your favorite rooms to life with these incredible, changeable and colorful do-it-yourself pixelated wall displays. Feeling dark? Switch from colorful rainbow patterns to a pitch black surface in seconds. Want a bit of a flavorful accent? Saucydwellings: String tree how-to. Ong and Ong Design. 3D Painted Rooms - 2Loop.com. THOUGHT PATTERNS: Kaleidoscope of Colors. Singita, Luxury African Game Reserve | Luxury Furniture, Property, Travel & Interior Design. Dark and moody apartment « Sharona Design. My ideal home. Tiny Victorian Cottage. The Contemporary Hillside House by SB Architects | Luxury Furniture, Property, Travel & Interior Design.
Less is the New More: Making the Most of Small Spaces. Minimalist House Located at 2990 Meters Above Sea Level and Facing a Lake. Innovative Apartment in Hong Kong. Gorgeous Inward Facing Home in Mexico City [30 pics] Apartment Interior Design That Gives Feeling of Living on the Coast. Paris interiors. Rått og industrielt. Stairway to heaven. | sfgirlbybay. Catskill Modern Mountain House. Behind the blue door. Stalking on the roof top. Aspiral Clocks. The 25 most awesome mugs ever created « Blog of Francesco Mugnai. Unusual and Creative Staircase Designs.
---