Books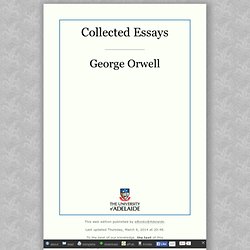 This web edition published by eBooks@Adelaide . Rendered into HTML by Steve Thomas . Last updated Tuesday, November 27, 2012 at 22:11. This edition is licensed under a Creative Commons Licence (available at http://creativecommons.org/licenses/by-nc-sa/3.0/au/ ). You are free: to copy, distribute, display, and perform the work, and to make derivative works under the following conditions: you must attribute the work in the manner specified by the licensor; you may not use this work for commercial purposes; if you alter, transform, or build upon this work, you may distribute the resulting work only under a license identical to this one.
Collected Essays, by George Orwell
Fairy Story
Video
The World Library is a list of the 100 best books, as proposed by one hundred writers from fifty-four different countries, compiled and organized in 2002 by the Norwegian Book Club . This list endeavours to reflect world literature, with books from all countries, cultures, and time periods. Eleven of the books included on the list are written by women, eighty-five are written by men and four have an unknown author. Each writer had to select his or her own list of ten books. The books selected by this process and listed here are not ranked or categorized in any way; the organizers have stated that "they are all on an equal footing," with the exception of Don Quixote which was given the distinction "best literary work ever written."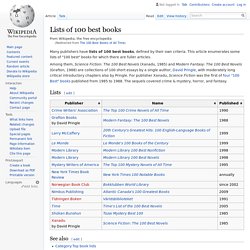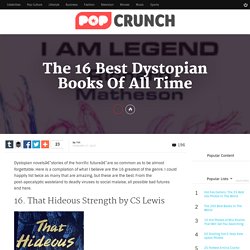 Dystopian novels—stories of the horrific future—are so common as to be almost forgettable. Here is a compilation of what I believe are the 16 greatest of the genre. I could happily list twice as many that are amazing, but these are the best. From the post-apocalyptic wasteland to deadly viruses to social malaise, all possible bad futures end here. 16.
The Best Novels You've Never Read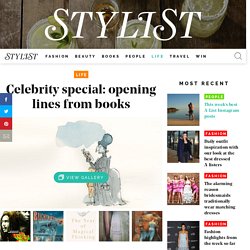 "ABANDON ALL HOPE YE WHO ENTER HERE is scrawled in blood red lettering on the side of the Chemical Bank near the corner of Eleventh and First and is in print large enough to be seen from the backseat of the cab as it lurches forward in the traffic leaving Wall Street and just as Timothy Price notices the words a bus pulls up, the advertisement for Les Miserables on its side blocking his view, but Price who is with Pierce & Pierce and twenty-six doesn't seem to care because he tells the driver he will give him five dollars to turn up the radio, 'Be My Baby' on WYNN, and the driver, black, not American, does so." American Psycho , Bret Easton Ellis Click here to see our selection of the 50 best children's books
If on a winter's night a traveler - Wikipedia, the free encyclopedia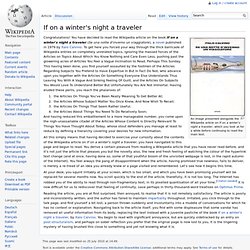 From Wikipedia, the free encyclopedia An image presented alongside the Wikipedia article on If on a winter's night a traveler , which you look at for a while before continuing to read the main text. Congratulations! You have decided to read the Wikipedia article on the book If on a winter's night a traveler ( Se una notte d'inverno un viaggiatore ), a novel published in 1979 by Italo Calvino . To get here you forced your way through the thick barricade of Wikipedia entries on completely unrelated topics, ignoring the massed forces of the Articles on Topics About Which You Know Nothing and Care Even Less, pushing past the glowering acres of Articles You Feel a Vague Inclination to Read, Perhaps This Sunday.