Books
Open Library is an open, editable library catalog, building towards a web page for every book ever published. More Just like Wikipedia, you can contribute new information or corrections to the catalog. You can browse by subject , author or lists members have created.
Collected Essays, by George Orwell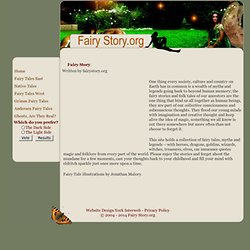 Fairy Story
One thing every society, culture and country on Earth has in common is a wealth of myths and legends going back to beyond human memory; the fairy stories and folk tales of our ancestors are the one thing that bind us all together as human beings, they are part of our collective consciousness and subconscious thoughts. They flood our young minds with imagination and creative thought and keep alive the idea of magic, something we all know is out there somewhere but more often than not choose to forget it. This site holds a collection of fairy tales, myths and legends – with heroes, dragons, goblins, wizards, witches, treasures, elves, car insurance quotes magic and folklore from every part of the world. Please enjoy the stories and forget about the mundane for a few moments, cast your thoughts back to your childhood and fill your mind with eldritch sparkle just once more upon a time. Fairy Tale illustrations by Jonathan Malory.
The World Library is a list of the 100 best books, as proposed by one hundred writers from fifty-four different countries, compiled and organized in 2002 by the Norwegian Book Club. This list endeavours to reflect world literature, with books from all countries, cultures, and time periods. Eleven of the books included on the list are written by women, eighty-five are written by men and four have unknown authors. Each writer had to select his or her own list of ten books. The books selected by this process and listed here are not ranked or categorized in any way; the organizers have stated that "they are all on an equal footing," with the exception of Don Quixote which was given the distinction "best literary work ever written."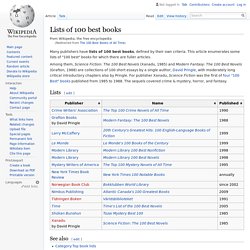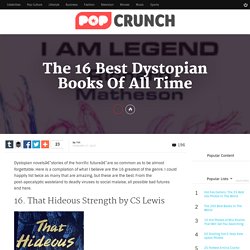 Dystopian novels—stories of the horrific future—are so common as to be almost forgettable. Here is a compilation of what I believe are the 16 greatest of the genre. I could happily list twice as many that are amazing, but these are the best. From the post-apocalyptic wasteland to deadly viruses to social malaise, all possible bad futures end here. 16.
The Best Novels You've Never Read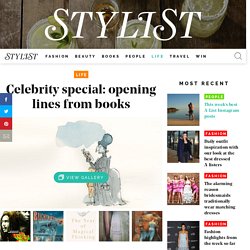 Chosen by: Clare Balding "It was the best of times, it was the worst of times, it was the age of wisdom, it was the age of foolishness, it was the epoch of belief, it was the epoch of incredulity, it was the season of Light, it was the season of Darkness, it was the spring of hope, it was the winter of despair, we had everything before us, we had nothing before us, we were all going direct to Heaven, we were all going direct the other way." A Tale Of Two Cities, Charles Dickens
If on a winter's night a traveler - Wikipedia, the free encyclopedia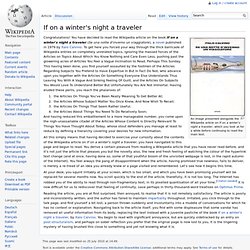 From Wikipedia, the free encyclopedia An image presented alongside the Wikipedia article on If on a winter's night a traveler, which you look at for a while before continuing to read the main text. Congratulations! You have decided to read the Wikipedia article on the book If on a winter's night a traveler (Se una notte d'inverno un viaggiatore), a novel published in 1979 by Italo Calvino. To get here you forced your way through the thick barricade of Wikipedia entries on completely unrelated topics, ignoring the massed forces of the Articles on Topics About Which You Know Nothing and Care Even Less, pushing past the glowering acres of Articles You Feel a Vague Inclination to Read, Perhaps This Sunday.