Ebook Access
Explaining EBook Access and the changing landscape of EBook access for libraries can be very confusing and changes daily. This is my attempt to bring together some good resources. Mar 1
Macmillan to launch two-year ebook library lending pilot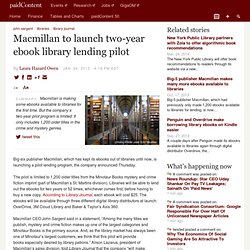 Big-six publisher Macmillan, which has kept its ebooks out of libraries until now, is launching a pilot lending program, the company announced Thursday. The pilot is limited to 1,200 older titles from the Minotaur Books mystery and crime fiction imprint (part of Macmillan's St. Martins division). Libraries will be able to lend out the ebooks for two years or 52 times, whichever comes first, before having to buy a new copy. According to Library Journal, each ebook will cost $25.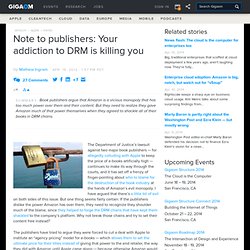 The Department of Justice's lawsuit against two major book publishers — for allegedly colluding with Apple to keep the price of e-books artificially high — continues to make its way through the courts, and it has set off a frenzy of finger-pointing about who to blame for the destruction of the book industry at the hands of Amazon's evil monopoly. I have argued that there's a little bit of evil on both sides of this issue. But one thing seems fairly certain: If the publishers dislike the power Amazon has over them, they need to recognize they shoulder much of the blame, since they helped to forge the DRM chains that have kept them shackled to the company's platform. Why not break those chains and try to set their content free instead?
Note to publishers: Your addiction to DRM is killing you
DRM is just "a speedbump," Hachette's Maja Thomas said at a copyright conference this afternoon. However, opinion within Hachette is clearly divided. DRM "doesn't stop anyone from pirating," Hachette SVP digital Thomas said in a publishing panel at Copyright Clearance Center's OnCopyright 2012. "It just makes it more difficult, and anyone who wants a free copy of any of our books can go online now and get one.
Will Hachette Be The First Big-6 Publisher To Drop DRM On E-Books?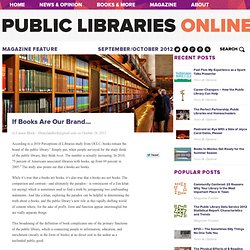 by Carson Block - librarylandtech@gmail.com on October 24, 2012 According to a 2010 Perceptions of Libraries study from OCLC, books remain the brand of the public library.1 Simply put, when people surveyed for the study think of the public library, they think book. The number is actually increasing.
PLA - If Books Are Our Brand. . . | Public Libraries Online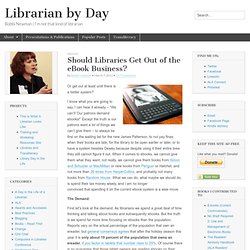 Or get out at least until there is a better system? I know what you are going to say, I can hear it already – "We can't! Our patrons demand ebooks!" Except the truth is our patrons want a lot of things we can't give them – to always be first on the waiting list for the new James Patterson, to not pay fines when their books are late, for the library to be open earlier or later, or to have a system besides Dewey because despite using it their entire lives they still cannot figure it out. When it comes to ebooks, we cannot give them what they want, not really, we cannot give them books from Simon and Schuster or MacMillian or new books from Penguin or Hatchet, and not more than 26 times from HarperCollins, and probably not many books from Random House.
Should Libraries Get Out of the eBook Business?
Alternative Uses for the Pesky eBook Budget
Not happy with an eBook collection that has limited checkouts or paying three times the price for the "privilege"? I'm willing to bet that there are better uses for that eBook budget money that would yield a higher rate of return on investment, better community outreach and involvement, and/or make more fiscal sense for your library's stakeholders. So, I brainstormed a few ideas but I'm hoping that you can help me think of more possible uses. Let's begin! (Note: Your results may vary.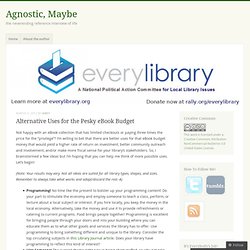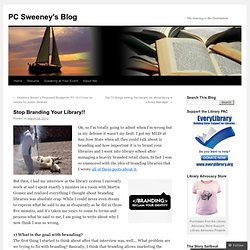 Stop Branding Your Library!! | PC Sweeney's Blog
Ok, so I'm totally going to admit when I'm wrong but in my defense it wasn't my fault. I got my MLIS at San Jose State when all they could talk about is branding and how important it is to brand your libraries and I went into library school after managing a heavily branded retail chain. In fact I was so enamored with the idea of branding libraries that I wrote all of these posts about it. But then, I had my interview at the library system I currently work at and I spent exactly 5 minutes in a room with Martin Gomez and realized everything I thought about branding libraries was absolute crap. While I could never even dream to express what he said to me as eloquently as he did in those five minutes, and it's taken me years to come to terms and process what he said to me, I am going to write about why I now think I was so wrong. 1) What is the goal with branding?
Who Decides What Gets Sold In The Bookstore?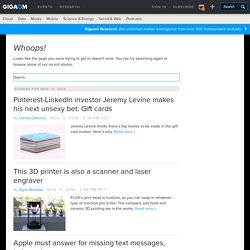 We can probably agree that the local supermarket has no moral or ethical or business obligation to sell cherry-flavored Cap'n Crunch. If the owner doesn't like cherries, she doesn't have to sell them. And the cereal maker shouldn't work under the assumption that every store that sells food will necessarily carry the Cap'n, even on special order. But what about books? There's been a long history of ubiquity at the bookstore.
How the e-book landscape is becoming a walled garden
Just as a few massive chain stores eventually came to dominate the traditional printed book market in North America, the e-book marketplace is a kind of oligopoly involving a few major players — primarily Amazon, Apple and Barnes & Noble. And while bookstore owners of all kinds are free to decide which books they wish to put on their shelves, these new giants have far more control over whose e-books see the light of day because they also own the major e-reading platforms, and they are making decisions based not on what they think consumers want to read but on their own competitive interests. That is turning the e-book landscape into even more of a walled garden. Author and digital-marketing maven Seth Godin highlighted this issue in a recent blog post, in which he described how his new book was turned down by Apple because it contained hyperlinks to books sold by Amazon (with whom Godin has a partnership).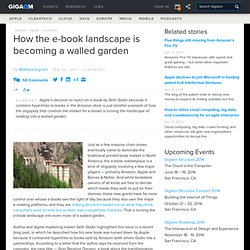 Library Renewal wants to help libraries build a powerful new way to get econtent to their patrons. We envision a new infrastructure, one that is vastly improved, equitable and fairly priced (with hidden costs eliminated). In order to figure out exactly how to make something like that a reality and create an actionable plan we have been busy doing research and meeting with experts from a variety of areas. We've naturally talked with plenty of library folks, but we have also actively included and sought out others that have legal, business and publishing expertise.
$2 BILLION FOR $1 BILLION OF BOOKS: THE ARITHMETIC OF LIBRARY E-BOOK LENDING | Library Renewal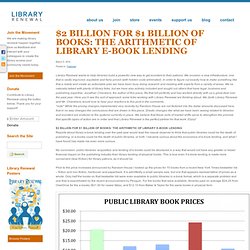 With KDP Select, Amazon Gains Authors' Exclusivity—Cheap | mocoNews
Amazon (NSDQ: AMZN) released some select Kindle Owners' Lending Library numbers today, aiming to position its KDP Select program as a good deal for self-published authors. The program is indeed a good deal for some self-published authors. But it is also a good deal for Amazon. The Kindle Owners' Lending Library allows Amazon Prime members who own a Kindle to "borrow" one e-book per month.
Why Book Publishing Can Survive Digital Age: Echoes
Word on the street is that the publishing industry is under attack by technology. Amazon.com Inc. has launched a bare-knuckled assault against independent bookstores. Print-on-demand firms make it possible for anyone to get his work on the market, and thus threaten to render agents and editors obsolete. And with e-books priced so low, how can authors and booksellers earn a decent living? Yet the publishing industry has a long history of weathering these sorts of challenges, and its past offers some optimism for the future. In the 1920s, drug, grocery and department stores gave booksellers fits by offering popular titles at cut-rate prices.
Did you notice that e-books became a little more expensive after Apple entered the game with iBooks? So did the U.S. Department of Justice, which may be threatening to sue Apple and e-book publishers for allegedly colluding to raise prices. The Wall Street Journal reports that along with Apple, five publishers are facing a potential government lawsuit: Simon & Schuster, Hachette Book Group, Penguin Group, Macmillan and HarperCollins.
Justice Department Threatens Apple, Publishers over E-Book Pricing
Could a little anti-competitive behavior actually be pro-competitive? That is what five leading book publishers are arguing in explaining why they simultaneously accepted an offer from Apple, just before the release of the iPad, to change the way e-books are priced and distributed. Their actions moved the industry from a "wholesale" model, in which they sold e-books to retailers and let them set the retail price, to an "agency model," in which the publishers set the retail price and pay the retailers a fixed commission on every sale. In the process, they managed to break up Amazon's e-book monopoly and raise the price of online books by 30 to 40 percent.
Pick your monopoly: Apple or Amazon
Amazon (NSDQ: AMZN) hasn't made many friends in the traditional publishing world. Until now it's sold Amazon Publishing e-books exclusively in the Kindle Store, and Barnes & Noble (NYSE: BKS) and other chains have said they'll refuse to carry the company's print titles in their stores. Now the company is taking a new step toward openness by announcing that a new line of books it's launching will be available on all platforms in all formats. So how will B&N react? James Atlas, who previously ran the independent publishing company Atlas & Co., is going to edit a series of short biographies for Amazon.
Amazon Will Sell Some E-Books Beyond The Kindle Store | mocoNews
E-Book Smackdown: Who Should Control Pricing—Publishers Or Amazon?
The U.S. Threat To Sue Apple And Publishers: What It Means | mocoNews
Authors Guild: DOJ Investigation Is 'Grim,' 'Tragic' News For Book Lovers
Scott Turow of the Authors Guild on e-book price collusion investigation.
European Union, U.S. Coordinate On E-Book Pricing Cases
Apple Downplays Role Of 'Kindle Threat' In Alleged e-Book Conspiracy
Justice Dept. Investigating Apple & "Big Six" On eBook Pricing - eBookNewser
If the government makes agency go away
Bowker Releases Results of Global eBook Research
New Stats: 2011 Was Good For E-Books, Not So Good For Print
28% Of U.S. Adults Read On eReader Or Tablet - eBookNewser
AAP Reports eBook Sales up 72% in December - eBookNewser
A Guide to Publishers in the Library Ebook Market
How to Talk to Your Patrons About Penguin & Other Publishers Not Loaning eBooks to Libraries
Harry Potter E-Books Will Be In Libraries
What book publishers should learn from Harry Potter
Pottermore, Day 2: Here Come The Complaints