Type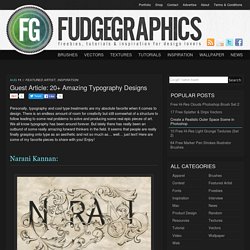 Personally, typography and cool type treatments are my absolute favorite when it comes to design. There is an endless amount of room for creativity but still somewhat of a structure to follow leading to some real problems to solve and producing some real epic pieces of art. We all know typography has been around forever. But lately there has really been an outburst of some really amazing forward thinkers in the field. It seems that people are really finally grasping onto type as an aesthetic and not so much as… well… just text! Here are some of my favorite pieces to share with you!
Guest Article: 20+ Amazing Typography Designs | fudgegraphics | for lovers
Outlaw Design Blog | 30 New (Free) Grunge Fonts
Its been a while since I did the first free grunge fonts post. So, while I had some free time here in paradise, I thought I would do anther one. While there are not quite as many as the first post, these are just as good. I have been noticing there aren't as many new grunge fonts coming out as there once was. Why do you think that is?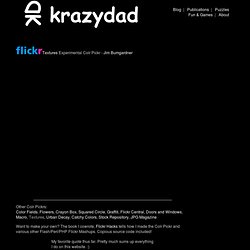 Textures Experimental Colr Pickr - Jim Bumgardner Other Colr Pickrs: Color Fields , Flowers , Crayon Box , Squared Circle , Graffiti , Flickr Central , Doors and Windows , Macro , Textures , Urban Decay , Catchy Colors , Stock Repository , JPG Magazine Want to make your own? The book I cowrote, Flickr Hacks tells how I made the Colr Pickr and various other Flash/Perl/PHP Flickr Mashups.
Textures Colr Pickr
Old School Type – Line Gradients
Typography is Sexy: Part 1