Photoshop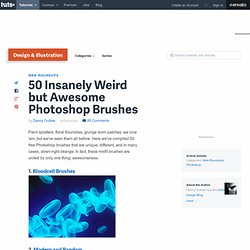 50 Insanely Weird but Awesome Photoshop Brushes
Paint splatters, floral flourishes, grunge worn patches: we love 'em, but we've seen them all before. Here we've compiled 50 free Photoshop brushes that are unique, different, and in many cases, down-right strange. In fact, these misfit brushes are united by only one thing: awesomeness.
Free Adobe Photoshop, Flash, Dreamweaver, Illustrator, Fireworks, Bridge, and Golive Video Tutorials :: Welcome to Tutvid.com
100 Websites to Teach Yourself Photography - Photography Colleges
So you are thinking of taking up photography as a hobby. Where do you begin? The age of point and shoot is over. Everyone can create beautiful, easily processed photos with a digital camera. Maybe you aren't as savvy s photographer as you'd like to be, but these 100 photography tutorials will bring you up to speed so your friends will be breaking down your door to photograph their wedding or big event. Basic Photography Tutorials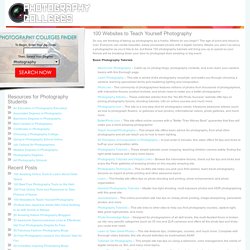 Posted in Photo Effects on December 6th, 2007 with 77 responses . In this tutorial we're going to show you how to add a dramatic, gritty, bronzed effect to your images. We'll convert our subject image as follows:
Photoshop Frenzy - Made for faster learning! » Blog Archive » Dramatic Gritty Effect
This is the fourth and final installment of my series on creating textures in Photoshop. If you missed the first three, they were creating: Water Texture , Wood Texture and Stone Texture . This tutorial will combine much of what we learned about in the first three installments, we will also go over some new techniques, and add some finishing touches that pull the whole look together. Bring up Photoshop and create a new document at a size that you like. I used 500px by 500px The first thing we need to do is make a dirt background to show through from underneath the grass we will create.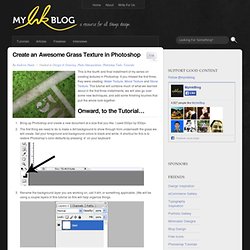 Create an Awesome Grass Texture in Photoshop
Prodigy Effect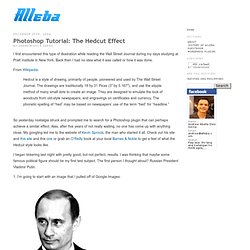 Blog » Photoshop Tutorial: The Hedcut Effect
December 20th, 2006 by Andrew dela Serna I first encountered this type of illustration while reading the Wall Street Journal during my days studying at Pratt Institute in New York. Back then I had no idea what it was called or how it was done. From Wikipedia :
Free Photoshop Shapes Downloads - Mega List of Free Custom Vector Shapes for Adobe Photoshop I am in love with vector shapes right now. I think they are so handy to have around when you are building a site.
Free Photoshop Shapes Downloads - Mega List of Free Custom Vector Shapes for Adobe Photoshop - Part I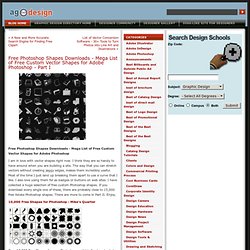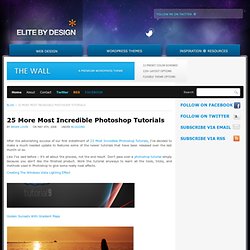 25 More Most Incredible Photoshop Tutorials
Elite By Design Web Design & Photoshop Inspiration Follow me on Twitter blog > 25 More Most Incredible Photoshop Tutorials 25 More Most Incredible Photoshop Tutorials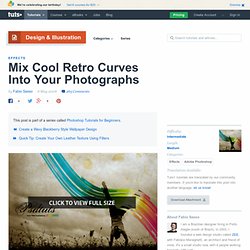 I'm a huge fan of James White's work. I love the way he plays with geometric elements and colors. It gives a retro feeling to the design, but at the same time he uses a modern approach. In an interview, he mentioned that he uses a Flash script to generate the vector shapes. Then he does the rest of the job in Illustrator and Photoshop. Well, inspired by James's designs, I decided to figure out my own way of creating that type of effect in Photoshop.
Mix Cool Retro Curves Into Your Photographs
Psdtuts+ | Adobe Photoshop tutorials, from beginner to advanced.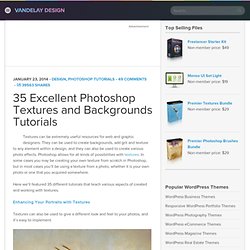 Photoshop Textures | 40 Excellent Photoshop Tutorials for Textures and Backgrounds
Published in Design , Photoshop Tutorials When it comes to creating backgrounds for websites, posters, and other types of designs, Photoshop provides unlimited potential. Textures are often used in backgrounds in addition to abstract effects. Textures can sometimes be created from scratch using filters and other features of Photoshop, or they can be created with the help of photographs. In this post we'll link to 40 tutorials that will show you how to create impressive backgrounds and textures for your own work.
Learn how to earn $125 or more per hour as a freelancer - Click Here 3D Typographic design is now more popular and we can notice a surge for 3D Type work on portfolio sites. Here we have collected 25 of the cool 3D typographic Text effect tutorials, well some of them are all done by the combination of some 3D software's like Studio Max, Xara and some times illustrator with texture and coloring done in photoshop and others completely designed using photoshop. hope you like this collection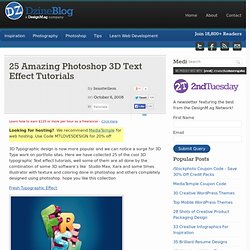 25 Amazing Photoshop 3D Text Effect Tutorials | Dzine Blog
How To Make Digital Photos Look Like Lomo Photography
The following tip on getting digital images to look like Lomo Images was submitted by DPS reader – Frank Lazaro. You can see his photography at his Flickr page and see some of his Lomo shots here NB: most of the shots in this post can be enlarged by clicking them. update : once you've read this tutorial and had an experiment with the technique head to our Forum to share some of your results. From the first time I saw a photo that looked like this, I wanted to shoot one of my own. But, for the longest time I couldn't figure it out how people took photos look like this. Then one day searching the web, I realized I needed a Lomo LC-A camera.
You've undoubtedly seen these 5 reflections in all sorts of graphic design, website design, and interface design. In this tutorial, I'll show you how to make them in Photoshop. The Reflections You see reflections everywhere in design, whether you realize it or not. You see them used in graphics, commercials, products, and even websites.
The 5 Essential Photoshop Reflections
More Photoshop brushes than you'll ever need
May 04 2008 It's always fun to experiment different techniques and learn how to work with various aspects of Adobe Photoshop to spice up boring pictures and make them into works of arts and masterpieces. So, if you're interested in learning some new skills, whether you're a beginner, intermediate or advanced user, these Photoshop and Illustrator tutorials are for you.
53 Killer Photoshop Illustrator Effects and Tutorials - Noupe Design Blog
A Nice List of Great Photoshop Lists
21 Best Photoshop Text Effects
40 Beautiful Free Fonts For Creating Attractive Typography Headlines