Fun websites
Wear
#4182 Friday, May 17, 2013 MISSED CONNECTION: To the very cute guy at the CIF that usually wears navy sweats and has his hair brushed to the side. You're always walking to the fountain and I'm always hoping youll bump into me i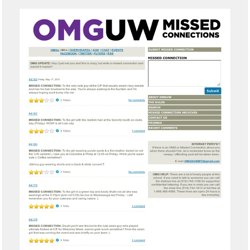 OMG UW — MISSED CONNECTIONS
Upworthy: Things that matter. Pass 'em on.
Relationship drama in hindsight I knew you were trouble by Natalie Lynn Borton. I know Natalie personally and she has some great thoughts here.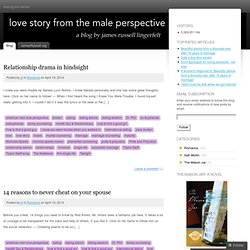 love story from the male perspective | sharing love stories
CollegeCandy – Life, Love & Style For The College Girl
Her Campus | A Collegiette's Guide To Life
BuzzFeed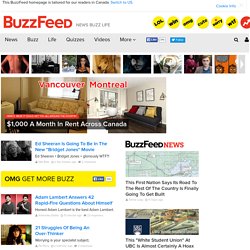 You've got a little something. Riiiiiiiight there. Skyrim, the epic single-player role-playing game, is the only hardcore game I've ever loved. Now thousands of gamers are simultaneously playing its successor The Elder Scrolls Online, and I'm going to have to learn to share. Illustrator Richard Swarbrick elevates iconic cat videos to f(el)ine art in a stylish new short that marries fleeting, watercolor impressionism with slinky synth-pop. Is 60 bucks really worth this???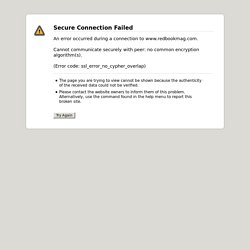 redbook
Subscribe >> Give a Gift Customer Service Digital Edition RB Offers
Today I Found Out
theoatmeal
Why You Should Be Using Less-Refined Sweeteners Instead of Brown or White Sugar 3:30 PM — As a species, our cells are designed to use sugar for energy. Is it any wonder that as humans evolved, we grew to love the taste of sugar? Nowadays, we're the victims of our own efficiency at making foods sweeter. Now that morbid obesity and type 2 diabetes are common issues even among children, many of us are trying to wean ourselves off the white stuff and seek out h ...more How to Make Milk-Filled Cookie Cups & Shot Glasses at Home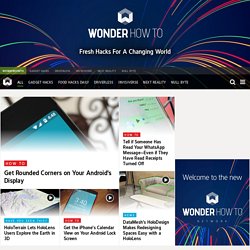 Wonder How To » How To Videos & How-To Articles