nerdy stuff
Get flash to fully experience Pearltrees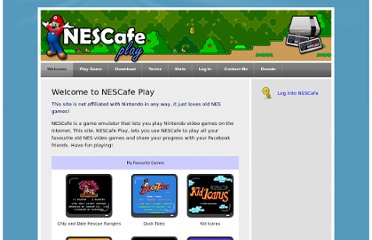 This site is not affiliated with Nintendo in any way, it just loves old NES games! NESCafe is a game emulator that lets you play Nintendo video games on the Internet. This site, NESCafe Play, lets you use NESCafe to play all your favourite old NES video games and share your progress with your Facebook friends. Have fun playing! Put aside that Playstation and Xbox and remember what computer video games used to be like when you were growing up in the 1990's. Back then, games were more than pretty computer graphics on your television - video games were about having excellent, engaging game-play!
Wednesday, February 9, 2011 | 02:47 AM | by Tim There's a rumor going around that in the wake of the PS3 root key hack perpetrated by George Hotz (among others), Sony is considering implementing the use of "registration keys" for its games. Nothing is confirmed yet, and Sony has said they are simply "looking at options". Now to be clear, I fully support the rights of any developer/publisher to attempt to prevent the piracy of their software in any way they deem effective. And frankly, as a long-time PC gamer, I don't see the big deal with serial keys. I've been entering serial keys for my PC games for over a decade.
It's been some time since I last launched a new feature, a little over 3 years I believe, so forgive me if I'm a bit rusty with this. In brief, Gutters is a series of standalone pages that parody the comic book industry and the heroes and characters that dwell within. Think of it as an editorial cartoon targeting comic books, and you'll understand where we're going with it.