Books
What's Next™ Database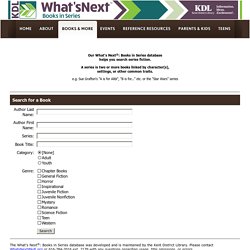 Our What's Next™: Books in Series database helps you search series fiction. A series is two or more books linked by character(s), settings, or other common traits. e.g. Sue Grafton's "A is for Alibi", "B is for..." etc. or the "Star Wars" series Search for a Book The What's Next™: Books in Series database was developed and is maintained by the Kent District Library.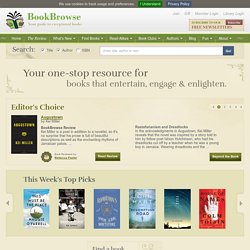 Burial Rites by Hannah KentThe other reviews here have said it all. I want to also recommend the audio version of the book. I listened to a Hatchett Audio recording, 2013, read by Morven Christie. ... read more The Kept by James ScottThis is a very dark story , set in the late 19th century, in rural upstate New York. The beginning is very brutal and very explicit and it is this that will set Elspeth ... read more Me Before You by Jojo MoyesI never write book reviews but felt I had to express how I just loved this book! I have a hard time sticking to a book and found that I couldn't put this one down. I ... read more The Goldfinch by Donna TarttKudos for Donna Tartt and her complex characters and riveting plot.
Book reviews: Find the best new books
Len Bailey is the author of Sherlock Holmes and the Needle's Eye ($15.99, Thomas Nelson) In my new book I needed a detective to travel back in time to solve ten Bible mysteries. Ah, but which one?
Len Bailey: Why I Chose Sherlock Holmes To Solve Bible Mysteries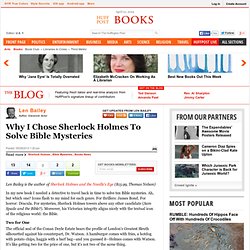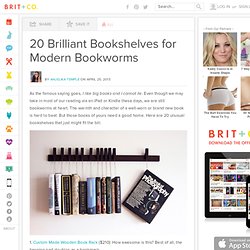 20 Brilliant Bookshelves for Modern Bookworms
As the famous saying goes, I like big books and I cannot lie. Even though we may take in most of our reading via an iPad or Kindle these days, we are still bookworms at heart. The warmth and character of a well-worn or brand new book is hard to beat. But those books of yours need a good home.
Angela (Rice Lake, WI)'s review of Ordinary Grace
There's no time like Thanksgiving time for sharing stories with the ones you love! To help celebrate national turkey day, Proust has created 10 questions sure to uncover the fun memories of Thanksgivings past. From taboo topics that always come up, to daydreaming about the leftovers you can't resist, Proust is here to help bring holiday memories to the tip of your tongue.
The Proust Blog
Nina Katchadourian
SF Reviews is my collection of reviews of Science Fiction novels. These are my reviews and are therefore biased and superficial. If a novel contains perceptive criticism of the human condition, I probably skipped that page and failed, in my review, to draw attention to its incisive power If character development took place I doubt I noticed it.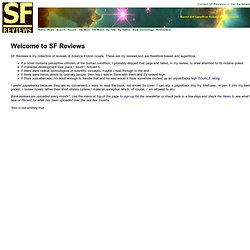 science fiction
Bartleby.com: Great Books Online -- Quotes, Poems, Novels, Classics and hundreds more
The Pioneer Woman - Ree Drummond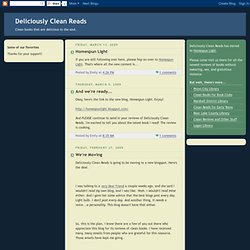 Deliciously Clean Reads
Review by Becky Laney, frequent contributor. I honestly didn't know what to expect from this one. Not the most clever way to start out a review, but true nevertheless. The cover.
10 Banned Books That Made a Comeback
Hellbender Just in time for your All Hallows reading pleasure: Mike Heller, a PI with some….extra skills, whose client is a blonde too gorgeous to be believed.
Laurie R. King: Mystery Writer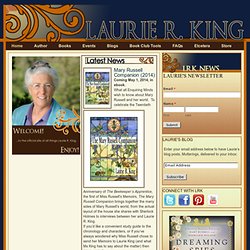 Book Reviews, Author Interviews - BookPage.com
Behind the Book: Short, sweet and completely unforgettable Behind the Book by Paul B. Janeczko and Melissa Sweet > Children's / Children's Picture Firefly July is something quite special. Thirty-six very short poems, selected by poet and anthologist Paul B.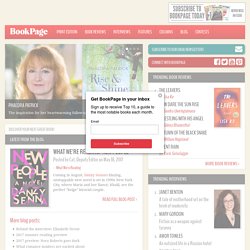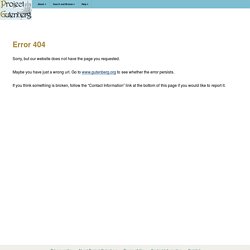 New Kindle Fire Review Before you buy: Read our Webmaster's review of the new Kindle Fire. Some of Our Latest Books Welcome Project Gutenberg offers over 42,000 free ebooks: choose among free epub books, free kindle books, download them or read them online.
Main Page - Gutenberg
New material is added to Arts & Letters Daily six days a week. We continually test links for reliability. Despite our best efforts, links may fail (often only temporarily) without warning. We apologize for any inconvenience. New links are added at or near the tops of sections, with older ones sliding down the columns accordingly.
Arts & Letters Daily - ideas, criticism, debate
What if you can leave your life and its problems behind and go places - to other countries, worlds, galaxies and back and forth in time? Books are that one medium that will grant you full access to anywhere and everywhere, allowing you to escape into your imagination with rich descriptions of everything you might not otherwise get to see in your lifetime. Reading books is a hobby that most of us do not devote time to specifically, but on a rainy day when nothing else seems interesting, a quick peek into your bookshelf will reveal hidden gems that will keep you enthralled for the next several hours. Books also improve your knowledge span, in small ways and big, and greatly broaden your vocabulary as well.
All about Books, Reviews, Recommendations and Authors
The World's Biggest Free Book Club - Catch and Release Used Books
GalleyCat - The First Word On the Book Publishing Industry
Share Book Recommendations With Your Friends, Join Book Clubs, Answer Trivia
7 Books We Lost to History That Would Have Changed the World
The vast majority of the knowledge humans have assembled over the centuries, has been lost. The world's geniuses either kept their revelations to themselves and then died, or else they put it down on paper which has long since rotted or burned or been used to line some parakeet's cage. Obviously we'll never know what great books have been lost to time, but we have clues on some of them, and what those clues tell us is mind-boggling, and a little bit depressing. If you could make a library out of just books that didn't survive, you'd have a collection of some of the best freaking books ever written.
Flavorwire