Wikis
Why Businesses Don't Collaborate: #6 Wiki Awareness
Alex Manchester, from Step Two Designs has a very useful article on when to publish Intranet content in PDF format rather than HTML . I agree with Alex's point that PDF is suboptimal for most content because of several limitations (most of them around the additional overhead in editing and reading the document) but still has its place: like for documents that are distributed for printing. Too often PDF serves as a crutch for users with limited web content management tools and skills. For many, it is easier to save a MS Word document as a PDF and upload it than to work with HTML (either through a CMS or using an HTML editor).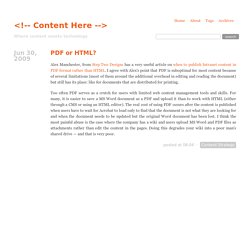 PDF or HTML? « Content Here
Video: How to Build & Revise Documentation Using a Wiki
Using Spreadsheets to Collaborate can be a Mistake
Wiki Myths, Wiki Reality -- CMS Watch
Toronto Wiki Tuesday (18th not 11th) at Epicure Cafe (Tuesday, M
ThoughtFarmer- a Canadian Enterprise 2.0
I sat down recently for lunch with Darren Gibbons and Gordon Ross of OpenRoad Communications , a small Vancouver firm focusing on the design and implementation of corporate intranets and internal communications strategy. As part of their work with clients over the past several years and their experiences in designing and adapting intranets, they developed a hybrid wiki, blog and CMS platform called ThoughtFarmer. ThoughtFarmer has gained some significant clients over the past year or so, including (National Endowment for the Sciences, Technology and Arts – the largest single endowment devoted exclusively to supporting talent, innovation and creativity in the UK), (the globally renowned industrial design firm) and most recently . I've known about ThoughtFarmer since its early days, and wrote up a descriptive entry in the recent book " ", published by the ARK Group (UK).
Now you can say that this is apples and oranges and there is certainly some truth to this thought. However, many of the people who implemented knowledge management are now looking to implement wikis. What can they learn from their past experiences and what should they unlearn? I recently read, Stewart Mader's excellent book, Wikipatterns . You can find a good general review of the book in this blog, see wikipatterns – The First Enterprise 2.0 Playbook by Jevon MacDonald . Parts of Stewart's book took me back ten or more years ago to promoting knowledge management best practices.
Wikis versus Knowledge Management: Enterp
Wikis: 'From Each According to His Knowledge'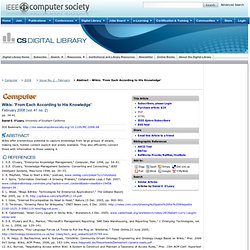 Wikis: 'From Each According to His Knowledge' February 2008 (vol. 41 no. 2) pp. 34-41
Here is another cross post from my FASTForward look at enterprise success stories. Janssen-Cilag is an Australian pharmaceutical subsidiary of Johnson & Johnson. It was using a static HTML site for an intranet. Called InfoDownUnder, it was originally developed in 2001. Some content was out of date and there was no search capability.
Enterprise Wiki Success Story from Janssen-Cilag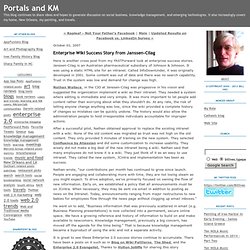 Andrew McAfee