Web2.0
Network Effects in Data - O'Reilly Radar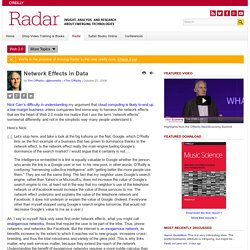 Nick Carr's difficulty in understanding my argument that cloud computing is likely to end up a low-margin business unless companies find some way to harness the network effects that are the heart of Web 2.0 made me realize that I use the term "network effects" somewhat differently, and not in the simplistic way many people understand it.
Dec 3 2008 3:05PM GMT
FatWire's sex site demo backfires at Boston Web 2.0 conference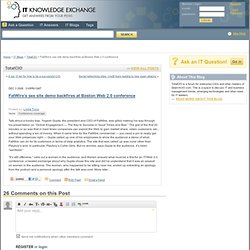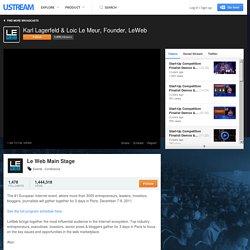 The #1 European Internet event, where more than 3000 entrepreneurs, leaders, investors, bloggers, journalists will gather together for 3 days in Paris, December 7-9, 2011. See the full program schedule here. LeWeb brings together the most influential audience in the Internet ecosystem.
Face value | The accidental innovator | Economist.com
Onaswarm: Lifestreaming For Groups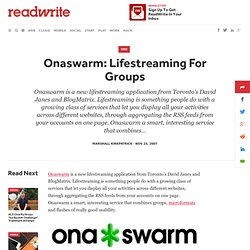 Onaswarm is a new lifestreaming application from Toronto's David Janes and BlogMatrix. Lifestreaming is something people do with a growing class of services that let you display all your activities across different websites, through aggregating the RSS feeds from your accounts on one page. Onaswarm a smart, interesting service that combines groups, microformats and flashes of really good usability. The service is in private beta, but readers here who request accounts and include the letters RWW in their entries to the request form will be given accounts promptly. It's very text-centric and clearly better for geeks than it is for the artists who like Tumblr, for example. The Onaswarm site architecture and navigation need a substantial overhaul to improve usability, despite some nice touches.
I've really been bitten by the Facebook/Twitter/Kyte/Jaiku bug.
Jaiku/Twitter/Facebook/Kyte/Plaxo = something happening you shou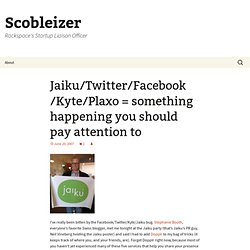 Welcome to BiblioCommons
NEW YORK (Fortune) -- Last November in Beijing, IBM gathered 2,000 employees, with 5,000 more watching on the web, to unveil a series of global initiatives on digital storage, branchless banking, and the like. During the presentation, CEO Sam Palmisano walked up to an onstage PC, logged onto the online three-dimensional virtual world called Second Life, and took command of the cartoon-like "avatar" that represents him there. He then visited a version of Beijing's Forbidden City built on virtual real estate, dropping by an IBM (Charts) meeting where avatars controlled by employees in Australia, Florida, India, Ireland, and elsewhere were discussing supercomputing.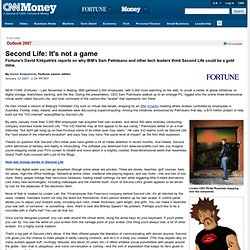 Why tech leaders think Second Life could be a gold mine
The Web 2.0 Retreat: Every Week on Sunday at 7:00PM EST in Secon
Collaborative Thinking: Social Computing: From LifeStyle to Work
This week I will be presenting at the The ECAR Symposium 2006 event in Phoenix, AZ. The topic will be "Social Computing: From LifeStyle To WorkStyle" and will focus on some of the more interesting trends I've found in the social software space. While much of the media focus is on the technology, I've been more interested in examining aspects related to organizational dynamics and the manner in which such software can enable more effective social scaffolding within enterprises.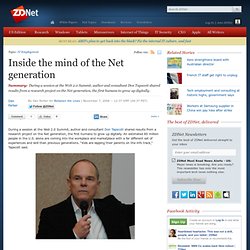 » Inside the mind of the Net generation | Between the Lines | ZD
During a session at the Web 2.0 Summit, author and consultant Don Tapscott shared results from a research project on the Net generation, the first humans to grow up digitally.
Enterprise 2.0 Camp 2 « Semantic@BlogMatrix
WikiStart - olm - DrProject
Weekend Magazine web 2.0 special | Guardian Unlimited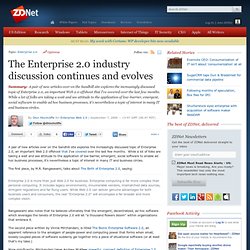 A pair of new articles over on the Sandhill site explores the increasingly discussed topic of Enterprise 2.0, an important Web 2.0 offshoot that I've covered over the last few months. While a lot of folks are taking a wait and see attitude to the application of low-barrier, emergent, social software to enable ad hoc business processes, it's nevertheless a topic of interest in many IT and business circles. The first piece, by M.R.
» The Enterprise 2.0 industry discussion continues and evolves |
Blog Archive » Prosper.com To Announce Milestones Tuesday
On Tuesday Prosper.com, a person-to-person lending site that launched in February, will announce a couple of fairly significant milestones: 100,000 members and $20 million in funded loans. They reached both milestones faster than UK-based competitor Zopa, which was recently named a Busines 2.0 "Disruptor."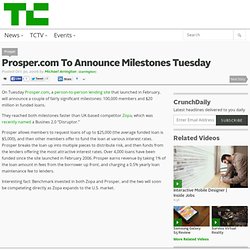 As browser-based software, SaaS, and Web 2.0 continue to make some inroads in the enterprise, it's the lack of useful pioneer reports that hampers the early adoptors. Sure, many of us witness the often amazing trends taking place out on the Web in the form of mountains of user generated content and communication and collaboration occuring en masse via blogs and spaces. But the big question is still with us: Can the motivations and context that makes the latest generation of software on the Web so compelling, and hence popular, be made just as meaningful in the enterprise? As we get deeper into the second decade of the Web, we've been inundated with the 2.0 generation of everything, hopefully all learning from the mistakes of the 1.0 generation.
Nine ideas for IT managers considering Enterprise 2.0
Office 2.0 Conference wiki
Attensa offers two rich enterprise RSS products
Enterprise RSS vendor Attensa has released two new products this summer and I was able to take a look at both last week.
In the past couple of months, we've gotten ever closer to high quality Rich Internet Application solutions.
Top 10 Reasons to Embrace the Rich Internet Application
The other day. I unexpectedly ran into an old, familiar, and spot-on concept originated by the science fiction author and futurist Arthur C. Clarke: people overestimate the short-term impact of technology, but underestimate its long term impacts.
Want Fries With Your Change(s)?
by Tim O'Reilly 09/30/2005 Oct. 2009: Tim O'Reilly and John Battelle answer the question of "What's next for Web 2.0?" in Web Squared: Web 2.0 Five Years On.
AJAX explained
chicagocrime.org: Chicago crime database
David Crow: Web 2.0 Innovation Map
Web 2.0 The Global SOA
What the hell is Web 2.0? The great web mash-up begins.
Web 2.0? Why Should We Care?