Mashups 2
Enterprise mashups bring IT, LOB collaboration to BPM. Increasingly, multiple applications are combined using enterprise mashup tools with the goal of streamlining Business Processes Management (BPM).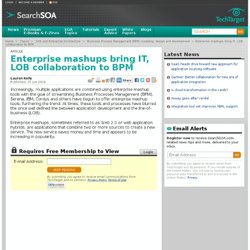 Serena, IBM, Cordys and others have begun to offer enterprise mashup tools, furthering the trend. At times, these tools and processes have blurred the once well defined line between application development and the line-of-business (LOB). Enterprise mashups, sometimes referred to as Web 2.0 or web application hybrids, are applications that combine two or more sources to create a new service.
The new service saves money and time and appears to be increasing in popularity. When you register, you'll begin receiving targeted emails from my team of award-winning writers. Enterprise Mashups - The Icing on your SOA | SocialComputingJour. Enterprise Mashups: New Book Highlights the Patterns. Although mashups started out in the consumer space, their success makes a migration into corporate IT environments inevitable.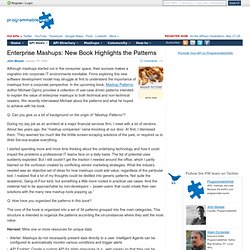 Firms exploring this new software development model may struggle at first to understand the importance of mashups from a corporate perspective. In the upcoming book, Mashup Patterns, author Michael Ogrinz provides a collection of use-case driven patterns intended to explain the value of enterprise mashups to both technical and non-technical readers. We recently interviewed Michael about the patterns and what he hoped to achieve with his book. Enterprise Mashups - The Icing on your SOA. The DilemmaI have been spending a lot of time recently learning about enterprise mashups.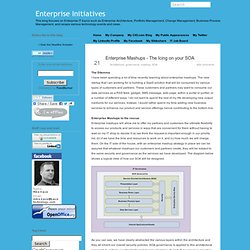 The new startup that I am working for is building a SaaS solution that will be consumed by various types of customers and partners. These customers and partners may want to consume our data services as a RSS feed, gadget, SMS message, web page, within a portal or portlet, or a number of different ways. I do not want to spend the rest of my life developing new output mediums for our services.
Instead, I would rather spend my time adding new business services to enhance our product and service offerings hence contributing to the bottom line. The Enterprise Web 2.0 Blog: Free Enterprise Mashup Software by. Creating mashups on the Google App Engine using Eclipse, Part 1: Network Blogs. A while back, I reported that we are giving a talk at the OASIS Symposium on Enterprise Mashups: .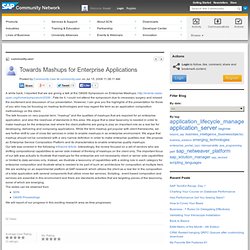 Fate be it, I could not attend the symposium due to necessary surgery and missed the excitement and discussion of our presentation. However, I can give you the highlights of the presentation for those of you who may be focusing on mashup technologies and may regard the term as an application composition methodology on the client. Adobe readying new mashup tool for business users - Network Worl. IDG News Service - Adobe is developing a mashup interface code-named "Genesis" that will allow business users to pull together "workspaces" that combine assets like business application data, documents and analytics, along with collaboration tools such as instant messaging.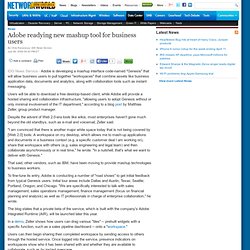 Users will be able to download a free desktop-based client, while Adobe will provide a hosted sharing and collaboration infrastructure, "allowing users to adopt Genesis without or only minimal involvement of the IT department," according to a blog post by Matthias Zeller, group product manager. Despite the advent of Web 2.0-era tools like wikis, most enterprises haven't gone much beyond the old standbys, such as e-mail and voicemail, Zeller said.
Get Iceberg! Develop Custom Applications Without Coding. News from the mashup trenches. I've neglected this blog for a while, and now it's time to get back to it.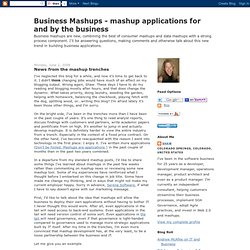 I didn't think changing jobs would have much of an effect on my blogging output. Wrong again, Shaw. The Ultimate Yahoo! Pipes Creations List - ReadWriteWeb. Yahoo!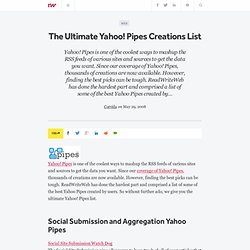 Pipes is one of the coolest ways to mashup the RSS feeds of various sites and sources to get the data you want. Since our coverage of Yahoo! Mashups turn into an industry as offerings mature | Enterprise W. There were a great many product announcements at Web 2.0 Expo in San Francisco last month, but it was the number of announcements around Web-based mashups in particular that received a large share of attendee and media attention.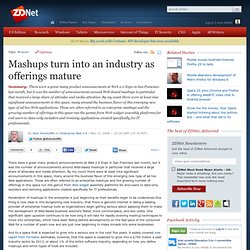 By my count there were at least nine significant announcements in this space, many around the business flavor of this emerging new type of ad hoc Web applications. These are often referred to as enterprise mashups and the growing number of offerings in this space run the gamut from Web widget assembly platforms for end-users to data-only swizzlers and remixing applications created specifically for IT professionals. Mash Maker. Mashups: The next major new software development model? | Enterp. At last week's Mashup Ecosystem Summit held in San Francisco and sponsored by IBM with an invited assemblage of leading players in this space, I gave an opening talk about the current challenges and opportunities of mashups.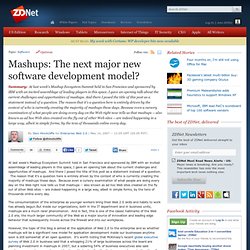 And there I posed the title of this post as a statement instead of a question. The reason that it's a question here is entirely driven by the context of who is currently creating the majority of mashups these days. Because even a cursory examination of what people are doing every day on the Web right now tells us that mashups -- also known as ad hoc Web sites created on the fly out of other Web sites -- are indeed happening in a large way, albeit in simple forms, by the tens of thousands online every day. The consumerization of the enterprise as younger workers bring their Web 2.0 skills and habits to work has already begun.But inside our organizations, both in the IT department and in business units, mashups are a much rarer phenomenon. What Is WOA? It's The Future of Service-Oriented Architectu. The need for businesses to open up their silos of information and internal capabilities to their internal customers has become an increasingly pressing issue as organizations strive to increase operational efficiencies and innovate more effectively with existing resources in the business and technical climate of early 2008.
And in the last couple of years, as exposing uniquely powerful sets of data to online business partners has moved into the mainstream in the form of open Web APIs , opening up our IT systems across the Internet has become a competitive imperative as well. Unfortunately, despite two decades of experiments in heavyweight software engineering (the alphabet soup of EAI, SOA, ESB) for solving these types integration problems, we've seen relatively marginal improvements for most implementors despite heavy investments by businesses large and small. In short, integration between the systems running our business still isn't happening at the levels we need. Tools for Creating Mashups | nextManage. Make Mashups Using Your Own Data with geoXtract - ReadWriteWeb. GeoXtract is a powerful tool that allows you to integrate your own data with Google Maps or Google Earth. Using this desktop application, you can create a personalized map with no programming experience required.
Using your own data source, which can be an Excel Spreadsheet (.xls), Access database (.mdb), or Comma-Separated Values file (.csv), geoXtract walks you through the process of creating a mashup. The program uses a wizard that helps you with the data selection, configuration, processing, and publishing of your data into either Google Maps or Google Earth. » The 10 top challenges facing enterprise mashups | Enterprise W. Applying mashups in a business settings is often referred to as "enterprise mashups" and recently we've finally begun to see the tools emerging to bring real mashup capabilities to consumers, business users, and IT professionals. However, though anecdotal evidence seem to abound -- there are a good number of stories about businesses creating isolated mashups here and there -- and mashups are again getting placed on hot tech trends lists for 2008, we're clearly still not yet seeing the flood of mashup-based apps inside of organizations despite their consistent and steadfast growth on the consumer Web.
ProgrammableWeb's mashup graphs (left of page) currently reports that over 2,400 mashup-based apps currently exist. Mashups -- The evolution of the SOA, Part 1: Web 2.0 and foundat. Mashup Camp 2 Registration. » Gartner's top 10 technologies for 2008: SOA precursors; fabric. Gartner outlined its top 10 strategic technology areas for 2008 and many roads lead to service oriented architecture.
The top 10 is off to the right and there aren't any huge surprises. Who didn't see green IT and virtualization being listed? But what's notable are all of the SOA precursors to be found. Half-Baked or Mashed: Is Mixing Enterprise IT And The Internet A. Archived Audio Interviews GE is a leader in combining connected devices and advanced analytics in pursuit of practical goals like less downtime, lower operating costs, and higher throughput. At GIO Power & Water, CIO Jim Fowler is part of the team exploring how to apply these techniques to some of the world's essential infrastructure, from power plants to water treatment systems. Join us, and bring your questions, as we talk about what's ahead.
The Enterprise Web 2.0 Blog: Implementing SOA without Enterprise. The Enterprise Web 2.0 Blog: Defining Mashups. The Enterprise Web 2.0 Blog: Optimal Architectures for Consumer.
---