Esb
Integration Dogfight in the Clouds | The Intelligent Enterprise. Archived Audio Interviews GE is a leader in combining connected devices and advanced analytics in pursuit of practical goals like less downtime, lower operating costs, and higher throughput.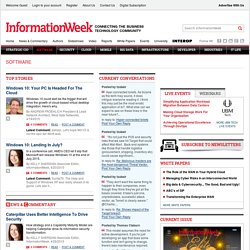 At GIO Power & Water, CIO Jim Fowler is part of the team exploring how to apply these techniques to some of the world's essential infrastructure, from power plants to water treatment systems. Join us, and bring your questions, as we talk about what's ahead. Getting started with Oracle SCA, SOA, BPEL, OSB, AIA. (updated: 2 july 2009) As I do SOA projects for a few years, many users are just entering this service oriented architecture world.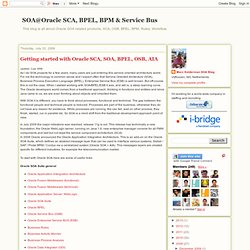 For me the technology is common sense and I expect often that Service Oriented Arcitecture (SOA), Business Process Execution Language (BPEL), Enterprise Service Bus (ESB) is well known. But off-course this is not the case. When I started working with SOA/BPEL/ESB it was, and still is, a steep learning curve. The Oracle developers world comes from a traditional approach; thinking in functions and entities and since Java came to us, we are even thinking about objects and inherited them. Awards & Industry Recognition. Software AG is positioned as a leader by industry analysts in a wide range of categories.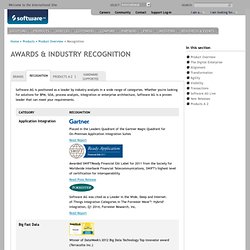 Whether you're looking for solutions for BPM, SOA, process analysis, integration or enterprise architecture, Software AG is a proven leader that can meet your requirements. Gartner does not endorse any vendor, product or service depicted in its research publications, and does not advise technology users to select only those vendors with the highest ratings.
Integration migrates to the cloud | Software as Services. Integration vendor Cast Iron, which for years has offered its product packaged as a hardware appliance, this week unveiled a cloud-native integration service.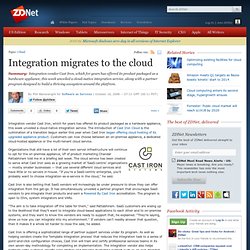 The introduction of Cast Iron Cloud is the culmination of a transition begun earlier this year when Cast Iron began offering cloud hosting of its upgraded appliance product. Customers can now choose between an on-premise appliance, a dedicated cloud-hosted appliance or the multi-tenant cloud service. Organizations that still have a lot of their own server infrastructure will continue to opt for the on-premise appliance, VP of product marketing Chandar Pattabhiram told me in a briefing last week. The cloud service has been created to serve what Cast Iron sees as a growing market of 'SaaS-centric' organizations — mostly smaller businesses — that use several different cloud services and have little or no servers in-house.
Does My Bus Look Big in This? Bio Dr.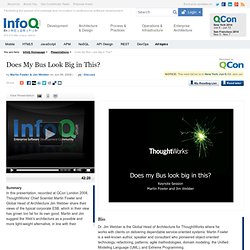 Jim Webber is the Global Head of Architecture for ThoughtWorks where he works with clients on delivering dependable service-oriented systems. Martin Fowler is a well-known author, speaker and consultant who pioneered object-oriented technology, refactoring, patterns, agile methodologies, domain modeling, the Unified Modeling Language (UML), and Extreme Programming. QCon is a conference that is organized by the community, for the community.The result is a high quality conference experience where a tremendous amount of attention and investment has gone into having the best content on the most important topics presented by the leaders in our community.QCon is designed with the technical depth and enterprise focus of interest to technical team leads, architects, and project managers.
Middleware briefing. Exalogic Oracle Exalogic Elastic Cloud is designed, optimized, and certified for running Oracle applications and technologies and is ideal for mission-critical middleware and applications from Oracle and third-party vendors.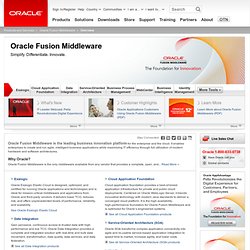 It delivers lower TCO, reduces risk, and offers unprecedented levels of performance, reliability, and scalability. Data Integration Gain pervasive, continuous access to trusted data with high performance and low TCO. Oracle Data Integration provides a complete and integrated solution with real-time and bulk data movement, transformation, data quality, data services, and data federation.
Gt; On demand business integration and process management (BPM) By MuleSource: Products: MuleOnDemand Platform. Lessons Learned from our first SOA implementation - Part 2. A couple of days ago I wrote part 1 of this series and highlighted the things we did that made us successful on our first SOA implementation.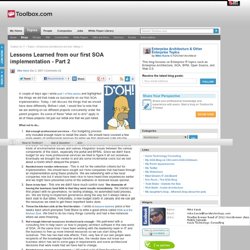 Today, I will discuss the things that we should have done differently. Before I start, I would like to note that we are working on six different projects concurrently under the parent program. Cape Clear and Appian Announce Partnership. Enterprise Service Bus (ESB) and Business Process Management (BPM) pure-play leaders extend services with integrated process management solutions SAN MATEO, Calif. and VIENNA, Va.November 29 2007 Cape Clear Software, the Enterprise Service Bus (ESB) Platform leader, announces a new alliance with Appian, an innovative global provider of business process management (BPM) technology.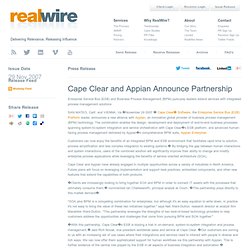 The combination enables the design, development and deployment of end-to-end business processes spanning system-to-system integration and service orchestration with Cape Clears ESB platform, and advanced human-facing process management delivered by Appians comprehensive BPM suite, Appian Enterprise. Alex Toussaint's Blog: AquaLogic BPM & AquaLogic Servic. Stuart Charlton's Blog: On Disposable Software. » ESBs: the analysts like them, but where's their future? | Serv. How long will the ESB market last?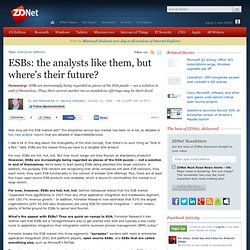 The enterprise service bus market has been on a roll, as detailed in two new analyst reports that are detailed in SearchWebServices. I talk a lot in this blog about the intangibility of the SOA concept, that there's no such thing as "SOA in a Box. " Well, ESBs are the closest thing we have to a tangible SOA product. For now, ESBs are hot, hot, hot. But how much longer will they flourish as standalone products? Make Way for the Enterprise Service Bus. SDN Strategies Part 2: Cisco, Arista, HP April 15, 2014 01:49 PM Posted by Kurt Marko In the second part of this series examining vendors' SDN products, I look at Cisco ACI, Arista's programmable approach, and HP's commitment to OpenFlow.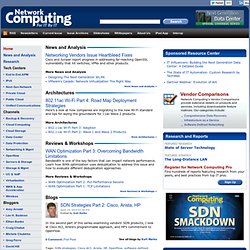 See all blogs by Kurt Marko Is RAID Fading Into The Sunset? Four ESBs That Won't Cramp Your Style. An enterprise service bus should require minimal tech expertise and coding, yet in our lab test of eight ESBs, four products has us tied up in knots. The leaders on our shortlist excelled at mediation, transformation and orchestration. Reader interest in enterprise service bus systems is on the upswing, so we set off on a collaborative journey with our sister publication, Network Computing, to gain hands-on insight.
---