Ecm
Using Wikis to Document UI Specifications - Boxes and Arrows: Th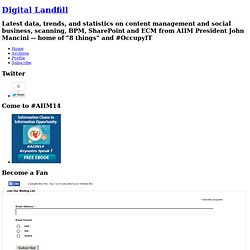 8 Things to Consider when Implementing SharePoint with Another E
Michael Elkins ( melkins@kestralgroup.com ) is an independent consultant with over 17 years of experience helping global clients with the design and deployment of enterprise wide content management systems. His clients benefit from his ECM experience including strategic guidance, information architecture and ECM/data governance programs. His company, Kestral Group LLC, is based in Denver, Colorado. With any ECM deployment, it is important to have a solid implementation plan to be successful. When combining multiple content solutions, it is critical.
Lotus Quickr and ECM
10 points workFile ECM has over SharePoint « Andrew One Degree'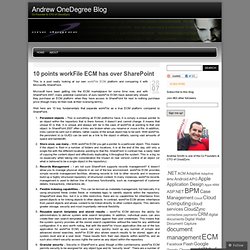 This is a post really looking at our own workFile ECM platform and comparing it with Microsofts SharePoint. Microsoft have been getting into the ECM marketplace for some time now, and with SharePoint 2007, many potential customers of ours (workFile ECM) have asked why should they purchase an ECM platform when they have access to SharePoint for next to nothing purchase price (though many do then look at their licensing terms). Well here are 10 key fundamentals that separate workFile as a true ECM platform compared to SharePoint. Persistent objects – This is something all ECM platforms have, it is simply a unique pointer to an object within the repository that is there forever, it doesn't and cannot change.
Trends: Should you buy Social Software from your ECM vendor?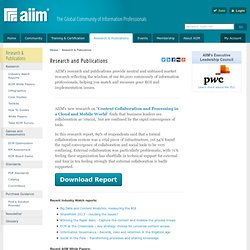 AIIM's research and publications provide neutral and unbiased market research reflecting the wisdom of our 100,000 community of information professionals, helping you match and measure your ROI and implementation issues. New AIIM Survey asks, what's the plan for your ECM system(s) - consolidate, integrate, mobilize, socialize, cloud...? Take our survey on Enterprise Content Management and tell us what functions your ECM/DM/SharePoint system fulfill? We want to know what industry-specific needs you have and what your strategy is for consolidating content access is? How important are remote and mobile access and are you considering cloud or hybrid ECM? At the end of the survey, you can opt into a prize drawing to win a 32Gb iPad-Retina or a Microsoft Surface worth $500.
Five Reasons Your ECM System May Never Be Deployed
Trends: Some lessons out of ECM vendor demo hell
Full Registration Page
Trends: EMC Documentum opens the kimono
IBM FileNet ECM Roadmap
Enterprise Content Management
Enterprise Content Management
North American ECM Community
Trends: Christening your ECM project
CMS Watch Subway Map of Content Technology Vendors -- CMS Watch
ECM Maturity Model Musings
How to justify the implementation of a document capture and rout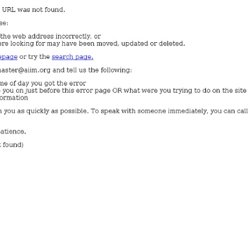 Market IQ: Content Creation and Delivery
Sorry, the requested URL was not found. This might be because: You have typed the web address incorrectly, or the page you were looking for may have been moved, updated or deleted. Please visit the homepage or try the search page. Or, email us at webmaster@aiim.org and tell us the following: what was the time of day you got the error what page were you on just before this error page OR what were you trying to do on the site your contact information
Are Our Technologies at War with Each Other?
Eventbrite - World Plone Day Toronto
LAS VEGAS - 27 Oct 2008: IBM today announced new Enterprise Content Management (ECM) solutions that are designed to help organizations achieve greater business agility and workplace effectiveness. Recognizing the need for more nimble, adaptable technology, IBM's agile ECM portfolio provides improved flexibility to help business users respond faster to changing business requirements. The new solutions will allow customers to optimize content-based operational and compliance processes. Unifying content, process and compliance capabilities in a new composite application framework, IBM's agile ECM enables clients to quickly solve increasingly complex business problems. Using a flexible, services-oriented environment, clients can now deploy solution applications within days instead of months.
Press room - 2008-10-27 IBM Unveils Software to Help Clients Man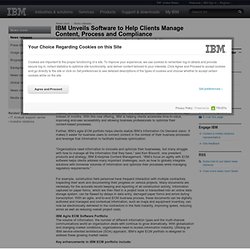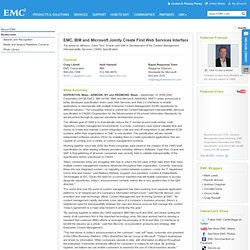 Skip Navigation My Account Welcome, Log out View or Edit Profile About EMC Newsroom
Press Release: EMC, IBM and Microsoft Jointly Create First Web S
Trends: The ECM Suites Report 2009 released today
Episode 17: AIIM Insights: The Struggle with Unstructured Inform
In this podcast VP and service director Chris Howard interviews, VP and service director Craig Roth, and VP and service director Gerry Gebel about using SharePoint to solve strategic goals of your IT organization. Roth talks about using SharePoint as an enterprise problem solver from the prospective of collaboration and what are SharePoint's real capabilities out of the box versus what you can do with a third party add-on or individual building. Gebel covers the limitations an organization can encounter with identity and access management systems and how can SharePoint fit into your enterprise identity management plan. Download Hitting the SharePoint Wall
Burton Group Inflection Point: Hitting the SharePoint Wall
News - Open Text Corporation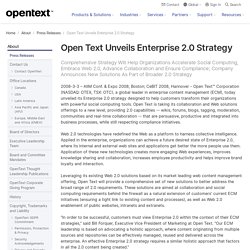 Comprehensive Strategy Will Help Organizations Accelerate Social Computing, Embrace Web 2.0, Advance Collaboration and Ensure Compliance; Company Announces New Solutions As Part of Broader 2.0 Strategy - 2008-03-03 - AIIM Conf. & Expo 2008, Boston; CeBIT 2008, Hannover - Open Text™ Corporation (NASDAQ: OTEX, TSX: OTC), a global leader in enterprise content management (ECM), today unveiled its Enterprise 2.0 strategy designed to help customers transform their organizations with powerful social computing tools. Open Text is taking its collaboration and Web solutions offerings to a new level, providing 2.0 capabilities -- wikis, forums, blogs, tagging, moderation, communities and real-time collaboration -- that are persuasive, productive and integrated into business processes, while still respecting compliance initiatives. Web 2.0 technologies have redefined the Web as a platform to harness collective intelligence.