Design
Photography. Are You a Synthesizer? (click above for larger image) So let's say you are a planner.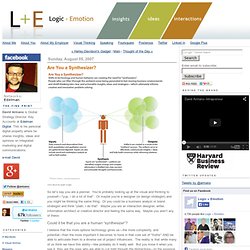 You're probably looking up at the visual and thinking to yourself—"yup, I do a lot of that". Or maybe you're a designer (or design strategist) and you might be thinking the same thing. Or you could be a business analyst or brand strategist and think "yeah, I do that". Maybe you are an interaction designer, writer, information architect or creative director and feeling the same way. VectorMagic | The Online Tool for Precision Bitmap to Vector Con. Inside Architecture : Understanding the root causes of poor sof. If I had a nickel for every time I've heard a developer complain about poor quality requirements, I'd... well... have a lot of nickels.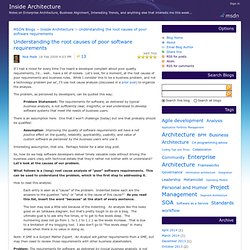 Let's look, for a moment, at the root causes of poor requirements and business rules. While I consider this to be a business problem, and not a technology problem per se', I'll use root cause analysis (discussed in a prior post) to organize the analysis. The User Experience of Enterprise Software Matters. Column by Paul J.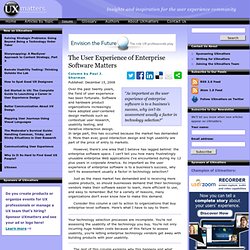 Sherman Published: December 15, 2008 "As important as the user experience of enterprise software is to a business's success, why isn't its assessment usually a factor in technology selection?" Over the past twenty years, the field of user experience has been fortunate. Software and hardware product organizations increasingly have adopted user-centered design methods such as contextual user research, usability testing, and iterative interaction design. Inside Architecture : The bizarre assumption of functional decom. Hi pr, You are asking valuable questions.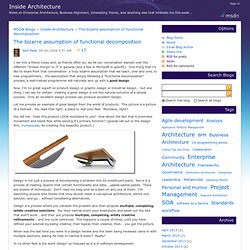 I'm glad to be discussing this point with you, because I think other folks feel like you do. ShapeShop.
---