Analysts
Observations on changes in the analyst ecosystem « SageCircle Bl. [This commentary comes from guest contributor Gerry Van Zandt (Twitter handle), AR manager with HP Services.
This guest post started as a letter that Gerry sent to his HP colleagues. We are posting an edited version with his permission] I think it's important to read and internalize what's happening in the analyst ecosystem at a macro level. Please note that this is my own take, and not the opinion nor the official position of HP. AR belongs in Marketing - a dead idea. Public policy wonk and Fortune Magazine columnist Matt Miller's new book The Tyranny of Dead Ideas: Letting Go of the Old Ways of Thinking to Unleash a New Prosperity got us at SageCircle thinking "Hmm, are there dead ideas holding back analyst relations?"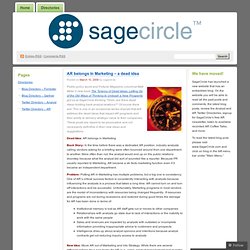 Of course there are! This is one in an occasional series of posts that will address the dead ideas that impact AR programs and their ability to delivery strategic value to their companies. These posts are meant to be provocative and not necessarily definitive in their new ideas and suggestions. Dead Idea: AR belongs in Marketing Back Story: In the time before there was a dedicated AR position, industry analysts calling vendors asking for a briefing were often bounced around from one department to another. Trends: We're seeking to hire another analyst. CMS Watch seeks a Technology Analyst based in the UK or continental Europe to evaluate Web Content Management and other Content Technology vendors and offerings.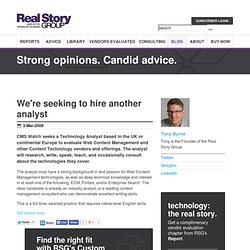 The analyst will research, write, speak, teach, and occasionally consult about the technologies they cover. The analyst must have a strong background in and passion for Web Content Management technologies, as well as deep technical knowledge and interest in at least one of the following: ECM, Portals, and/or Enterprise Search. The ideal candidate is already an industry analyst, or a leading content management consultant who can demonstrate excellent writing skills. Should vendors be investing in analyst conference sponsorships i. It their Q4 and full year 2008 earnings calls, both Gartner (2/5/09) and Forrester (2/11/09) commented on how the recession is impacting enterprise end user attendance at their events.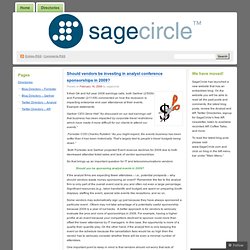 Example statements: Gartner CEO Gene Hall "As discussed on our last earnings call that business has been impacted by corporate travel restrictions which have made it more difficult for our clients to attend our events." Forrester COO Charles Rutstein "As you might expect, the events business has been softer than it has been historically. Take a deep breath before responding to analyst commentary « Sag.
Posted on December 4, 2008 by sagecircle Almost every week, SageCircle strategists do inquiries about how to respond to an analyst quote in the press or a piece of published research.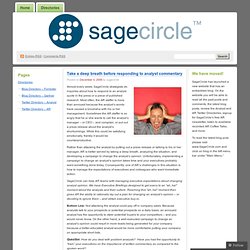 Most often, the AR staffer is more than annoyed because the analyst's words have caused a brouhaha with his or her management. Sometimes the AR staffer is so angry that he or she wants to call the analyst's manager – or CEO – and complain, or put out a press release about the analyst's shortcomings. While this could be satisfying emotionally, frankly it would be counterproductive. The 7 Tenets of the Connected Analyst. Two weeks ago I crossed the one year mark as an industry analyst, in retrospect, I approach the role differently than others before me.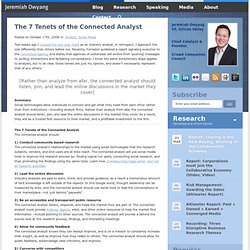 Recently, Forrester published a report signaling evolution to the Connected Agency, and states that agencies of yesteryear will evolve from 'pushing' messages to 'pulling' interactions and faciliating conversations. I know the same evolutionary steps applies to analysts, but to be clear, these tenets are just my opinion, and doesn't necessarily represent that of any others. Summary Social technologies allow individuals to connect and get what they need from each other rather than from institutions –including analyst firms. Rather than analyze from afar, the connected analyst should listen, join, and lead the online discussions in the market they cover. As a result, they will be a trusted first resource to their market, and a profitable investment to the firm.
Jim Sinur — A member of the Gartner Blog Network. Welcome Gartner Analyst Blogs. As of yesterday, Gartner analysts are now able to blog about topics related to their industry, judging by their posts, this looks like an internal battle they were finally able to win, fantastic news.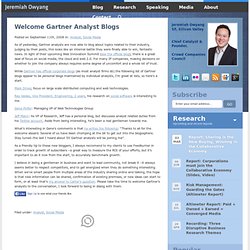 In light of their upcoming Web Innovation Summit (see the official blog), there is a great deal of focus on social media, the cloud and web 2.0. For many IP companies, making decisions on whether to join the company always requires some degree of uncomfort and a whole lot of trust. While Gartner has official corporate blogs (as most analyst firms do) the following list of Gartner blogs appear to be personal blogs maintained by individual analysts, I'm great at lists, so here's a start. Why analyst relations matter - Analysts do not have time to do c. (After an interesting Twitter-based conversation with Illuminata's Gordon Haff and former IDC analyst Ida-Rose Sylvester over the use of the word comprehensive, we have decided to use the word all-inclusive instead. ) One aspect of the analyst industry that is not widely known by technology buyers (aka end users, usually IT managers) and vendors is that industry analysts do not have the resources (e.g., time and travel budget) to conduct and publish comprehensive all-inclusive research about a market.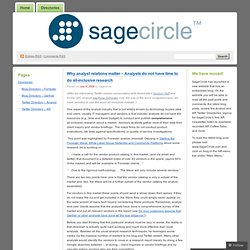 Advisory analysts gather most of their data from client inquiry and vendor briefings. The major firms do not conduct product evaluations, lab tests against specifications, or quality of service investigations. This point was highlighted by Forrester analyst Jeremiah Owyang in Starting the Forrester Wave: White Label Social Networks and Community Platforms about some research he is working on: What Do Analysts Do?
Well of course I have my answer, but I've come to realize there's a lot of misconception out in the market as to what we really do.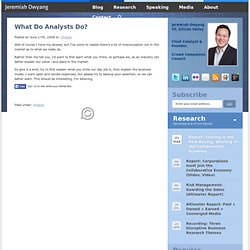 Rather than me tell you, I'd want to first learn what you think, so perhaps we, as an industry can better explain our value –and place in the market. So give it a shot, try to first explain what you think our day job is, then explain the business model. I want open and candid responses, but please try to backup your assertion, so we can better learn. This should be interesting, I'm listening. Wikinomics » Blog Archive » Who needs analyst firms anyways? Like the music industry and the publishing industry, the writing on the wall is bold, capitalized, and neon for yet another industry reluctant to change in the face of Web 2.0 forces far too powerful to ignore.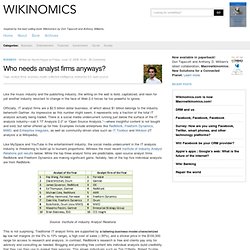 Officially, IT analyst firms are a $2.5 billion dollar business, of which about $1 billion belongs to the industry behemoth Gartner. As impressive as this number might seem, it represents only a fraction of the total IT analysis actually being traded. THE TOP 5 Common Mistakes that Analyst Relations Programs Make « 5. Vendors approach analysts with an undifferentiated message and lack of thought in their vision and strategy.
Downside – why should an analyst pay any attention to a boring, me too vendor, especially if the market is crowded and fragmented? I, Cringely . The Pulpit . Reality Check. I have this notion to write a series of columns from time to time under the title "Reality Check" -- columns intended to explain how the world of Information Technology actually functions. Because like any other entrenched, complex, and often closeted industry, things in IT don't really work the way many people think they do. I'm guessing the Vatican is a bit like that, too. So I'll be looking at various IT players and their roles and trying to put them into perspective, much as I did recently with a column or two about the role of computer consultants.
How to pitch me : Strategic Messaging. May 16, 2008 Slightly edited June, 2010 to strike out passe' parts. In a good new trend, analysts are putting up explicit "How to pitch me" notes. What is the definition of "analyst"? Over on Twitter, there is a conversation starting about the definition of "analyst."
This post is to provide a place to gather ideas and see if we can come to consensus. Please leave comments with your thoughts. There is almost no barrier to entry for someone to call themselves an analyst. How do we decide that analysts are important? « The IIAR Blog. A recent piece by Lighthouse Analyst Relations on "bloggers vs. analysts" raises some interesting questions about whether and how firms should target their limited AR resources.
One argument says that AR professionals should focus their efforts only on those analysts who have the most direct influence on sales by advising end users, and that because of the demands that they make, it is hard to maintain meaningful relationships with a broad constituency of analysts. A counter argument is that there are some very smart and influential analysts working within the vendor-facing analyst firms and smaller, more specialised consultancies and an AR programme will be the poorer for ignoring them. Proponents of the latter approach also point to the indirect influence that analysts can have on a firm's brand awareness and sales, for example through quotes in the media and blog posts. At the core of this discussion is the understanding of analyst influence. Ethics and Independence Among Industry Analysts « The IIAR Blog.
Tips from analysts about how to interact with them more effectiv. AR managers do not like surprises, which mean they are a little. Budget cutting can help AR focus and innovate. Budget cutting part two — Alternate solutions for analyst contra. Bloggers vs. Analysts: opening a discussion. Analyst Insight. James Governor's Monkchips » Researching Is Their Job, Not Yours. James Governor's Monkchips » How To Use Blogging: Analyst Adviso. What makes a tier 1 analyst? » Social Media Index sixtysecondview: Sixty second interviews fr.
Tecosystems » On Hiring: RedMonk, the A's of the Analyst Industr. James Governor's Monkchips » Carter and The Devil in the Detail: James Governor's Monkchips » Essential Reading for the AR profes.
---