Analysts
Observations on changes in the analyst ecosystem « SageCircle Bl
[This commentary comes from guest contributor Gerry Van Zandt (Twitter handle), AR manager with HP Services.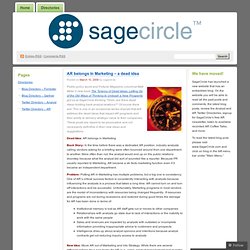 AR belongs in Marketing - a dead idea
Public policy wonk and Fortune Magazine columnist Matt Miller's new book The Tyranny of Dead Ideas: Letting Go of the Old Ways of Thinking to Unleash a New Prosperity got us at SageCircle thinking "Hmm, are there dead ideas holding back analyst relations?" Of course there are!
Trends: We're seeking to hire another analyst
Should vendors be investing in analyst conference sponsorships i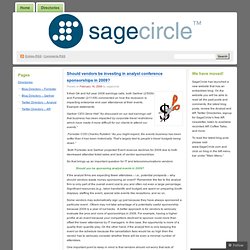 It their Q4 and full year 2008 earnings calls, both Gartner (2/5/09) and Forrester (2/11/09) commented on how the recession is impacting enterprise end user attendance at their events.
Posted on December 4, 2008 by sagecircle
Take a deep breath before responding to analyst commentary « Sag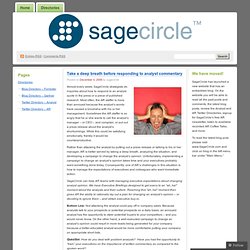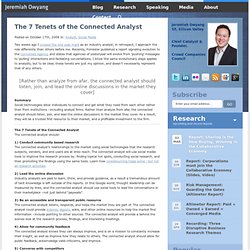 Two weeks ago I crossed the one year mark as an industry analyst, in retrospect, I approach the role differently than others before me. Recently, Forrester published a report signaling evolution to the Connected Agency, and states that agencies of yesteryear will evolve from 'pushing' messages to 'pulling' interactions and faciliating conversations.
The 7 Tenets of the Connected Analyst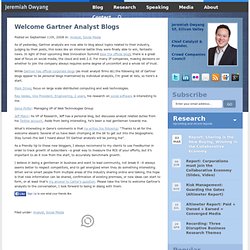 Welcome Gartner Analyst Blogs
As of yesterday, Gartner analysts are now able to blog about topics related to their industry, judging by their posts, this looks like an internal battle they were finally able to win, fantastic news.
(After an interesting Twitter-based conversation with Illuminata's Gordon Haff and former IDC analyst Ida-Rose Sylvester over the use of the word comprehensive, we have decided to use the word all-inclusive instead. )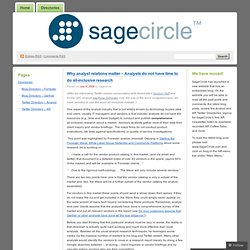 Why analyst relations matter - Analysts do not have time to do c
What Do Analysts Do?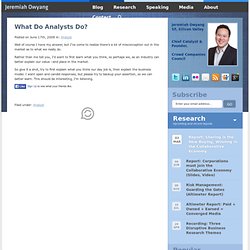 Well of course I have my answer, but I've come to realize there's a lot of misconception out in the market as to what we really do. Rather than me tell you, I'd want to first learn what you think, so perhaps we, as an industry can better explain our value –and place in the market.
Like the music industry and the publishing industry, the writing on the wall is bold, capitalized, and neon for yet another industry reluctant to change in the face of Web 2.0 forces far too powerful to ignore. Officially, IT analyst firms are a $2.5 billion dollar business, of which about $1 billion belongs to the industry behemoth Gartner. As impressive as this number might seem, it represents only a fraction of the total IT analysis actually being traded.
Wikinomics » Blog Archive » Who needs analyst firms anyways?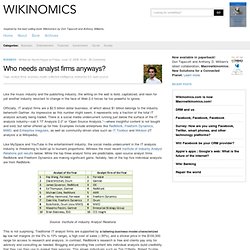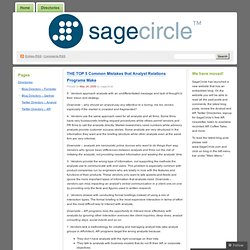 THE TOP 5 Common Mistakes that Analyst Relations Programs Make «
5. Vendors approach analysts with an undifferentiated message and lack of thought in their vision and strategy. Downside – why should an analyst pay any attention to a boring, me too vendor, especially if the market is crowded and fragmented?
I have this notion to write a series of columns from time to time under the title "Reality Check" -- columns intended to explain how the world of Information Technology actually functions.
I, Cringely . The Pulpit . Reality Check
Advice for vendors dealing with independent analysts -- CMS Watc
May 16, 2008 Slightly edited June, 2010 to strike out passe' parts. In a good new trend, analysts are putting up explicit "How to pitch me" notes.
How to pitch me : Strategic Messaging
Over on Twitter, there is a conversation starting about the definition of "analyst."
What is the definition of "analyst"?
How do we decide that analysts are important? « The IIAR Blog
A recent piece by Lighthouse Analyst Relations on "bloggers vs. analysts" raises some interesting questions about whether and how firms should target their limited AR resources.
Ethics and Independence Among Industry Analysts « The IIAR Blog
Posted on Friday 7th March 2008 by David R There's been a bit of a discussion going around lately on ethics in the industry analyst sector. I understand why the 'pay for play' model can seem an attractive option for smaller companies looking to generate business but firms that go down this route always tend to get found out.
Tips from analysts about how to interact with them more effectiv
AR managers do not like surprises, which mean they are a little
Budget cutting can help AR focus and innovate
Budget cutting part two — Alternate solutions for analyst contra
Bloggers vs. Analysts: opening a discussion
Analyst Insight
ARcade
James Governor's Monkchips » Researching Is Their Job, Not Yours
James Governor's Monkchips » How To Use Blogging: Analyst Adviso
What makes a tier 1 analyst?
» Social Media Index sixtysecondview: Sixty second interviews fr
tecosystems » On Hiring: RedMonk, the A's of the Analyst Industr
James Governor's Monkchips » Carter and The Devil in the Detail:
James Governor's Monkchips » Essential Reading for the AR profes