Security
Anti-Malware: Malwarebytes. Version 2.0.1 Operating Systems: Microsoft Windows XP, Vista, 7, 8, 8.1 (32-bit and 64-bit) Languages Available:Bulgarian, Catalan, Czech, Danish, Dutch, English, Estonian, Finnish, French, German, Greek, Hebrew, Hungarian, Indonesian, Italian, Japanese, Korean, Norwegian, Polish, Portuguese (Brazil), Portuguese (Portugual), Romanian, Russian, Slovak, Slovenian, Spanish, Swedish, Turkish, Vietnamese Uninstall Click here to read the Uninstall Guide.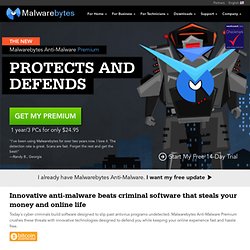 SpywareBlaster® | Prevent spyware and malware. Free download. Why SpywareBlaster?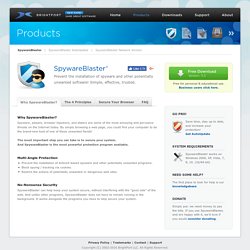 Spyware, adware, browser hijackers, and dialers are some of the most annoying and pervasive threats on the Internet today. By simply browsing a web page, you could find your computer to be the brand-new host of one of these unwanted fiends! The most important step you can take is to secure your system. CCleaner - Optimization and Cleaning - Free Download. CCleaner Optimization and Cleaning CCleaner is the number-one tool for cleaning your Windows PC.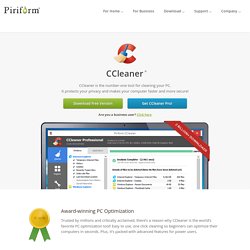 It protects your privacy online and makes your computer faster and more secure.
---