Net Neutrality
At the beginning of this year EFF identified a dozen important trends in law, technology and business that we thought would play a significant role in shaping digital rights in 2010, with a promise to revisit our predictions at the end of the year. Now, as 2010 comes to a close, we're going through each of our predictions one by one to see how accurate we were in our trend-spotting. Today, we're looking back on Trend #3, Global Internet Censorship, where we predicted the following: For years, the obvious benefits of an uncensored Internet have kept advocates of Net blocking on the defensive. But new filtering initiatives in Australia and Europe combined with growing rhetoric around child protection, cybersecurity and IP enforcement means that blocking websites isn't just for authoritarian regimes any more. That's not to say tyrants aren't paying close attention to the West's new censors.
2010 Trend Watch Update: Global Internet Censorship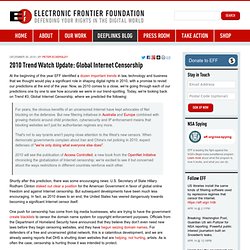 In a landmark decision issued today in the criminal appeal of U.S. v. Warshak, the Sixth Circuit Court of Appeals has ruled that the government must have a search warrant before it can secretly seize and search emails stored by email service providers. Closely tracking arguments made by EFF in its amicus brief, the court found that email users have the same reasonable expectation of privacy in their stored email as they do in their phone calls and postal mail. EFF filed a similar amicus brief with the 6th Circuit in 2006 in a civil suit brought by criminal defendant Warshak against the government for its warrantless seizure of his emails. There, the 6th Circuit agreed with EFF that email users have a Fourth Amendment-protected expectation of privacy in the email they store with their email providers, though that decision was later vacated on procedural grounds.
Breaking News on EFF Victory: Appeals Court Holds that Email Privacy Protected by Fourth Amendment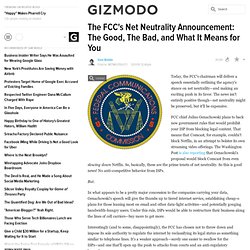 The FCC's Net Neutrality Announcement: The Good, The Bad, and What It Means for You
Welcome, Americans, to Canada. We've been paying for tiered internet with bandwidth caps for years. At least you got promises to not be throttled, we get that, hardcore. Which is hilarious, because directly on Rogers' (one of the largest ISPs in the country) website, it said "how fast is 15Mbps: Full length movie (700MB) - 6min 13sec". Now sure, it, of course, has the asterisk, but that only points out that it depends on the size and quality of the content, it says nothing about Rogers throttling your speed you couldn't get a movie downloaded that fast. A 20-minute TV show takes an hour or two downloaded through a [legal, of course] torrent, how the hell do they expect a move to be downloaded in 6 minutes.
A U.S. senator has vowed to fight attempts to pass a controversial copyright protection bill that would allow the U.S. government to shut down websites suspected of hosting infringing materials. Senator Ron Wyden, an Oregon Democrat, said late Thursday that he would seek to block the Combating Online Infringement and Counterfeits Act, or COICA, from passing through the full Senate, unless the legislation is changed. Earlier Thursday, the Senate Judiciary Committee voted 19-0 to approve the bill and send it to the full Senate. Wyden called the bill the "wrong medicine" for dealing with online copyright infringement.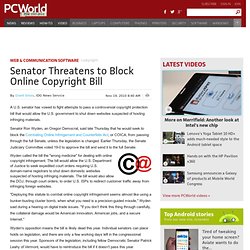 Senator Threatens to Block Online Copyright Bill - PCWorld Business Center
Electronic Frontier Foundation | Defending Freedom in the Digital World
UPDATE: The Case Against COICA
UPDATE: EFF is deeply disappointed to report that the Senate Judiciary Committee approved the COICA Internet censorship bill this morning, despite bipartisan opposition, and countless experts pointing out how it would be ineffective, unconstitutional, bad for innovation and the tech economy, and would break the Internet. Notably, Senator Feinstein and Senator Coburn commented on the need for more work on elements of the bill — an important consideration as negotiations shift to the Senate at large. The bill is unlikely to come up again until next session, and in the meantime, we look forward to educating Congress about the dangers in COICA, and joining others to oppose this or any other infringement "solution" that threatens lawful speech online.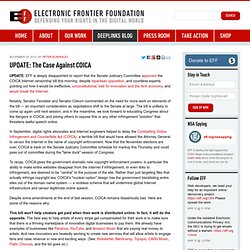 Supreme Court to Decide Standard for Proving Invalidity of a Patent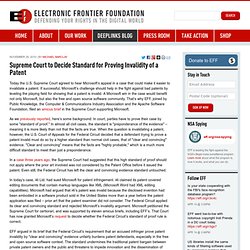 Today the U.S. Supreme Court agreed to hear Microsoft's appeal in a case that could make it easier to invalidate a patent. If successful, Microsoft's challenge should help in the fight against bad patents by leveling the playing field for showing that a patent is invalid. A Microsoft win in the case would benefit not only Microsoft, but also the free and open source software community.
U.S. Government Seizes 82 Websites: A Glimpse at the Draconian Future of Copyright Enforcement?
Over the past few days, the U.S. Justice Department, the Department of Homeland Security and nine U.S. Attorneys' Offices seized 82 domain names of websites they claim were engaged in the sale and distribution of counterfeit goods and illegal copyrighted works. Setting aside the due process concerns inherent in seizing any website without notice or appropriate recourse for the owner, it appears that the "raid" has swept up several sites that are hardly in the business of willful copyright infringement. For example, the the list of targets included OnSmash.com and RapGodfathers.com.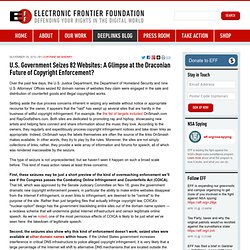 Secrets of the "New Music Industry" that the "Old Music Industry" Doesn't Want to Know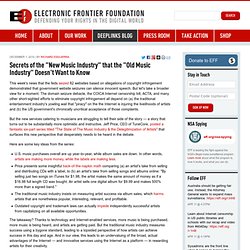 This week's news that the feds seized 82 websites based on allegations of copyright infringement demonstrated that government website seizures can silence innocent speech. But let's take a broader view for a moment. The domain seizure debacle, the COICA Internet censorship bill, ACTA, and many other short-sighted efforts to eliminate copyright infringement all depend on (a) the traditional entertainment industry's yowling wail that "piracy" on the the Internet is injuring the livelihoods of artists and (b) the US government's chronically uncritical acceptance of those complaints. But the new services catering to musicians are struggling to tell their side of the story — a story that turns out to be substantially more optimistic and instructive. Jeff Price, CEO of TuneCore, posted a fantastic six-part series titled "The State of The Music Industry & the Delegitimization of Artists" that surfaces this new perspective that desperately needs to be heard in the debate.