Bradley Manning
January 7, 2011 | Like this article? Join our email list: Stay up to date with the latest headlines via email.
9 Essential Questions About Bradley Manning and WikiLeaks | News & Politics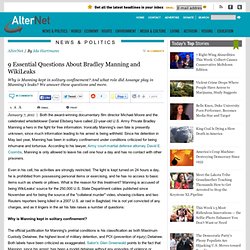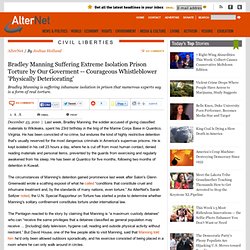 December 23, 2010 | Like this article? Join our email list: Stay up to date with the latest headlines via email. Last week, Bradley Manning, the soldier accused of giving classified materials to Wikileaks, spent his 23rd birthday in the brig of the Marine Corps Base in Quantico, Virginia.
Bradley Manning Suffering Extreme Isolation Prison Torture by Our Goverment -- Courageous Whistleblower 'Physically Deteriorating' | Civil Liberties
Bradley Manning's health deteriorating in jail, supporters say | World news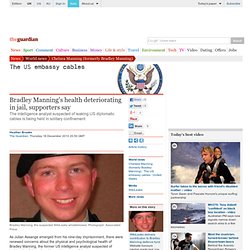 Bradley Manning, the suspected WikiLeaks whistleblower. Photograph: Associated Press As Julian Assange emerged from his nine-day imprisonment, there were renewed concerns about the physical and psychological health of Bradley Manning, the former US intelligence analyst suspected of leaking the diplomatic cables at the centre of the storm. Manning, who was arrested seven months ago, is being held at a military base in Virginia and faces a court martial and up to 52 years in prison for his alleged role in copying the cables. His friends and supporters also claim they have been the target of extra-judicial harassment, intimidation and outright bribery by US government agents.
Political language is designed to make lies sound truthful and murder respectable, and to give the appearance of solidity to pure wind. -- George Orwell Update: On July 6, 2010, Private Bradley Manning, a 22 year old intelligence analyst with the United States Army in Baghdad, was charged with disclosing this video (after allegedly speaking to an unfaithful journalist). The whistleblower behind the Pentagon Papers, Daniel Ellsberg, has called Mr. Manning a 'hero'.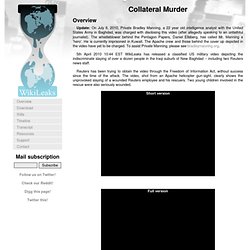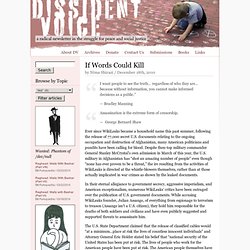 I want people to see the truth… regardless of who they are… because without information, you cannot make informed decisions as a public."— Bradley Manning Assassination is the extreme form of censorship.— George Bernard Shaw Ever since WikiLeaks became a household name this past summer, following the release of 77,000 secret U.S. documents relating to the ongoing occupation and destruction of Afghanistan, many American politicians and pundits have been calling for blood. Despite then-top military commander General Stanley McCrystal's own admission in March of this year, the U.S. military in Afghanistan has "shot an amazing number of people" even though "none has ever proven to be a threat," the ire resulting from the activities of WikiLeaks is directed at the whistle-blowers themselves, rather than at those actually implicated in war crimes as shown by the leaked documents.
If Words Could Kill