Bioinformatyka
Omics - Omics.org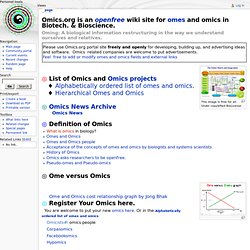 Omics
National Resource for Network Biology
The genetic code is nearly optimal for allowing additional information within protein-coding sequences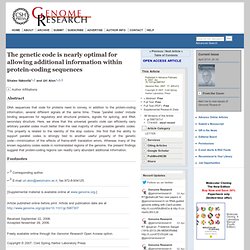 + Author Affiliations Abstract
geneticCode.pdf (application/pdf Object)
Stephen Jay Gould (September 10, 1941 – May 20, 2002) was an American paleontologist , evolutionary biologist , and historian of science .
Stephen Jay Gould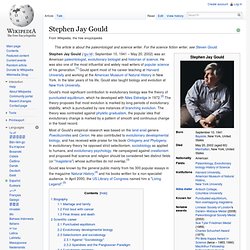 Tabela kodonów Kodon (triplet) – jednostka w sekwencji DNA składająca się z trzech nukleotydów kodujących określony aminokwas . Istnieją 64 kodony określające 20 aminokwasów.
Kodon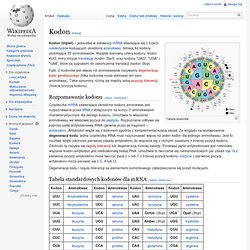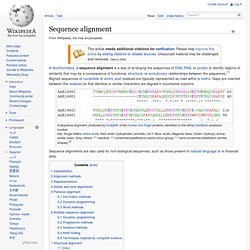 In bioinformatics , a sequence alignment is a way of arranging the sequences of DNA , RNA , or protein to identify regions of similarity that may be a consequence of functional, structural , or evolutionary relationships between the sequences. [ 1 ] Aligned sequences of nucleotide or amino acid residues are typically represented as rows within a matrix . Gaps are inserted between the residues so that identical or similar characters are aligned in successive columns.
Sequence alignment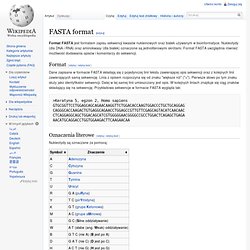 Format FASTA jest formatem zapisu sekwencji kwasów nukleinowych oraz białek używanym w bioinformatyce. Nukleotydy (dla DNA i RNA) oraz aminokwasy (dla białek) oznaczone są jednoliterowymi skrótami. Format FASTA uwzględnia również możliwość dodawania opisów i komentarzy do sekwencji.
FASTA format