Blended Learning
Many books recommend teaching and learning strategies based on current learning research and theory. However, few books offer illustrative examples of how to take these strategies and put them into action in the real world. The Online Learning Idea Book is filled with concrete examples of people who make learning more inspiring and engaging every day, in all kinds of settings, all over the world. In this second volume of The Online Learning Idea Book you will find brand new and valuable ideas that you can adopt or adapt in your own instructional materials, to make them more dynamic and more worthwhile for learners and learning. These ideas will let you peek over the shoulders of some of the world's most creative instructors, instructional designers and developers, trainers, media developers, and others in order to help spark creative ideas of your own.
The Online Learning Idea Book: Proven Ways to Enhance Technology-Based and ... - Patti Shank
This groundbreaking book offers a down-to-earth resource for the practical application of blended learning in higher education as well as a comprehensive examination of the topic. Well-grounded in research, Blended Learning in Higher Education clearly demonstrates how the blended learning approach embraces the traditional values of face-to-face teaching and integrates the best practices of online learning. This approach has proven to both enhance and expand the effectiveness and efficiency of teaching and learning in higher education across disciplines. In this much-needed book, authors D. Randy Garrison and Norman D.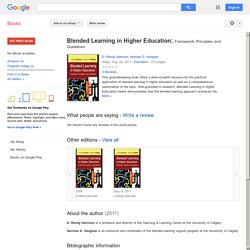 Blended Learning in Higher Education: Framework, Principles, and Guidelines - D. Randy Garrison, Norman D. Vaughan
3 Hour Workshop - Powerful Ingredients for Blended Learning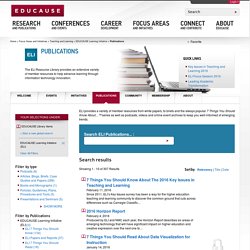 7 Things You Should Know About Telepresence Robots December 9, 2013 Most telepresence robots combine a mobile base with a small screen placed roughly at the height of a person —think of a tablet computer atop a mop handle anchored to a rolling platfo… 7 Things You Should Know About Wearable Technology
ELI Discovery Tool: Blended Learning Workshop Guide