iPhone
How to Use SSH to Transfer File on iPhone | The iPhone and iPad. If you ask me the top reason for jailbreaking iPhone, the ability to use SSH to transfer files between iPhone and computer via WiFi is my answer.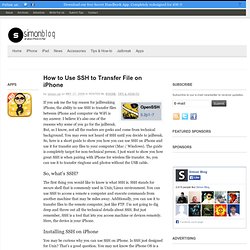 I believe it's also one of the reasons why some of you go for the jailbreak. But, as I know, not all the readers are geeks and come from technical background. You may even not heard of SSH until you decide to jailbreak. So, here is a short guide to show you how you can use SSH on iPhone and use it for transfer any files to your computer (Mac / Windows). How to SSH to your iphone or ipod in Ubuntu (with pictures) :) -
Welcome to the iFans Forums Create Your Account or Ask a Question Answers in 5 minutes - no registration required!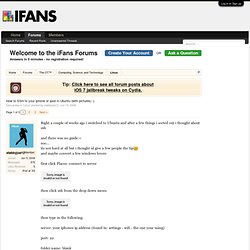 Tip: Click here to see all forum posts aboutiOS 7 jailbreak tweaks on Cydia. How to SSH to your iphone or ipod in Ubuntu (with pictures) :) Discussion in 'Linux' started by stabbyjoe12, Jun 15, 2008. Page 1 of 3. How to change your iPhone/iPod Touch icons - Macintosh Customiza. Posixninja's spirit-linux at master - GitHub. Walkthrough: How to Jailbreak iPhone 3.1.3 with Spirit. So with the release of the Spirit jailbreak for iPhone, 3.1.3, it's only appropriate to post a quick how-to, so here it is.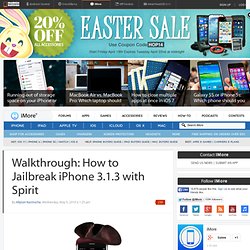 And of course, with a jailbreaking tutorial, here comes the disclaimer: If you're not sure what you're doing and have misgivings about jailbreaking, you probably should stray away. iPhone Games, iPad Games, iPod Touch Games, Game Reviews and Gam. Top 9 iPhone 'Twitch-Action' Games - PCWorld. We take a comprehensive look nine of the best "twitch-action" video games available on the iPhone, including everything from the huge iPhone hit Doodle Jump to more underrated gems like Don't Crash.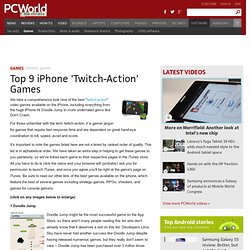 For those unfamiliar with the term twitch-action, it is gamer jargon for games that require fast response time and are dependent on great hand-eye coordination to kill, speed, avoid and score. It's important to note the games listed here are not a listed by ranked order of quality. This list is in alphabetical order. The Best iPhone Games - PCWorld. The huge number of games available in the iTunes App Store can make delving into the games scene for the iPhone and iPod Touch pretty intimidating at first.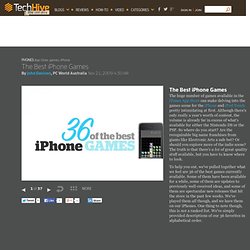 Although there's only really a year's worth of content, the volume is already far in excess of what's available for either the Nintendo DS or the PSP. So where do you start? 12 Must-Have iPhone4 Games - PCWorld. Some of you may be upgrading from an older iPhone to an iPhone 4, and some of you may have finally caved in and bought one for the first time.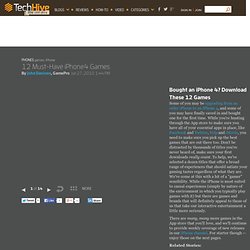 While you're hunting through the App store to make sure you have all of your essential apps in place, like Facebook and Twitter, Yelp and iMovie, you need to make sure you pick up the best games that are out there too. Don't be distracted by thousands of titles you've never heard of, make sure your first downloads really count. To help, we've selected a dozen titles that offer a broad range of experiences that should satiate your gaming tastes regardless of what they are.
---