Companies
- Home
C-Style Custom Cruisers — Home
Sector 9 - Longboard Skateboards and Apparel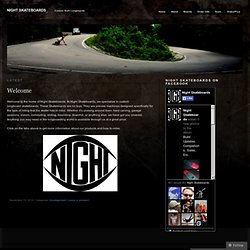 Welcome to the home of Night Skateboards. At Night Skateboards, we specialize in custom longboard skateboards. These Skateboards are no toys.
Night Skateboards
Orangatang Wheels - Store - carving, longboard and race wheels built with orange juice and smiles
spacetime bending machines - composite skateboards
C-Style Custom Cruisers — Home
roggs.ca
Munkae Trucks
Tracker Skateboard Trucks » Bushings
Hello Skaters, Welcome to a new year of skating. This will be my 15th and final year building skateboards. I also made an announcement of the Subsonic Facebook page and there are some nice comments there. I will be looking for a suitable successor during this year to purchase my brand and take it to the next level.
Subsonic Skateboard Company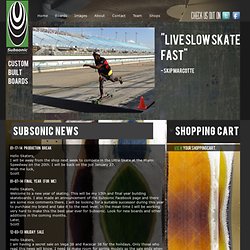 EarthWing Skateboards NYC
ORANGATANG WHEELS
まず最初に 『テレクラ』と言われても、いまいちぴんとこない方は多いでしょう。特に十代、二十代の方はさっぱり分からないのではないでしょうか。テレクラというのは八十年代から九十年代半ばにかけて最盛期を誇った風俗店形態の総称です。内容としては、女性から電話がかかってきて、気に入った相手が見付かれば実際に会うという流れになっていました。店舗は狭く、あるのは電話機のみであるという一見風変りな営業形態でしたが、電話を利用する風俗というのが時代に合っていたのか、この風俗形態は驚異的な勢いで流行したのです。