Sw_ww_search
FeedHub
W3C Recommendation 10 February 2004 New Version Available: OWL 2 (Document Status Update, 12 November 2009) The OWL Working Group has produced a W3C Recommendation for a new version of OWL which adds features to this 2004 version, while remaining compatible.
OWL Web Ontology Language Guide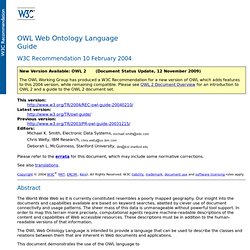 Calais
The Resource Description Framework ( RDF ) is a family of World Wide Web Consortium (W3C) specifications [ 1 ] originally designed as a metadata data model . It has come to be used as a general method for conceptual description or modeling of information that is implemented in web resources , using a variety of syntax notations and data serialization formats. [ edit ] Overview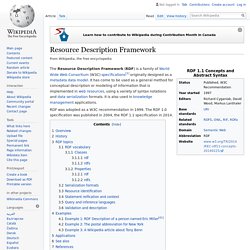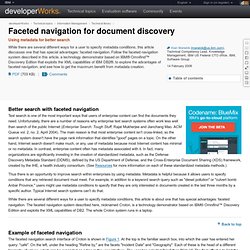 Faceted navigation for document discovery
Better search with faceted navigation
The Resource Description Framework (RDF) is a language for representing information about resources in the World Wide Web.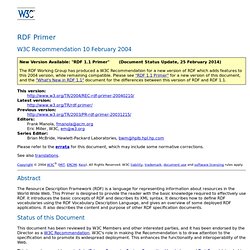 RDF Primer
SPARQL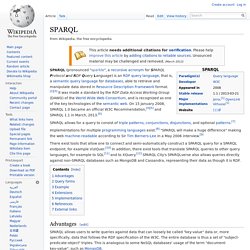 SPARQL (pronounced " sparkle ", a recursive acronym for S PARQL P rotocol a nd R DF Q uery L anguage ) is an RDF query language , that is, a query language for databases , able to retrieve and manipulate data stored in Resource Description Framework format. [ 1 ] [ 2 ] It was made a standard by the RDF Data Access Working Group (DAWG) of the World Wide Web Consortium , and is considered as one of the key technologies of the semantic web . On 15 January 2008, SPARQL 1.0 became an official W3C Recommendation. [ 3 ] [ 4 ]
Argotic Syndication Framework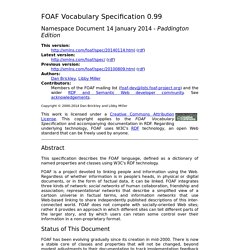 Classes Class: foaf:Agent Agent - An agent (eg. person, group, software or physical artifact).
owl ontologies
The Matchmaker is also a web service that helps make connections between service requesters and service providers.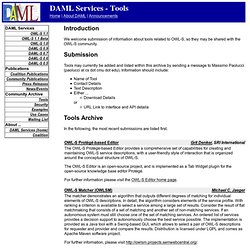 Services
LibraryThing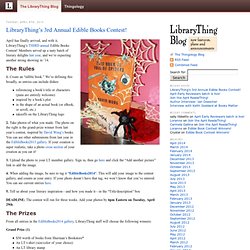 We're very excited to announce a whole series of improvements to LibraryThing Local , your gateway to tens of thousands of bookstores, libraries, book festivals, author readings and other bookish venues and events. The major improvements are:
Update February 2011: This has been translated into Dutch: Hoe maak je een facetclassificatie en hoe plaats je haar op het web?
How to Make a Faceted Classification and Put It On the Web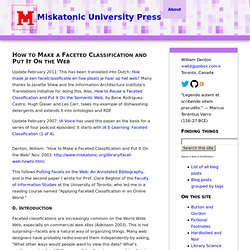 OpenCalais
180 Del.icio.us Tools and Resources
Feb Filed Under Service | Comments Off