Sw_ww_search
FeedHub
Tutorials
W3C Recommendation 10 February 2004 New Version Available: OWL 2 (Document Status Update, 12 November 2009) The OWL Working Group has produced a W3C Recommendation for a new version of OWL which adds features to this 2004 version, while remaining compatible.
OWL Web Ontology Language Guide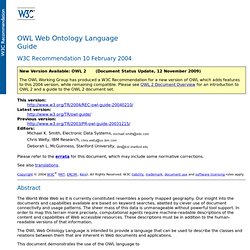 Calais
Resource Description Framework
The Resource Description Framework (RDF) is a family of World Wide Web Consortium (W3C) specifications [1] originally designed as a metadata data model. It has come to be used as a general method for conceptual description or modeling of information that is implemented in web resources, using a variety of syntax notations and data serialization formats. Overview[edit]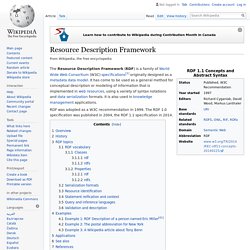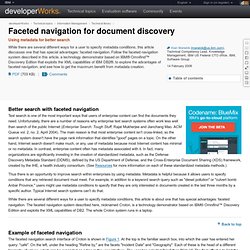 Faceted navigation for document discovery
Better search with faceted navigation
The Resource Description Framework (RDF) is a language for representing information about resources in the World Wide Web.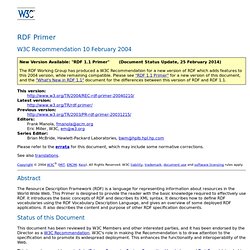 RDF Primer
SPARQL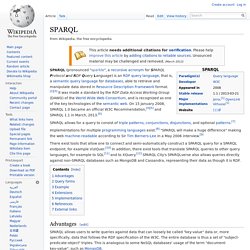 SPARQL (pronounced "sparkle", a recursive acronym for SPARQL Protocol and RDF Query Language) is an RDF query language, that is, a query language for databases, able to retrieve and manipulate data stored in Resource Description Framework format.[1][2] It was made a standard by the RDF Data Access Working Group (DAWG) of the World Wide Web Consortium, and is recognized as one of the key technologies of the semantic web. On 15 January 2008, SPARQL 1.0 became an official W3C Recommendation,[3][4] and SPARQL 1.1 in March, 2013.[5]
Argotic Syndication Framework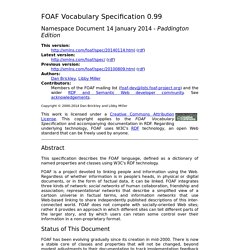 Classes Class: foaf:Agent Agent - An agent (eg. person, group, software or physical artifact).
FOAF Vocabulary Specification
Swoogle Semantic Web Search Engine
owl ontologies
The Matchmaker is also a web service that helps make connections between service requesters and service providers.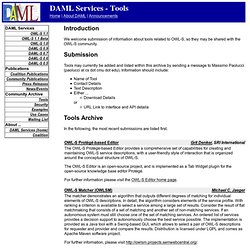 Services
LibraryThing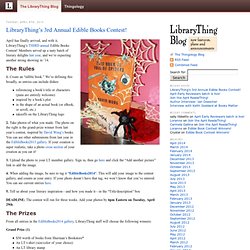 For the last two years running (2012 and 2011), LT staff members have each compiled a list of their top five reads for the year. For 2013, we wanted everyone to get in on the fun, so we compiled a list that all of LibraryThing can add to.
Update February 2011: This has been translated into Dutch: Hoe maak je een facetclassificatie en hoe plaats je haar op het web?
How to Make a Faceted Classification and Put It On the Web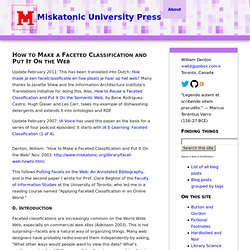 OpenCalais
180 Del.icio.us Tools and Resources
Feb Filed Under Service | Comments Off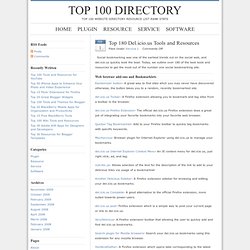 SIMILE Project