Automate
Microsoft Popfly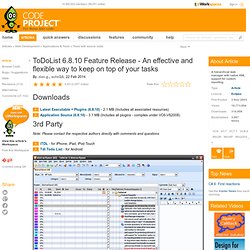 Downloads Latest Executable + Plugins (6.8.10) - 2.1 MB (Includes all associated resources)Application Source (6.8.10) - 3.1 MB (Includes all plugins - compiles under VC6-VS2008) 3rd Party Note: Please contact the respective authors directly with comments and questions iTDL - for iPhone, iPad, iPod Touch Tdl Todo List - for Android Latest Update (6.8.10 Feature Release) The big new features for 6.8 are full drag'n'drop support added to the Gantt and Calendar views for modifying task dates.
Web Applications - Account Authentication API - Google Code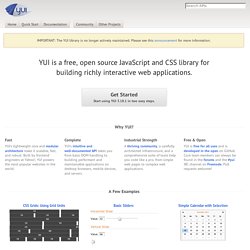 Why YUI? Fast YUI's lightweight core and modular architecture make it scalable, fast, and robust. Built by frontend engineers at Yahoo!, YUI powers the most popular websites in the world.
What is jQuery? jQuery is a fast, small, and feature-rich JavaScript library. It makes things like HTML document traversal and manipulation, event handling, animation, and Ajax much simpler with an easy-to-use API that works across a multitude of browsers.
MS ASP.NET