Tech Tools
Data Visualization: A 2013 HorizonWatching Trend Report. PowerPoint TimeLine. Aea365 Office Timeline. I'm Naomi Walsh and I am a novice consultant.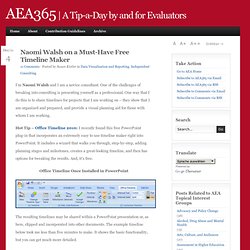 One of the challenges of breaking into consulting is presenting yourself as a professional. One way that I do this is to share timelines for projects that I am working on – they show that I am organized and prepared, and provide a visual planning aid for those with whom I am working. Hot Tip – Office Timeline 2010: I recently found this free PowerPoint plug-in that incorporates an extremely easy to use timeline maker right into PowerPoint.
Working w/ Video
Free Photo Sites. Splashup. Tungle.me. Aea365 tungle.me. My name is LaMarcus Bolton, and I am the American Evaluation Association's Technology Director, as well as a doctoral student in Industrial-Organizational Psychology.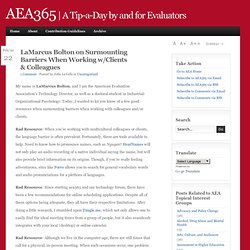 Today, I wanted to let you know of a few good resources when surmounting barriers when working with colleagues and/or clients. Rad Resource: When you're working with multicultural colleagues or clients, the language barrier is often prevalent.
Netvibes. Aea365 Netvibes. My name is Susan Kistler.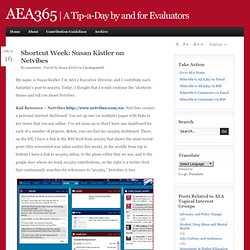 I'm AEA's Executive Director, and I contribute each Saturday's post to aea365. Today, I thought that I would continue the 'shortcuts' theme and tell you about Netvibes. Rad Resource – Netvibes Netvibes creates a personal internet dashboard. Zotero. MyNetResearch. Dipity. Bookmarking. CometDocs. Dropbox.
Tagxedo. Aea365 Tagxedo. Good Morning!
Here, AEA's Executive Director. We've had a number of posts talking about creating and using word clouds, primarily in terms of creating them through wordle. Prezi. Aea365 - Prezi. My name is Penny Black and I am a Public Health Program Evaluator at the University of Wisconsin's Population Health Institute.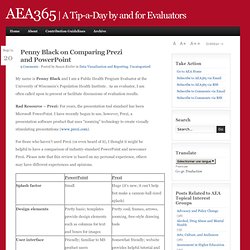 As an evaluator, I am often called upon to present or facilitate discussions of evaluation results. Rad Resource – Prezi: For years, the presentation tool standard has been Microsoft PowerPoint.
Bubbl.us. Ganttzilla. Google. Link Diagnosis. Aea365 Inbound Website LInks. I'm Susan Kistler, the Executive Director for the American Evaluation Association.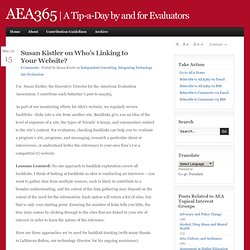 I contribute each Saturday's post to aea365. As part of our monitoring efforts for AEA's website, we regularly review backlinks –links into a site from another site. Backlinks give you an idea of the level of exposure of a site, the types of 'friends' it keeps, and commentary related to the site's content. TED Talks. Aea365 TED Talks2. My name is Susan Kistler.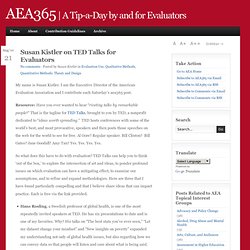 I am the Executive Director of the American Evaluation Association and I contribute each Saturday's aea365 post. Resource: Have you ever wanted to hear "riveting talks by remarkable people?" That is the tagline for TED Talks, brought to you by TED, a nonprofit dedicated to "ideas worth spreading." TED hosts conferences with some of the world's best, and most provocative, speakers and then posts those speeches on the web for the world to see for free.
Al Gore? Aea365 TED Talks2. My name is Stephen McFarland and I'm in love with Ted.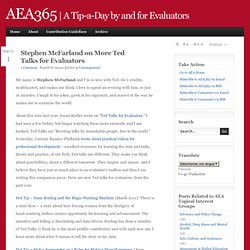 He's erudite, multifaceted, and makes me think. I love to spend an evening with him, or just 16 minutes. I laugh at his jokes, gawk at his ingenuity, and marvel at the way he makes me re-examine the world. About this time last year, Susan Kistler wrote on "Ted Talks for Evaluators." I had seen a few before, but began watching them more earnestly and I am hooked. Stickies. Stickies is a PC utility I wrote to try to cut down on the number of yellow notes I was leaving stuck to my monitor.
It is a computerised version of those notes. The design goal behind Stickies is that the program is small and simple.
---