Tech Tools
Data Visualization: A 2013 HorizonWatching Trend Report
PowerPoint TimeLine
aea365 Office Timeline
I'm Naomi Walsh and I am a novice consultant.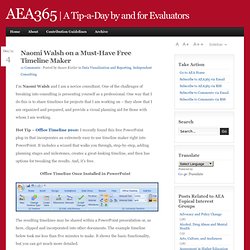 aea365 tungle.me
My name is LaMarcus Bolton , and I am the American Evaluation Association's Technology Director, as well as a doctoral student in Industrial-Organizational Psychology. Today, I wanted to let you know of a few good resources when surmounting barriers when working with colleagues and/or clients.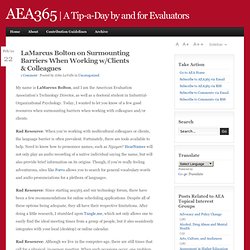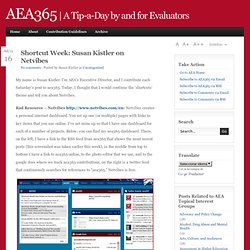 My name is Susan Kistler.
aea365 Netvibes
MyNetResearch
aea365 Tagxedo
Good Morning! here, AEA's Executive Director. We've had a number of posts talking about creating and using word clouds, primarily in terms of creating them through wordle.
My name is Penny Black and I am a Public Health Program Evaluator at the University of Wisconsin's Population Health Institute. As an evaluator, I am often called upon to present or facilitate discussions of evaluation results. Rad Resource – Prezi: For years, the presentation tool standard has been Microsoft PowerPoint.
aea365 - Prezi
Loved this tool - it was quick and easy to get started and relatively easy to learn how to modify formating and tweak the alignment between bubbles. Nice that there is a free trial option - subscriptions seem reasonable as well. by kisbundas Nov 5
Ganttzilla
I'm Susan Kistler, the Executive Director for the American Evaluation Association. I contribute each Saturday's post to aea365.
aea365 Inbound Website LInks
My name is Susan Kistler.
aea365 TED Talks2
My name is Stephen McFarland and I'm in love with Ted.
aea365 TED Talks2
Stickies What is Stickies? Stickies is a PC utility I wrote to try to cut down on the number of yellow notes I was leaving stuck to my monitor.