Google
Google FeedBurner. Aea365 Monitoring Blogs. I'm Susan Kistler, AEA's Executive Director, and I contribute each Saturday's post.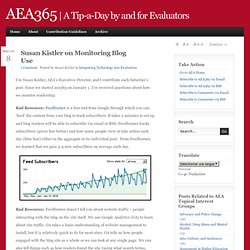 Since we started aea365 on January 1, I've received questions about how we monitor readership. Rad Resource: Feedburner is a free tool from Google through which you can 'feed' the content from your blog to track subscribers. It takes 2 minutes to set up and blog readers will be able to subscribe via email or RSS. Feedburner tracks subscribers (green line below) and how many people view or take action each day (blue line) either in the aggregate or by individual post.
From Feedburner, we learned that we gain 3-4 new subscribers on average each day. Google Fusion Tables. Google Refine. Aea365 Google Refine. My name is Philippe Buteau and I am an analyst at my own small co-owned firm, Buteau and Lindley.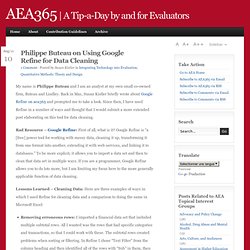 Back in May, Susan Kistler briefly wrote about Google Refine on aea365 and prompted me to take a look. Since then, I have used Refine in a number of ways and thought that I would submit a more extended post elaborating on this tool for data cleaning. Rad Resource – Google Refine: First of all, what is it? Google Refine is "a [free] power tool for working with messy data, cleaning it up, transforming it from one format into another, extending it with web services, and linking it to databases." To be more explicit, it allows you to import a data set and then to clean that data set in multiple ways. Googel Analytics.
Aea365 Website Analytics. I'm Ariana Johnson.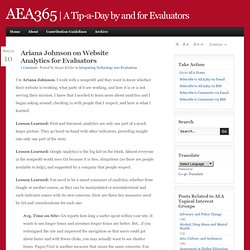 I work with a nonprofit and they want to know whether their website is working, what parts of it are working, and how it is or is not serving their mission. I knew that I needed to learn more about analytics and I began asking around, checking in with people that I respect, and here is what I learned. Lesson Learned: First and foremost, analytics are only one part of a much larger picture. They go hand-in-hand with other indicators, providing insight into only one part of the story. Google Alerts. Aea365 Google Alerts. My name is Susan Kistler, and I am the American Evaluation Association's Executive Director.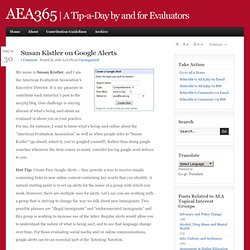 It is my pleasure to contribute each Saturday's post to the aea365 blog. One challenge is staying abreast of what's being said about an evaluand or about you or your practice. For me, for instance, I want to know what's being said online about the "American Evaluation Association" as well as when people refer to "Susan Kistler" (go ahead, admit it, you've googled yourself). Rather than doing google searches whenever the item comes to mind, consider having google send notices to you. Google Docs. Google Web Forms.
---