Books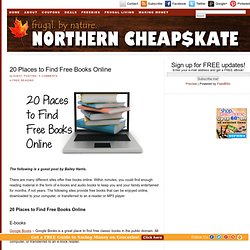 The following is a guest post by Bailey Harris. There are many different sites offer free books online. Within minutes, you could find enough reading material in the form of e-books and audio books to keep you and your family entertained for months, if not years.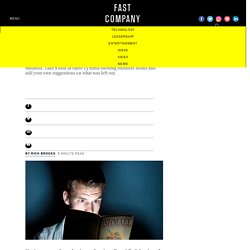 Having never taken a business class in college I find that I read and listen to a lot of business books to round out my education. The books usually aren't "How to Manage Your Cash Flow" but rather get me to rethink the way I run my business , which--despite no business classes or diploma--continues to be in business 13 plus years after I started it. In that time, here are 13 of the books that had the biggest impact on how I run my business (in no particular order): Drive: The Surprising Truth About What Motivates Us by Daniel Pink: If you supervise anyone in your business, this book is a must read. It shows that what science knows about motivation, business isn't putting into practice.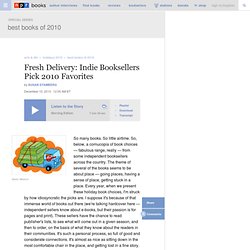 Fresh Delivery: Indie Booksellers Pick 2010 Favorites
Recommendations from Daniel Goldin at Boswell Book Co. in Milwaukee Crooked Letter, Crooked Letter By Tom Franklin; hardcover, 288 pages; William Morrow, list price: $24.99 Larry Ott is the outcast of rural Chabot, Miss. He's a bit of a geek, but not the kind with technical skills.
The Book Seer | Find your next book | 1984
You really need to upgrade Internet Explorer to be here... Download it now... The Book Seer β — Another literary web project by Apt Labs // Updates on Twitter → If you've just read 1984 by George Orwell then... Amazon recommends:
50 Banned Books That Everyone Should Read By Britney Wilkins As long as there have been books, there have been people opposed to what is said in some of those books.