Urban ressources
Contes et Histoires locales/perso comme coaching de quartier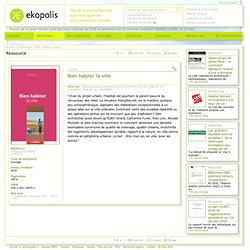 Bien habiter la ville
"Chair du projet urbain, l'habitat est pourtant le parent pauvre du renouveau des villes. La situation française est, en la matière, quelque peu schizophrénique, opposant des réalisations exceptionnelles à un laisser-aller sur la ville ordinaire. Comment sortir des modèles répétitifs ou des opérations pilotes qui ne trouvent que peu d'adhésion? Des architectes aussi divers qu'Édith Girard, Catherine Furet, Yves Lion, Nicolas Michelin et bien d'autres montrent ici comment atteindre une banalité exemplaire synonyme de qualité de voisinage, qualité urbaine, évolutivité des logements, développement durable, rapport à la nature, en ville centre comme en périphérie urbaine. Le but : être chez soi, en ville, avec les autres."
Cities AI .. gestion des villes
The Urbanophile
This following post comes courtesy of Aaron Renn, aka The Urbanophile . In recent years, Renn has emerged as the one of the leading voices on all matters urban. This piece is his first contribution to the CNU salons and focuses on how LEED-ND can be applied to the remediation of the Chicago Housing Authority's Lathrop Homes in Chicago.
The Urbanophile on LEED-ND and Chicago's Lathrop Homes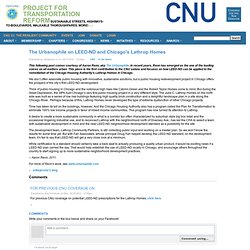 Megalopolis, et de 7 !
«A quoi rêvent les banlieues?» Leur a-t-on jamais posé la question ? Pas vraiment. La campagne présidentielle serait pourtant le bon moment, tant l'urgence grandit dans ces territoires délaissés par la République, de l'aveu même de la plupart des candidats à la présidence. Mais non. On parle halal, taxation des footballeurs, etc.
CNU Public Square by MindMixer
research – Urban Future Organization Scandinavia
La Fing valorise et met en réseau des projets innovants et ceux qui les portent. Elle soutient ou fait émerger certains projets transformateurs. Projets en cours Campagne Infolab : développer une culture de la donnée au service des entreprises et des acteurs du territoire En savoir plus Expérimenter le partage des données personnelles entre les organisations et les individus qu'elles concernent.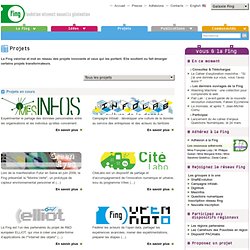 Esri CityEngine - 3D Modeling Software for Urban Environments
3D GIS in ArcGIS 10.1 | ArcGIS Video
CONCEPT URBAIN - architecture contemporaine et mobilier urbain / Specialist in the design and manufacture of street furniture
cités végétales - architecture bionique
This post is also available in: Chinese (Traditional) 'A product of the creative encounter between the man-made and the natural, between order and disorder, the garden can offer productive metaphors for the interactions between human life and time, care, thought or space.' The fate of the city garden has been featured on This Big City in the past . With pressure on urban space increasing as populations grow and building becomes more intensive, will gardens be a less common sight in future cities?
Reinterpreting Green Space in cities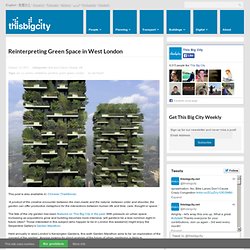 3D Map of London's Urban Complexity
Dr Duncan Smith, a Research Fellow here in CASA and author of our latest blog – Urban Geographics has produced an interesting visualisation of London's Urban form: The visualisation of the density and function of the built-environment shows the dominance of the intensifying city-centre, corridors of commercial development and the smaller scale centres in Outer London. The data comes from the Valuation Office and the Greater London Authority. For more info and a write up of the background to the viz, take a look at http://www.geographics.blogs.casa.ucl.ac.uk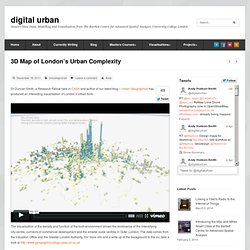 Imagining an Elastic City
Planters and urban gardening tools at Kennedy Greenway in central Boston, the site of the Occupy Boston encampment. Last spring, after attending a panel about urbanism in Mumbai, I wrote a blog post about what I called the "entropic city" — one that is constantly changing and re-imagining itself. "Entropy," I argued, "is a cultural and an economic necessity. Restricting and channeling change imposes a dominant idea of what change should be, and what existing conditions are undesirable.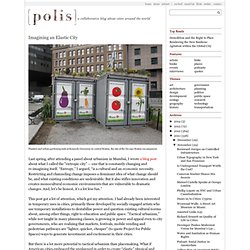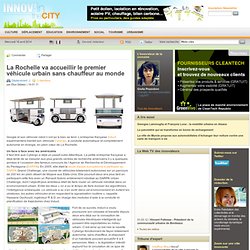 La Rochelle va accueillir le premier véhicule urbain sans chauffeur au monde
Google et son véhicule robot n'ont qu'à bien se tenir. L'entreprise française Induct expérimentera bientôt son véhicule Cybergo , à conduite automatique et complètement autonome en énergie, en plein cœur de La Rochelle. Un face à face avec les américains Il faut dire que Cybergo a déjà un passif outre-Atlantique. La petite entreprise française a déjà tenté de se mesurer aux plus grands centres de recherche américains il y a quelques années à l'occasion des fameux concours de l'Agence de Recherche et Développement du Pentagone ( DARPA ).
TEAM | Q&A with Chiara Camponeschi « Enabling Suburbs
Chiara Camponeschi is author of The Enabling City and works at the intersection of interdisciplinary research, social innovation and urban sustainability. 1. What do you think are the most difficult challenges, contradictions and opportunities facing suburbs and their communities, or Aspley/your suburb and its community? Suburbs are particularly vulnerable places. As predominantly car-centric, they lack lively public spaces where the act of socializing can go beyond forms of recreational or status-defining consumption.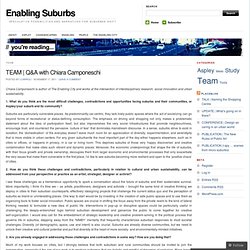 blog space _ culture