SiZ-o lab tools LABslike
bon perso, mais partagé.. les outils, les labo qui ressemblent, ... savoir lesquels fonctionnent ?
Je laisse l'adresse du blog de SiZ-o lab
http://sizo.future-architecture.org/about/
car si jamais il ya vait des gens plus terre à terre ou intéressé que moi ... n'hésitez pas à critiquer, à proposer, à indiquer, ...
AkoZ Feb 9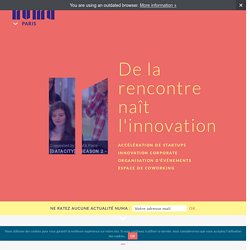 « NUMA » fait référence au numérique, qui est au cœur de la révolution économique et culturelle que nous vivons, et à l'humain qui est le vecteur fondamental de cette transformation. C'est place puissante de rassemblement et de synergies, un levier incontestable de notre compétitivité. Cela fait maintenant plus de dix ans que nous travaillons avec et pour les entrepreneurs. En 2008, nous fondions La Cantine, premier espace de coworking en France; en 2011 Le Camping, premier accélérateur de startups en France et parmi les premiers en Europe et au monde. Ces projets sont le résultat d'un partenariat fort entre entrepreneurs, grands comptes tels que Orange, Google, BNP Paribas, Steelcase et collectivités : la ville de Paris et la Région Ile-de-France.
Né d'une approche sociologique de nos territoires, le concept de "Tiers Lieux" se développe en France et dans le monde à grande vitesse. Ils sont destinés à être des espaces physiques ou virtuels de rencontres entre personnes et compétences variées qui n'ont pas forcément vocation à se croiser. La définition des tiers lieux retenue dans le cadre de Movilab Pour nous, le tiers-lieu est un espace modulaire polymorphe offrant un lieu physique et/ou symbolique à une communauté d'usagers. Il est polymorphe car il peux prendre des formes variées en fonction des besoins d'un territoire et des communautés d'usagers.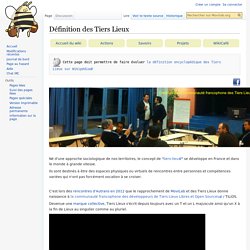 Définition des Tiers Lieux
Labs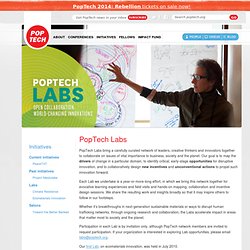 PopTech Labs bring a carefully curated network of leaders, creative thinkers and innovators together to collaborate on issues of vital importance to business, society and the planet. Our goal is to map the drivers of change in a particular domain, to identify critical, early-stage opportunities for disruptive innovation, and to collaboratively design new incentives and unconventional actions to propel such innovation forward. Each Lab we undertake is a year-or-more-long effort, in which we bring this network together for evocative learning experiences and field visits and hands-on mapping, collaboration and incentive design sessions. We share the resulting work and insights broadly so that it may inspire others to follow in our footsteps. Whether it's breakthroughs in next-generation sustainable materials or ways to disrupt human trafficking networks, through ongoing research and collaboration, the Labs accelerate impact in areas that matter most to society and the planet.
Se connecter | S'inscrire La fabrication d'objet technologique ouverte à tous Langue parlée : Français
▶ #fabtc 2012:Lilian Chardon - Lîlegal
unnamed pearl
Equipe de jeunes architectes, aux compétences et horizons différents, le Collectif Parenthèse constitue un support de réflexion et d'expérimentation autour des pratiques de l'espace urbain et de l'architecture. Nous cherchons à développer une approche interactive, humaine et responsable de la création architecturale et urbaine par le biais de multiples médiums. Nos projets se développent souvent sur un temps court et de manière participative. Les idées peuvent ainsi prendre vie, être expérimentées, mais aussi critiquées et améliorées. Ce processus permet de multiplier les expériences de partage et de découverte. Le collectif parenthèse cherche à concevoir et mettre au point des installations éphémères pouvant prendre autant de formes différentes que les paramètres où elles prennent place.
Collectif Etc
Collectif etc,
Modifications de Microsoft Expression | Microsoft Expression
La prolifération d'applications Web riches et interactives dans le Cloud et les appareils mobiles continue de créer de nouvelles opportunités en termes de design et de développement créatifs. Ces technologies évoluent sans cesse et Microsoft s'engage donc à fournir les meilleurs outils pour créer des applications modernes. Dans le cadre de la prise en charge de ces tendances du secteur, Microsoft consolide ses offres de développement et de design : Expression et Visual Studio, et ce afin d'offrir à tous ses clients une solution unifiée qui réunit le meilleur du Web et des modèles de développement modernes.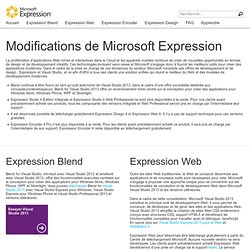 P2P Lab ← researching open tech & art
P2P Lab is a media lab interested in interdisciplinary research on free/open source technologies and practices. Our mission is to: produce innovative, global techno-economic solutions to local problems. strive for integrative insights on the open technologies and the peer-to-peer practices, coming from various interdisciplinary fields. organise open events for reflection and action as well as to educate people about critical and creative tools for society-changing. See our completed , ongoing , and future projects. We are constantly on the look-out for co-operation on interesting projects.
Working Groups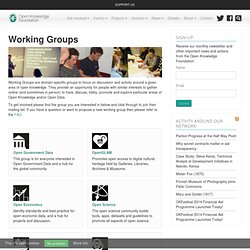 Working Groups are domain-specific groups to focus on discussion and activity around a given area of open knowledge. They provide an opportunity for people with similar interests to gather online (and sometimes in person) to hack, discuss, lobby, promote and explore particular areas of Open Knowledge and/or Open Data. To get involved please find the group you are interested in below and click through to join their mailing list.
Bolo'Bolo | Laboratoire écosophique pour l'imagination artistique locale et globale
the Probotics
Libres Ensemble, c'est la devise qui orne les étendards de Mutinerie et c'est la raison d'être de notre espace de coworking parisien. Mutinerie offre aux indépendants et aux entrepreneurs un cadre de travail stimulant et un écosystème efficace pour leur permettre de rester autonomes sans être isolés. Nous vous invitons à venir nous rencontrer et travailler une première journée gratuitement. Vous saurez rapidement si ce lieu est fait pour vous.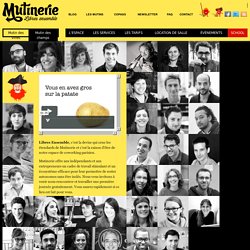 BROOKLYN, VILLE - LABORATOIRE
Up On The Farm (trailer) from Diane Nerwen on Vimeo Up On The Farm by Diane Nerwen A meditation on urban green spaces and the post-industrial cityscape, Up On The Farm explores Brooklyn Grange, a one-acre rooftop organic farm in New YorkCity. Connecting the built and natural environments, this video documents an imaginative experiment in green urban redevelopment, and takes a look at an attempt to transform the roof of a century-old former factory into a sustainable, pastoral haven. Brooklyn, la ville-laboratoire Ils cultivent sur les toits, sont geeks, surfeurs, font l'éloge de la lenteur...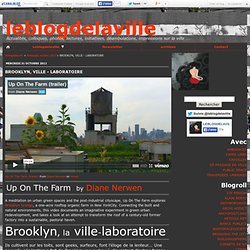 à propos — Silicon Xperience
The Department of Small Works
(1) Atelier / Trans305
Le blog de multimedialab.be » Architecture
de la traversée de l'année nouvelle L'équipe d'animation du en bonne intelligence
L'ex theatre national terroriste
House : ezaokup
Landesgartenschau Exhibition Hall Robotically Fabricated Lightweight Timber Shell Schwäbisch Gmünd, Germany, 2014 The Landesgartenschau Exhibition Hall will be constructed in Schwäbisch Gmünd in 2014. The robotically fabricated lightweight... timber shell constitutes an integral part and demonstrator of the research project Robotic Fabrication in Timber Construction, which is a collaborative undertaking of the ICD Institute for Computational Design, the ITKE Institute of Building Structures and Structural Design, and the IIGS Institute of Engineering Geodesy of the University of Stuttgart and the timber construction company MüllerBlaustein. The research is supported by the industrial robot manufacturer KUKA, the forestry department of the state of Baden-Württemberg (ForstBW) and the Landesgartenschau Schwäbisch Gmünd 2014. ICD Institute for Computational Design Prof. A.
ICD
About | Open E Land
Happy Measure
Design de services
Innovation: MidtLab développe le secteur public grâce à des solutions innovantes
Copenhagen Institute of Interaction Design
A propos | Le 108, Maison Bourgogne
Le Frigo ne ronronne pas. Entretien avec Gabi Farage
Labsid S.L.
Labs | Chaotic Moon
play – Urban Future Organization Scandinavia
URBAIN trop URBAIN
Videoformes Fest
"MY OFFICE IS WHERE I AM"
Bonita Documentation DL & install (simple)