SiZ-o lab tools LABslike
Bon perso, mais partagé.. les outils, les labo qui ressemblent, ... savoir lesquels fonctionnent ?

Je laisse l'adresse du blog de SiZ-o lab

car si jamais il ya vait des gens plus terre à terre ou intéressé que moi ... n'hésitez pas à critiquer, à proposer, à indiquer, ...
AkoZ. Laboratoire Urbanisme Insurrectionnel. Fablabs. La Cantine. Définition des Tiers Lieux. Né d'une approche sociologique de nos territoires, le concept de "Tiers Lieux" se développe en France et dans le monde à grande vitesse.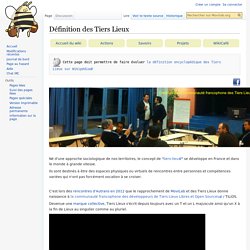 Ils sont destinés à être des espaces physiques ou virtuels de rencontres entre personnes et compétences variées qui n'ont pas forcément vocation à se croiser. La définition des tiers lieux retenue dans le cadre de Movilab Pour nous, le tiers-lieu est un espace modulaire polymorphe offrant un lieu physique et/ou symbolique à une communauté d'usagers. Il est polymorphe car il peux prendre des formes variées en fonction des besoins d'un territoire et des communautés d'usagers. Labs. PopTech Labs bring a carefully curated network of leaders, creative thinkers and innovators together to collaborate on issues of vital importance to business, society and the planet.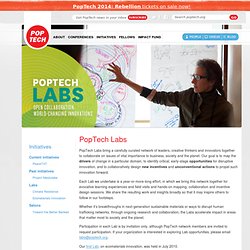 Our goal is to map the drivers of change in a particular domain, to identify critical, early-stage opportunities for disruptive innovation, and to collaboratively design new incentives and unconventional actions to propel such innovation forward. Each Lab we undertake is a year-or-more-long effort, in which we bring this network together for evocative learning experiences and field visits and hands-on mapping, collaboration and incentive design sessions.
We share the resulting work and insights broadly so that it may inspire others to follow in our footsteps. Whether it's breakthroughs in next-generation sustainable materials or ways to disrupt human trafficking networks, through ongoing research and collaboration, the Labs accelerate impact in areas that matter most to society and the planet. Agence du futur. Untitled. Formé en 2012 par un groupe d'amis et architectes, le Collectif Parenthèse constitue un cadre de réflexion et d'expérimentation autour des pratiques de l'espace et de la ville.
La volonté de créer différemment, questionner les disciplines et les métiers de l'architecture ainsi que ses méthodes de travail sont à l'origine de ce regroupement. L'élaboration de chacun des projets du collectif suit un processus complet, de l'idée au dessin et de la conception à la réalisation. Nous cherchons à développer une approche interactive, humaine et responsable de la création par le biais de tous les médiums disponibles qui suscitent notre intérêt. Architecture, scénographie, installations, graphisme, design, vidéo, photographie… sont autant de disciplines créatives où notre imaginaire et nos réflexions peuvent s'exprimer. Cette énergie se concrétise par l'élaboration d'installations éphémères, de mobilier urbain, de projections, de design d'objet mais aussi de créations purement artistiques. Collectif Etc, | Architecture, espace public et urbanisme participatif. Vers une fabrique citoyenne de la ville.
Collectif Etc. Collectif etc, Modifications de Microsoft Expression | Microsoft Expression. La prolifération d'applications Web riches et interactives dans le Cloud et les appareils mobiles continue de créer de nouvelles opportunités en termes de design et de développement créatifs.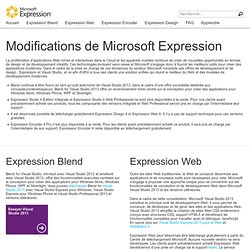 Ces technologies évoluent sans cesse et Microsoft s'engage donc à fournir les meilleurs outils pour créer des applications modernes. Dans le cadre de la prise en charge de ces tendances du secteur, Microsoft consolide ses offres de développement et de design : Expression et Visual Studio, et ce afin d'offrir à tous ses clients une solution unifiée qui réunit le meilleur du Web et des modèles de développement modernes.
P2P Lab ← researching open tech & art. Working Groups. Bolo'Bolo | Laboratoire écosophique pour l'imagination artistique locale et globale. The Probotics. Mutinerie, libres ensemble - espace de coworking à Paris 19. BROOKLYN, VILLE - LABORATOIRE. Up On The Farm (trailer) from Diane Nerwen on Vimeo Up On The Farm by Diane Nerwen A meditation on urban green spaces and the post-industrial cityscape, Up On The Farm explores Brooklyn Grange, a one-acre rooftop organic farm in New YorkCity.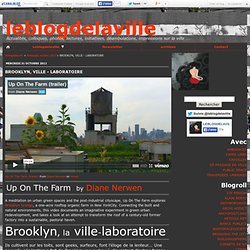 Connecting the built and natural environments, this video documents an imaginative experiment in green urban redevelopment, and takes a look at an attempt to transform the roof of a century-old former factory into a sustainable, pastoral haven. Brooklyn, la ville-laboratoire Ils cultivent sur les toits, sont geeks, surfeurs, font l'éloge de la lenteur... À propos. The Department of Small Works.
(1) Atelier / Trans305. Le blog de multimedialab.be » Architecture. Accueil: MCX-APC. L'ex theatre national terroriste. House : ezaokup. ICD. About | Open E Land. Open E Land is part of a worldwide movement working to transition to a sustainable, just, resilient social-economic model.
Our name reflects our beliefs: Knowledge should be shared openly and not encumbered by patents or trade secrets. Our economic, environmental, and energy problems are all linked and cannot be solved in isolation. We need to profoundly change our agricultural systems and our relationship with the land. Happy Measure. Page Content Happy Measure visualisiert Größe und Volumen von Einrichtungsgegenständen im Smartphone und unterstützt damit bei der Planung.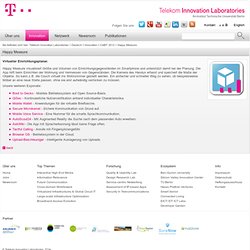 Die App hilft beim Einrichten der Wohnung und Vermessen von Gegenständen. Die Kamera des Handys erfasst und speichert die Maße der Objekte. So kann z.B. die Couch virtuell ins Wohnzimmer gestellt werden. Inteligencias Colectivas 2.0. Bellastock. Design de services.
Innovation: MidtLab développe le secteur public grâce à des solutions innovantes. Copenhagen Institute of Interaction Design. Copenhagen Institute of Interaction Design. The Copenhagen Institute of Interaction Design (CIID) is a postgraduate school and consultancy based in Copenhagen, Denmark which focuses on the area of interaction design.
It was launched in 2007[1] and in 2008, completed its Pilot Year programme in an attempt to establish a full-time Masters course in the field.[2] The Pilot Year was awarded financial funding by The Enterprise and Construction Authority (EBST), the Danish Ministry of Culture, Novo Nordisk and the JL Foundation.[3] Now in its sixth year, the new batch of students are participating in the Interaction Design Programme 2014.
The institute is based in an independent building in the center of Copenhagen, and the school and its postgraduate Interaction Design Programme is in collaboration with Design School Kolding, one of two main design schools in Denmark. Eventos. A propos | Le 108, Maison Bourgogne. Le collectif 108 – Maison Bourgogne est une association 1901 regroupant une trentaine d'associations professionnelles dans le secteur culturel.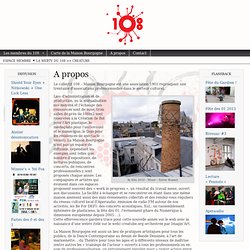 In Situ 2010 - Mixar - Sylvie Bonnot Lieu d'administration et de production, ou la mutualisation des moyens et l'échange des ressources sont de mise, trois salles de près de 100m2 sont réservées à la Création (le Bol pour l'Art plastique, le mediaplato pour l'audiovisuel et le numérique, le Dojo pour les résidences de spectacle vivant). La Maison Bourgogne n'est pas un espace de diffusion, cependant les énergies sont telles que nombre d'expositions, de lectures publiques, de concerts, de rencontres professionnelles y sont proposés chaque année. Les compagnies et artistes qui évoluent dans ces espaces proposent souvent des « work in progress », un résultat du travail mené, ouvert aux discussions.
Le Laboratoire Microsoft de l'école Supinfo - Actualités, Tips, Articles, etc. Le Frigo ne ronronne pas. Entretien avec Gabi Farage. Comment et avec quels objectifs est né le Bruit du Frigo ?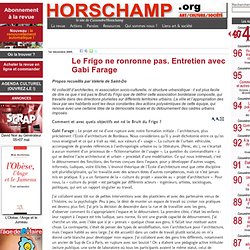 Gabi Farage : Le projet est né d'une rupture avec notre formation initiale : l'architecture, plus précisément l'École d'architecture de Bordeaux. Nous considérions qu'il y avait dichotomie entre ce qu'on nous enseignait et ce qui a trait au réel, aux valeurs d'« usage ». La culture de l'urbain véhiculée, accompagnée de grandes références à l'anthropologie urbaine ou la littérature, (Pérec, etc.), ne s'écartait à aucun moment d'un processus de « fictionnarisation de l'usager ». Construction21.eu, the first trans European platform about Sustainable Construction. Labsid S.L.
Labs | Chaotic Moon. Question Everything. Fail Fast. Iterate Often. This is the first part of a three-series blog that will dive into the ethos of the Labs here at Chaotic Moon. Play – Urban Future Organization Scandinavia. URBAIN trop URBAIN. Videoformes Fest. LAb[au] laboratory for Architecture and Urbanism. Research - Turning Ideas into Reality. TechNet Virtual Labs. "MY OFFICE IS WHERE I AM" / PHOTOGRAPHY / GRAPHIC DESIGN / CONTEMPORARY ART / FASHION /personal site... Signage for the 'Tour Intesa San Paolo' in Turin design : l'autobus impérial (Source: autobus-imperial.com) Arch2O.com - Design & Art Environment.
Photosynth - Capture your world in 3D. Bonita Documentation DL & install (simple) Diagrams & charts tools.
---