Cities AI .. gestion des villes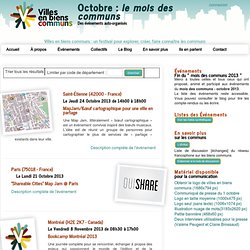 Repas participatif et convivial anti-gaspi pour la fête inter-AMAP ! Venez participez à l'élaboration d'un repas convial anti-gaspi pour les portes ouvertes des ateliers d'artistes du Mutualab Un repas participatif et convivial à base de fruits et légumes sauvés de la poubelle au Centre d'Animation et de Loisir "Bon voyage 2" Intervenants : Anne GONON, chercheuse et auteure, spécialiste des pratiques artistiques hors les murs et de leur réception par les spectateurs. Jean-François TALLIO, élu adjoint à la culture, Saint-Herblain - administrateur membre de droit/Conseil d'Administration de Trempolino.
Villes en biens communs
Adaptation by Jeffrey Inaba
Brésil / / Amérique du sud Le thème est d'actualité au Brésil. Élément déclencheur de la récente révolte du peuple brésilien, le prix du ticket de bus/métro n'en finit pas de susciter des débats. Pour Lucio Gregori, ancien secrétaire municipal aux Transports de São Paulo, la gratuité du transport public est possible.
La gratuité des transports en commun, une utopie ?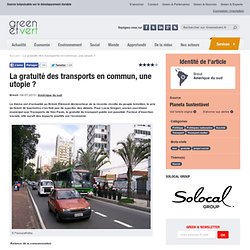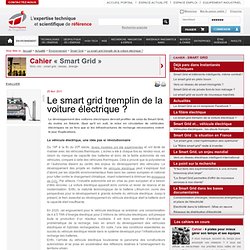 Le smart grid tremplin de la voiture électrique ?
25 févr. 2011 Le smart grid tremplin de la voiture électrique ? Le développement des voitures électriques devrait profiter de celui du Smart Grid, du moins en théorie.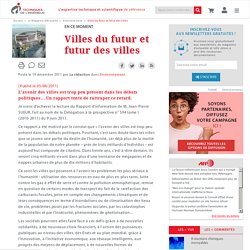 L'avenir des villes est trop peu présent dans les débats politiques...
Villes du futur et futur des villes
Search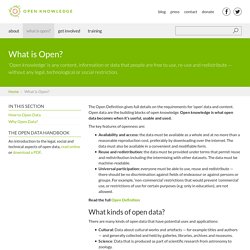 Open Data – An Introduction
"Today we find ourselves in the midst of an open data revolution" Image: A Year Of Edits On OpenStreetMap by Peter Miller What is Open Data?
Une exposition riche en découvertes Le public aborde le biomimétisme au travers de projets innovants déclinés autour de 6 thèmes : Ville et biomimétisme Dans cette thématique, le visiteur part à la découverte des principes du biomimétisme (formes, procédés, écosystèmes) et appréhende les principes d'une stratégie urbaine inspirée du vivant. Le visiteur découvre une vision de la ville biomimétique au travers des œuvres de Luc Schuiten.
Site de la ville de Vélizy-Villacoublay: Une exposition riche en découvertes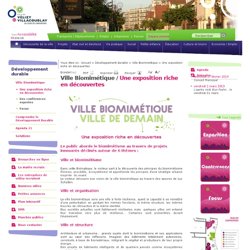 [Exclusif] 78% des grandes villes s'emparent de Facebook
Avec un taux de 78%, le doute n'est plus permis : les grandes villes se sont bel et bien emparées de Facebook. Le phénomène est d'autant plus net que la dernière étude, réalisée en 2010 , montrait une présence encore très minoritaire des grandes villes de plus de 100000 habitants. Seule 25% d'entre elles animait une Fan page. Sans grande surprise, on retrouve donc au "top quanti" : Paris Lyon Grenoble Besançon Clermont-Ferrand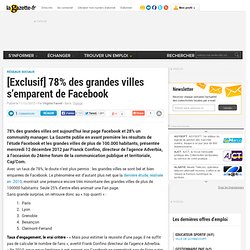 It's not just your lousy memory: the end of 2012 was much busier than the beginning. Just since July, we've seen a U.S. presidential election, a once-in-four-centuries hurricane, four horrific mass shootings, riots and warfare across the Middle East. Our #Cityreads of the year follow the news cycle -- into a high-rise housing project after Sandy and the Republican party's relationship with cities -- but they also veer off course, into the weirder corners of rail construction, charter cities, and more. Over the past year we've tried to make our #Cityreads reflect the breadth of subjects that accompanies so universal a concept. It might be expressed, in its simplest terms as: what happens when a lot of people live in one place? As with the #Cityreads we post each week, this is by no means a complete list.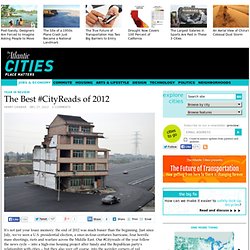 The Best #CityReads of 2012 - Jobs & Economy
New Rules for the New Economy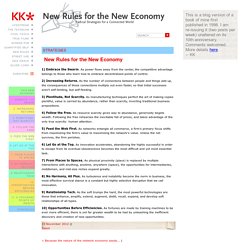 1) Embrace the Swarm . As power flows away from the center, the competitive advantage belongs to those who learn how to embrace decentralized points of control. 2) Increasing Returns.
Design participatif : méthodes, théories, approches multimédia.
Démocratie participative & Gouvernance
Nø City Guide est la revue de Villes éditée par Urbain, trop urbain — publication numérique annuelle epub & PDF | Nø City Guide | La revue de villes
(1) URBAIN trop URBAIN
(1) Perspectives Urbaines
future Architecture for Societal Evolutions | not found
Le métier du planificateur: un travail de tissage entre les différentes dimensions de la connaissance et de la praxis
Recherche d'un document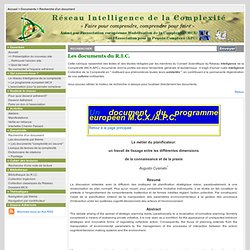 3-D Map of Air Pollution in London Introduction This 3D model shows air pollution across 63 sq km (9km x 7km) of central London.
London Air Quality Network :: Welcome to the London Air Quality Network » 3-D Map of Air Pollution in London
WebTools neutres Post-DEMocratiques
Portails sécurisés de Conseils d'Administration | Leading Boards
LLC - CommunityViz
CommunityViz planning software is made up of two components:
Talk Transportation With Us | The City of Vancouver
Phase 2 Consultation Summary During the Transportation 2040 Phase 2 consultation program in June and July 2012, over 10,000 people participated through public events, community & stakeholder meetings, an online questionnaire, social media and email. In general there was strong support for the City of Vancouver's draft transportation policies and actions.
Snart kan pappersritningarna ha spelat ut sin roll i byggbranschen. Förhoppningen är att tredimensionella modeller på läsplattor ska ge stora besparingar. Ett brobygge i Arboga testar gränserna för metoden. Tre aktörer - en modell.
Construire des ponts pionnier de la collaboration en 3D
Carbon Zero: A Short Tour of Your City's Future by Alex Steffen
The climate crisis demands that we start rebuilding our cities to become carbon neutral. But what does carbon neutrality mean? What does it look like?
Active projects - Metagovernment - Government of, by, and for all the people
The Building Futures Game - Building Futures
Urban Futures - Building Futures
Internet Archive Search: mediatype:movies AND subject:"Suburbia"
Internet Archive Search: mediatype:movies AND subject:"City Planning"
Beautiful Time-Scale Transit Maps by Peter Dunn
Your Medieval Future | By Josephine Smit and Norman Pagett | Where the crisis in Food Energy and Population must lead.
Paris est sa banlieue
Streetsblog New York City
L'oubli du beurre comme stratégie urbaine
The Death and Life of Great American Cities
The Urbanophile
Citiscope
Blueprint America
INFRASTRUCTURIST
Intelligent Cities
Les technologies NFC au service des usagers des transports urbains
4-JARDINIER
Frequently Asked Questions :: FixMyStreet
FixMyTransport: Report, view and resolve public transport problems
Le financement participatif peut-il bâtir des villes
Crowdsourcing road congestion data
(1) Dificultés de circulation en zone urbaines les solutions existes
Mobilité études et recherches
Du parking intelligent à la mobilité prédictive
Doorstep pick-up, fair fare to redefine autorickshaws - Home
Project RED (Re-Engineered Discharge) - A Randomized Controlled Trial at Boston Medical Center
Science fiction no more: The perfect city is under construction
La démocratie pour tous | Conseils de secteur de Saint-Denis
of Government | How Gamification Can Improve Government.
Engaging Citizens Through Games: San Jose, CA Budget Prioritization Games
Living PlanIT - PlanIT Valley – a smart and connected city for Portugal
Au Portugal, la ville intelligente c'est pour maintenant
Science fiction no more: The perfect city is under construction
Living PlanIT - Technology for sustainable cities
Living PlanIT - Cisco Collaborates with Living PlanIT to Develop a Sustainable, Intelligent and Connected Community in Portugal