Misc.
Traditional Children's Games, England Scotland Ireland vol 2- contents Pg
Turkish Children's Games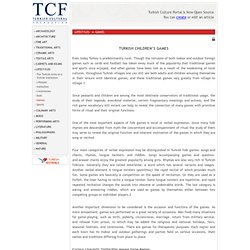 Even today Turkey is predominantly rural. Though the intrusion of both indoor and outdoor foreign games such as cards and football has taken away much of the popularity that traditional games and sports once enjoyed, and other games have been lost as a result of the weakening of local cultures, throughout Turkish villages one can still see both adults and children amusing themselves in their leisure with identical games, and these traditional games vary greatly from village to village.1 Since peasants and children are among the most obstinate conservators of traditional usage, the study of their legends, anecdotal material, certain fragmentary meanings and actions, and the rich game vocabulary still extant can help to reveal the connection of many games with primitive forms of ritual and their original functions. One of the most important aspects of folk games is vocal or verbal expression.
IBEXES (see tag: oyun kuramı)
Games - (see esp Parlour Games)
Dokuz taş oyuncuların taşlarıyla bir sıra oluşturmaya çalıştığı bir oyundur. Bir yere iç içe üç kare çizilir ve kenarları orta noktalarından birleştirilir. Böylece 12 köşede ve 12 kenar üzerinde olmak üzere 24 nokta ortaya çıkar. Oyunun başında, iki oyuncu sırayla birer birer taşlarını noktalara yerleştirir.
Geleneksel Çocuk Oyunlarımız : Kızderbent Köyü Web Sitesi