Sun
Anjana Sriram's Weblog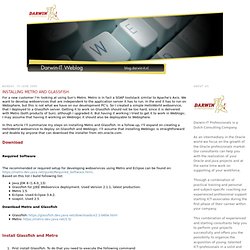 For a new customer I'm looking at using Sun's Metro. Metro is in fact a SOAP toolstack similar to Apache's Axis. We want to develop webservices that are independent to the application server it has to run. In the end it has to run on Websphere, but this is not what we have on our development PC's.
Installing Metro and Glassfish
JMS 101 : Linda's Open Message Queue Blog
I have a cunning plan. Since I find that my blogging attempts at work get curtailed by well ... work, I'm going to attempt to do most of it sitting at home while I do other things like watch tivo or listen to music. If random quotes get thrown into the middle of the blog, you now know why. Since I attempt, however futilely, to have a life this may or may not work. (don't worry, I promise not to write about that life so you won't have to deal with things like anguish over nail polish colors).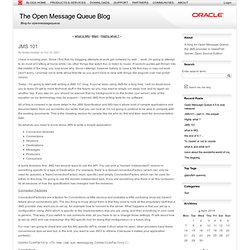 Bio-wise and otherwise
After almost my one month of work out on the MTB, it looks much easier for me, but at the same time what looks much difficult is to be outside every hour, every day during a time frame of 15days. What i think is harder than an average of 75km every step. It means i past the test of bike more than 40km with no problem during 2h. Moreover, i tested already the bike, i tested back-rear bags and the transported, with rain, water and wind. Nevertheless, i discover how it's harder to be outside all day from sun rise to sun set, not just biking but also walking, or just stay on watching or making a simple photo. It means, the most important thing on the way is not only health and strong sport condition but also strong of mind, like in a regular ultra marathon or so (100km).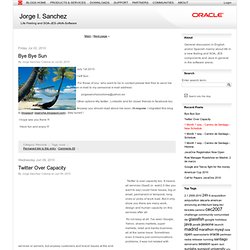 Jorge I. Sanchez
SOA BI Blogs
Thanks to Ajit Kamble , I just made small additions into his document :-). Feel free to visit his blog to find out about other complex topologies we try out for the open source portal from Sun Microsystem
siddesh kamath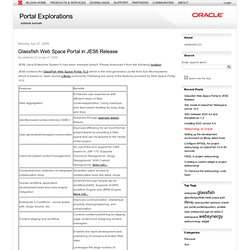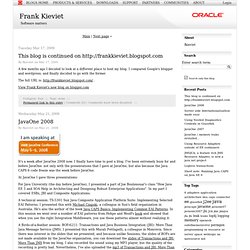 Introduction As a developer of a JCA Resource Adapter (RA) you're responsible for all aspects between the EIS and the EJB, including connection failures so that poisoned pools are avoided. Wait! Too many acronyms in one sentence?
Frank Kieviet : Weblog