Giulia
Jclic: download e installazione. Downloading and installation of JClic JClic is a Java application distributed through the WebStart technology.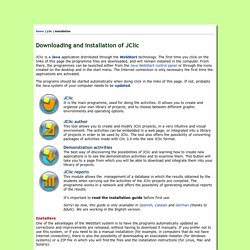 The first time you click on the links of this page the programme files are downloaded, and will remain installed in the computer. From there, the programmes can be launched either from the Java WebStart control panel or through the icons created on the desktop and in the start menu. The Internet connection is only necessary the first time the applications are activated.
The programs should be started automatically when doing click in the links of this page.
Matlet. Una raccolta scelta e assistita di programmini, denominati applets, da usare online.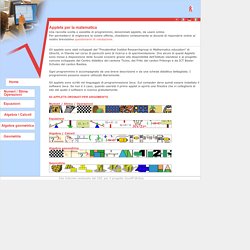 Per permetterci di migliorare la nostra offerta, chiediamo cortesemente ai docenti di rispondere online al nostro brevissimo questionario di valutazione. Gli applets sono stati sviluppati dal "Freudenthal Institut Researchgroup in Mathematics education" di Utrecht, in Olanda nel corso di parecchi anni di ricerca e di sperimentazione. Ora alcuni di questi Applets sono messi a disposizione delle Scuole svizzere grazie alla disponibilità dell'Istituto olandese e al progetto comune sviluppato dal Centro didattico del cantone Ticino, dal Fritic del canton Friborgo e da ICT Basler Schulen del canton Basilea. Ogni programmino è accompagnato da una breve descrizione e da una scheda didattica dettagliata.
---