Sftp
zFTPServer Suite - the best replacement for the built-in Windows. Cómo introducir la contraseña de un servidor FTP bajo IE. Cuando usted intenta iniciar sesión en un servidor FTP (File Transfer Protocol) usando una URL (Uniform Resource Locator) o una dirección Internet de la forma: ftp>/<url-ruta> Usted puede recibir uno de los siguientes mensajes de error: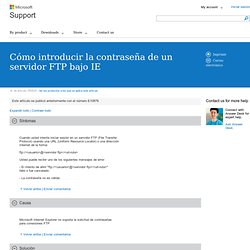 Free FTP client, secure file transfer software. Handy Backup Lite and Handy Backup 5.4 - shareware and free back. FTP on-line. Introducción. WinSCP es una aplicación de Software Libre.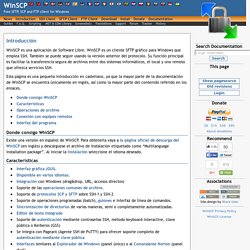 WinSCP es un cliente SFTP gráfico para Windows que emplea SSH. También se puede seguir usando la versión anterior del protocolo. Su función principal es facilitar la transferencia segura de archivos entre dos sistemas informáticos, el local y uno remoto que ofrezca servicios SSH. FreeSSHd. FreeSSHd, like it's name says, is a free implementation of an SSH server.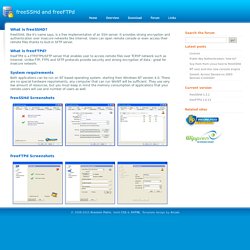 It provides strong encryption and authentication over insecure networks like Internet. Users can open remote console or even access their remote files thanks to buit-in SFTP server. FreeFTPd. Secure File transfer and automated website management, FTP clien. PuTTY Download Page. Home | Licence | FAQ | Docs | Download | Keys | LinksMirrors | Updates | Feedback | Changes | Wishlist | Team Here are the PuTTY files themselves: PuTTY (the Telnet and SSH client itself) PSCP (an SCP client, i.e. command-line secure file copy) PSFTP (an SFTP client, i.e. general file transfer sessions much like FTP) PuTTYtel (a Telnet-only client) Plink (a command-line interface to the PuTTY back ends) Pageant (an SSH authentication agent for PuTTY, PSCP, PSFTP, and Plink) PuTTYgen (an RSA and DSA key generation utility).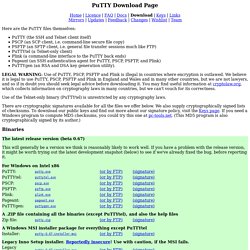 LEGAL WARNING: Use of PuTTY, PSCP, PSFTP and Plink is illegal in countries where encryption is outlawed. I believe it is legal to use PuTTY, PSCP, PSFTP and Plink in England and Wales and in many other countries, but I am not a lawyer and so if in doubt you should seek legal advice before downloading it. You may find this site useful (it's a survey of cryptography laws in many countries) but I can't vouch for its correctness. Cobian's site - The home of Cobian Backup. SmartFTP - Reviews and free downloads at Download.com.
---