Sftp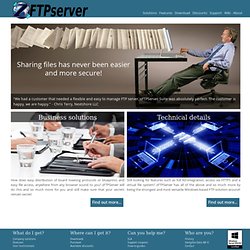 zFTPServer Suite - the best replacement for the built-in Windows
"zFTPServer has provided Hartz a rock solid, robust and cost effective FTP solution for the last 2 years. I would be glad to serve as a reference for your product." - Jim Tooker, The Hartz Mountain Corporation "We had a customer that needed a flexible and easy to manage FTP server, zFTPServer Suite was absolutely perfect. The customer is happy, we are happy." - Chris Terry, Nextshore LLC "zFTPServer has provided Hartz a rock solid, robust and cost effective FTP solution for the last 2 years. I would be glad to serve as a reference for your product." - Jim Tooker, The Hartz Mountain Corporation "We had a customer that needed a flexible and easy to manage FTP server, zFTPServer Suite was absolutely perfect. The customer is happy, we are happy." - Chris Terry, Nextshore LLC
Cuando usted intenta iniciar sesión en un servidor FTP (File Transfer Protocol) usando una URL (Uniform Resource Locator) o una dirección Internet de la forma: ftp://<usuario>@<servidor ftp>/<url-ruta> Usted puede recibir uno de los siguientes mensajes de error: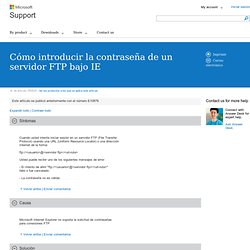 Cómo introducir la contraseña de un servidor FTP bajo IE
Free FTP client, secure file transfer software
Handy Backup is an easy-to-use backup program, with user-friendly interface designed for automatic backup and synchronizing of critical data. Handy Backup copies, saves and restores your files, accidentally lost through system errors, hardware failures, viruses, laptop theft etc. Handy Backup software is designed for Windows 2000/XP/Vista. Strong file encryption and zip compression, as well as many other useful features, will protect your data. Novosoft offers free and shareware versions of software for your choice, which differs from each other only in sets of features they provide.
Handy Backup Lite and Handy Backup 5.4 - shareware and free back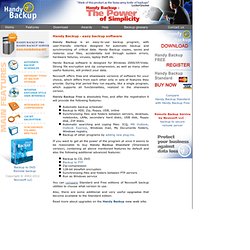 FTP on-line
Introducción
WinSCP es una aplicación de Software Libre. WinSCP es un cliente SFTP gráfico para Windows que emplea SSH. También se puede seguir usando la versión anterior del protocolo. Su función principal es facilitar la transferencia segura de archivos entre dos sistemas informáticos, el local y uno remoto que ofrezca servicios SSH.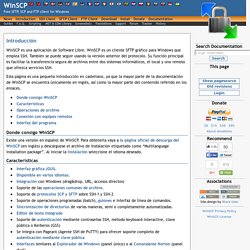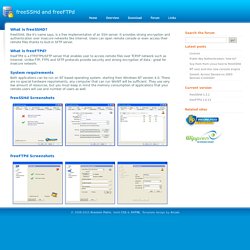 freeSSHd
freeSSHd, like it's name says, is a free implementation of an SSH server. It provides strong encryption and authentication over insecure networks like Internet. Users can open remote console or even access their remote files thanks to buit-in SFTP server.
freeFTPd
Secure File transfer and automated website management, FTP clien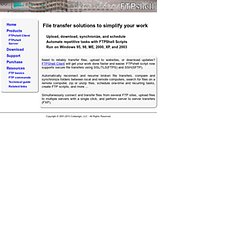 Need to reliably transfer files, upload to websites, or download updates? FTPShell Client will get your work done faster and easier. FTPshell script now supports secure file transfers using SSL/TLS(FTPS) and SSH(SFTP).
Home | Licence | FAQ | Docs | Download | Keys | LinksMirrors | Updates | Feedback | Changes | Wishlist | Team Here are the PuTTY files themselves: PuTTY (the Telnet and SSH client itself) PSCP (an SCP client, i.e. command-line secure file copy) PSFTP (an SFTP client, i.e. general file transfer sessions much like FTP) PuTTYtel (a Telnet-only client) Plink (a command-line interface to the PuTTY back ends) Pageant (an SSH authentication agent for PuTTY, PSCP, PSFTP, and Plink) PuTTYgen (an RSA and DSA key generation utility). LEGAL WARNING: Use of PuTTY, PSCP, PSFTP and Plink is illegal in countries where encryption is outlawed. I believe it is legal to use PuTTY, PSCP, PSFTP and Plink in England and Wales and in many other countries, but I am not a lawyer and so if in doubt you should seek legal advice before downloading it. You may find this site useful (it's a survey of cryptography laws in many countries) but I can't vouch for its correctness.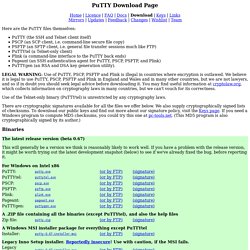 SmartFTP - Reviews and free downloads at Download.com