D4OLAP 4
script.aculo.us Reflector
ZK - Simply Rich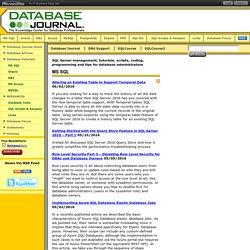 The new SQL Server 2014 "Memory Optimization Advisor" tool helps you quickly analyze tables to see how easy it is to migrate them to In-Memory OLTP tables.
Database Journal: Microsoft Sql Server Administration News, Arti
Website Promotion, Plans and Website Promotion Services by infoS
[ws] Color Scheme Generator 2
Protolize | Essential web tools in one place
TopStyle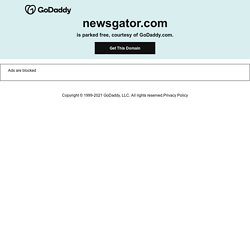 For many of us, NetNewsWire was the inspiration to quit our jobs, get serious about learning Objective-C, and go indie.
Latest Versions:
Style Master CSS Editor for Windows and Mac OS X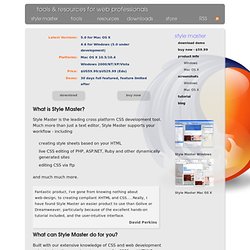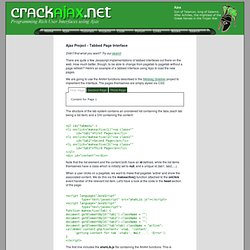 Ajax Project - Tabbed Page Interface Didn't find what you want?
Tutorials, demos and projects in Ajax (XMLHTTPRequest) Programmi
Seekbot
Esta especificación define el Lenguaje de Formato de Documentos para Hipertexto (HyperText Markup Language, HTML), el lenguaje de publicación de la World Wide Web. Esta especificación define HTML 4.01, que es una versión de HTML 4.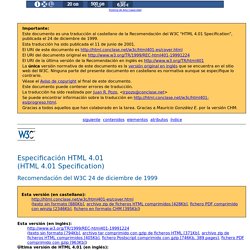 Especificación HTML 4.01
Search: ajax
Translations: be, da, de, es, hi, hr, is, ja, kr, pl, ru, sr-latin, sr-cyrillic, th, uk, vn, zh-hans, zh-hant W3C's Editor Amaya is a Web editor, i.e. a tool used to create and update documents directly on the Web.
Amaya Home Page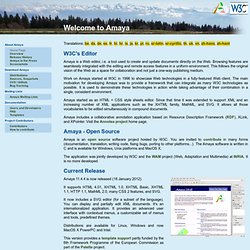 CSSED - Editor CSS
What is Joomla?
Webmaster's Color Lab
Este artículo es una guía básica sobre AJAX e incluye dos ejemplos. ¿Qué es AJAX? AJAX (JavaScript Asíncrono y XML) es un término nuevo para describir dos capacidades de los navegadores que han estado presentes por años, pero que habían sido ignoradas por muchos desarrolladores Web, hasta hace poco que surgieron aplicaciones como Gmail, Google suggest y Google Maps. Las dos capacidades en cuestión son: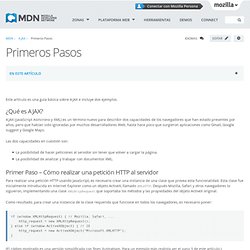 AJAX:Primeros Pasos - MDC
Hands-on AJAX Tutorial with AJAX Examples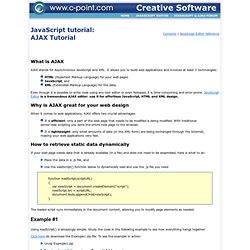 What is AJAX AJAX stands for Asynchronous JavaScript and XML.
¿Necesitas visitas? ¿No sabes como conseguirlas?
Alta en Buscadores Gratis, tu web en mas de 40 buscdores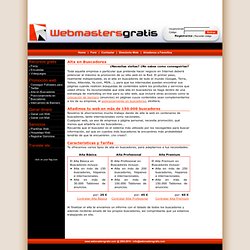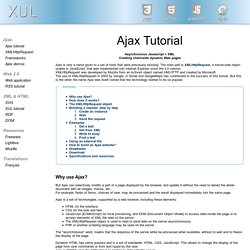 Asynchronous Javascript + XMLCreating client-side dynamic Web pages Ajax is only a name given to a set of tools that were previously existing.
Ajax & XmlHttpRequest
Getting Started with Ajax
A List Apart is pleased to present the following excerpt from Chapter 27 of Web Design in a Nutshell (O'Reilly Media, Inc., third edition, February 21, 2006). —Ed. The start of 2005 saw the rise of a relatively new technology, dubbed "Ajax" by Jesse James Garrett of Adaptive Path.
Adding "OpenInNewWindow" option to SharePoint Links li
Forward A very common question that pops up in the SharePoint newsgroups, list servers, and blogs surrounds the issue that the SharePoint Links Web Part doesn't provide the option to open new links in new widnows. Many people have come up with their own work-around solutions. Todd Bleeker has a good solution that involves using the Content Editor Web Part (CEWP) in his Dashboard Web Part series, but you have to add the CEWP to every single page.[2] Wouldn't it be nice if it was part of the solution OOTB on every new site you created? Of course!
Following these guidelines will help Google find, index, and rank your site. Even if you choose not to implement any of these suggestions, we strongly encourage you to pay very close attention to the "Quality Guidelines," which outline some of the illicit practices that may lead to a site being removed entirely from the Google index or otherwise impacted by an algorithmic or manual spam action. If a site has been affected by a spam action, it may no longer show up in results on Google.com or on any of Google's partner sites. When your site is ready: Submit it to Google at http://www.google.com/submityourcontent/. Submit a Sitemap using Google Webmaster Tools.
Web 2.0: la dimensión tecnológica (1)
NO HA HABIDO GRAN revolución en la web desde que reventó la burbuja y, sin embargo, somos cada vez más numerosos los que la utilizamos para una gama cada vez más abierta de actividades. Algo está pasando que no sabemos definir y que, por comodidad se bautizó Web 2.0, el último término de moda en la región de San Francisco. ¿De qué se trata? El primer paso para reunir elementos de respuesta consiste en visitar sitios muchas veces tratados en esta columna, sitios que ofrecen aplicaciones concebidas para funcionar en la web. Flickr.com, por ejemplo, permite a decenas de millones de gente almacenar fotos, compartirlas con otros y clasificarlas gracias a las etiquetas.
Search Engines and Frames
Venkman JavaScript Debugger project page
SQL Server Developer Center
Windows SharePoint Services Highlights
An Introduction to AJAX
Rushi's Ramblings » AJAX Resources for Beginners
Perfect Screen Ruler - you can find out the size of something on
Herramientas para medir espacios en la pantalla
Componentes de Visual Basic 2005 para el desarrollador que utili
Bitácora de Webmaster » Instalación de WAMP -BdW-
Portal informático - Como Habilitar la opción seguridad en Windo
Mix 06
Beta Experience – The pleasure of testing
Download details: SQL Server 2005 Samples and Sample Databases (
Such-A-Point : Sharepoint v.3 en el PDC'05
Office Assistance: Customizing a SharePoint site in your Web bro