DIY
Get flash to fully experience Pearltrees
After browsing page after page of Land~of~Nod and Pottery Barn Kids for years, I've decided to take the bull by the horns and make my own stuff! First on the list: One Seater Floor Cushion If you'd like to make your own, here's what you'll need: 1 yard Home Dec Fabric 2 pkgs . 1/2 " pre made piping Contrasting Thread 16-24oz. Fiberfill, depending on how lofty you want it I started first by drawing my own 17" diameter circle.
We really needed a new lamp, and we´ve planned to make one for months. This week we finally got around to it. It takes a bit of different materials, but it´s really easy when you´ve started. We recommend making it outdoors, as it gets quite messy.
I really love flokati rugs. I have two that are safely tucked away in my parents basement awaiting our reunion. When I learned that I would be having a child and building a nursery for him, I wanted a flokati. A gray one. Being a flokati snob though, I knew that I couldn't afford the price tag ( ), and I knew that I would be too precious about the rug ( ).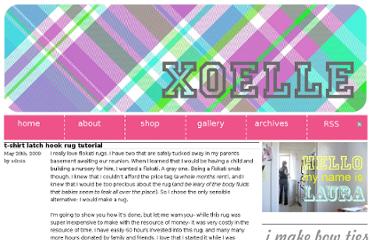 I've been wanting to make homemade playdough for awhile now and I finally did it!! I was surprised at how easy it was to make… Even for me! Pin It 1 cup flour 1 cup warm water 2 teaspoons cream of tarter 1 teaspoon oil 1/4 cup salt food coloring
Freebies downloaded from JustSomethingImade.com may be used in personal projects. They may also be used commercially as part of a design or craft for sale, or modified as such, but never to be resold as-is, (ie. digital collage, printables.) Exception: Any free downloads posted via CountryLiving.com, WorldLabel.com or SCJohnson.com will require permission from those parties for commercial re-use, but not for the original intended use as described in the post or article. Friendship Clip Art
As many of you requested, Marie is sharing a little tutorial here on how she made her lampshades. When she made them she was not planning on doing a tutorial for this blog, so be sure to thank her for taking the time to write all this out. Also, for those wondering…Kara will be sharing some tutorials for her book art on her blog soon. Marie is happy to do custom orders for those that prefer buying over making! * LAMPSHADE – Hobby Lobby carries self-adhesive shades & nightlights, Target has some smaller lamps for $19 that would be perfect for this project, I've found some lamps & shades on Craigslist. The simpler the shape of the lamp, the easier this project will be
When I bought something at a store recently, the clerk handed me my purchase in a bag made from a newspaper. I liked it very much and had to make some more—thus today's DIY recycled newspaper project: gift bags made from the Wall Street Journal. You can vary the dimensions, of course, but here's what I used to create a bag that's 5" tall, 4.5" wide, and 3" deep. Stack two sheets of newspaper on top of each other. This will be a two-ply bag for extra sturdiness.
I would imagine that most of you have recovered chair seats sometime during your decorating life, haven't you? If not, today is your day to learn how easy this project is. I have recovered my share of chair seats and it really is as easy as cutting fabric to fit and stapling. Nothing to it. An electric stapler works great but if you only have a regular one, that's fine too. This is the first step to changing out the fabrics in my kitchen and I'm excited to get this part done.