Databases
Roadmap Epigenomics Project - Data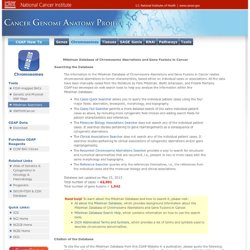 Mitelman Database of Chromosome Aberrations and Gene Fusions in Cancer Searching the Database The information in the Mitelman Database of Chromosome Aberrations and Gene Fusions in Cancer relates chromosomal aberrations to tumor characteristics, based either on individual cases or associations. All the data have been manually culled from the literature by Felix Mitelman, Bertil Johansson, and Fredrik Mertens. CGAP has developed six web search tools to help you analyze the information within the Mitelman Database: The Cases Quick Searcher allows you to query the individual patient cases using the four major fields: aberration, breakpoint, morphology, and topography. The Cases Full Searcher permits a more detailed search of the same individual patient cases as above, by including more cytogenetic field choices and adding search fields for patient characteristics and references.
Mitelman Database of Chromosome Aberrations and Gene Fusions in Cancer
KEGG Pathway Maps (Help)
Gene Regulation - BIOBASE Biological Databases
TRRD
RegulonDB Database
Diabetes file | The Human Genome
DBD Database of Biological Biinformatics Database Database of biological Databases Database of Bioinformatics Database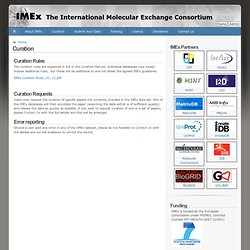 Curation Rules The curation rules are explained in full in the Curation Manual. Individual databases may locally impose additional rules, but these will be additional to and not break the agreed IMEx guidelines.
Curation | The International Molecular Exchange Consortium
Interactions Databases
Home | The International Molecular Exchange Consortium
IMEx data A non-redundant set of protein-protein interaction data from a broad taxonomic range of organisms Expertly curated from direct submissions or peer-reviewed journals to a consistent high standard. Available in standard formats MITAB or PSI-MI XML 2.5 Provided by a network of participating major public domain databases. Citing IMEx Orchard, S., et al.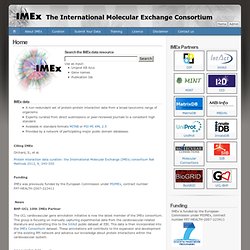 The Jena Protein-Protein Interaction Website (PPI): Databases
OSPREY: Network Visualization System
Today, Osprey version 1.2.0 was released to the public. This version is fully compatible with Mac OS X, RedHat Linux, and all version of Microsoft Windows Some changes implemented in this release include: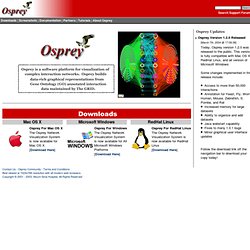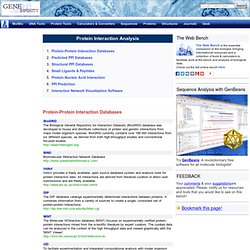 Protein-Protein Interaction Databases The Biological General Repository for Interaction Datasets (BioGRID) database was developed to house and distribute collections of protein and genetic interactions from major model organism species. BioGRID currently contains over 198 000 interactions from six different species, as derived from both high-throughput studies and conventional focused studies.
Protein Interaction Analysis
中国医学生物信息网-CMBI
The Brutlag Bioinformatics Group - Projects
The Galaxy Project: Online bioinformatics analysis for everyone
ADAN database
Pathguide: the pathway resource list
Protein Ontology
BiologicalNetworks
IntegromeDB officially becomes an NSF Scientific Gateway for Biomedical Search and Discoveries. BiologicalNetworks-IntegromeDB and BindingDB collaborate to develop advanced tools for systems pharmacology and collect data on the interactions of proteins with drug-like small molecules. IntegromeDB is now powering the Natural Products Database of UCSD. IntegromeDB's index reaches 1 Billion (biomedical resources links) milestone.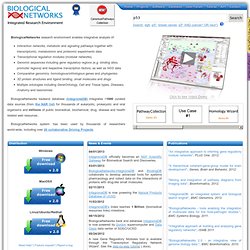 萬方數據知識服務平臺-論文檢索結果
dip.doe-mbi.ucla.edu/dip/Download.cgi
Various subsets of the DIP interaction data are available in a variety of formats: PSI-MI (versions 1.0 and 2.5), MITAB2.5 and our legacy XIN format. The sequences of the proteins participating in DIP interactions are provided in FASTA format. In addition, some more detailed information about the interactions of S.cerevisiae proteins are also provided in the form of tab-delimited files.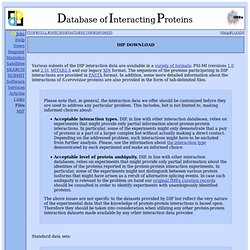 The NCBI C++ Toolkit Book - NCBI Bookshelf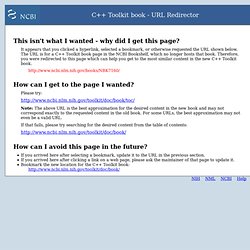 This isn't what I wanted - why did I get this page? It appears that you clicked a hyperlink, selected a bookmark, or otherwise requested the URL shown below. The URL is for a C++ Toolkit book page in the NCBI Bookshelf, which no longer hosts that book.
Sign in to NCBI Help Literature PubMed: scientific & medical abstracts/citations PubMed Central: full-text journal articles