Writing
What a great time to be fishing in the mountains of Colorado! On a beautiful fall weekend three of my fpur sons, their "significant others" and my wife and I went on a weekend trip to Basalt Colorado where we fished the frying pan and took in the local scenery. Our group was as follows: My wife Marcia and I, son Mike and his wife Diana, son Justin and his girl friend Katie, and son Erik and his girl friend Kara. On Saturday morning we...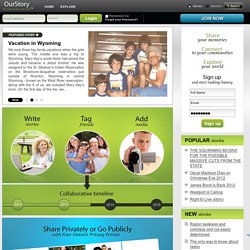 ZenWriter
Writing for a blog, no matter how techy the site, requires you sit down on your computer and churn out those few hundred words for half an hour. Some people can do this quite easily, but sometimes you just need a little help to focus. There are a whole bunch of writing programs out there that help you get in the zone. They may not have the full features of Word, but the idea is that you type the bulk of the content in these programmes and then transfer to Word for better formatting.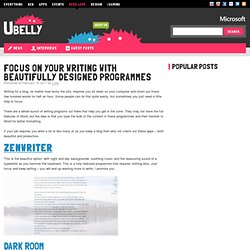 Underbelly Focus on your writing with beautifully designed programmes » Underbelly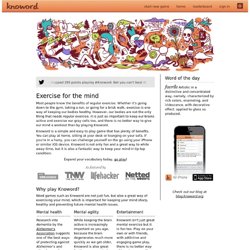 @liamonpie : @sighkian go to sleep thts what im gna do or u can read larry smut http://t.co/i8rYfjwVNn or play this its addictive http://t.co/2ZWzzO9V03 Most people know the benefits of regular exercise. Whether it's going down to the gym, taking a run, or going for a brisk walk, exercise is one way of keeping our bodies healthy. However, our bodies are not the only thing that needs regular exercise. It is just as important to keep our brains active and exercise our gray cells too, and there is no better way to give our mind a workout than by playing Knoword.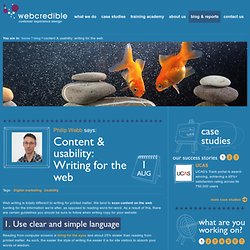 Web writing is totally different to writing for printed matter. We tend to scan content on the web hunting for the information we're after, as opposed to reading word-for-word. As a result of this, there are certain guidelines you should be sure to follow when writing copy for your website: 1. Use clear and simple language