Visual Basic 6.0
import os import sys import ctypes from ctypes import wintypes import win32con import time import datetime import winsound byref = ctypes. byref user32 = ctypes. windll . user32 def handle_win_f3 ( ) : os . startfile ( os . environ [ 'TEMP' ] )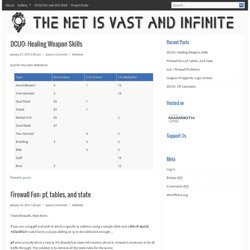 project-2501.net
vbAccelerator.com - Advanced VB, C# and VB.NET Source Code and Controls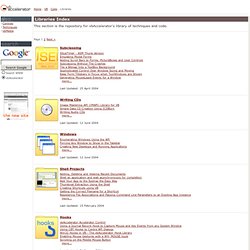 Index of Libraries
The CRC (Cyclic Redundancy Checksum) algorithm is a highly optimised and powerful way of checking whether a large number of bytes have been modified or not. The algorithm scans through all the bytes and generates a 32 bit number to represent the contents - small changes in the file contents result in large changes in the check sum, and there is a very low chance that two different streams of bytes will have the same CRC. This article provides a high performance class for generating a WinZip compatible CRC32 checksum in VB.
Index of Type Libraries
Karl E. Peterson's Classic VB Code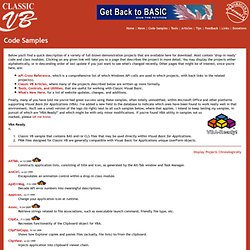 Below you'll find a quick description of a variety of full-blown demonstration projects that are available here for download.
Visual Basic 6.0
Visual Basic 6.0 Resource Center
UI Standards - Command Buttons
Is this the right control?
Visual Basic 6.0 Resource Center
For customers working with 2GB or more of data, Microsoft Office 2010 is now available in a 64-bit version.
Compatibility Between the 32-bit and 64-bit Versions of Office 2010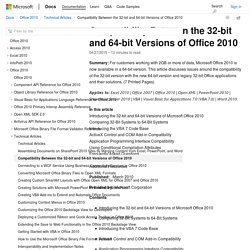 Windows Development (Windows)
Visual Basic 6.0 Resources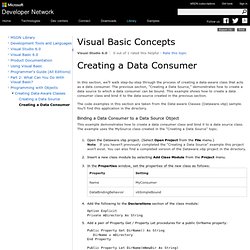 Creating a Data Consumer
In this section, we'll walk step-by-step through the process of creating a data-aware class that acts as a data consumer. The previous section, "Creating a Data Source," demonstrates how to create a data source to which a data consumer can be bound. This example shows how to create a data consumer class and bind it to the data source created in the previous section.
Visual Basic 6 (VB6) Data Types, Modules and Operators
Visual Basic uses building blocks such as Variables, Data Types, Procedures, Functions and Control Structures in its programming environment. This section concentrates on the programming fundamentals of Visual Basic with the blocks specified. Modules Code in Visual Basic is stored in the form of modules. The three kind of modules are Form Modules, Standard Modules and Class Modules.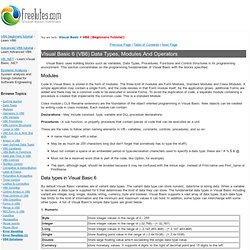 How to make a transparent form in VB 6.0 - Software Development
Translucent/Transparent Windows in VB (1) Definitions
Creating Translucent/Transparent Windows in VB (1) - CodeGuru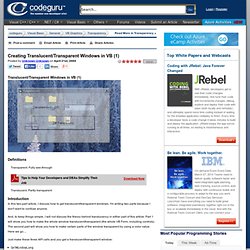 VB6 - Making a form transparent
A program in VB6 or Visual Basic 6 can be used to make a form transparent in VB6 . Some knowledge of programming concepts and languages like Visual Basic is required, to write programs in VB6.