Open Source
Open source software is software that can be freely used, changed, and shared (in modified or unmodified form) by anyone. Open source software is made by many people, and distributed under licenses that comply with the Open Source Definition. The Open Source Initiative (OSI) is a global non-profit that supports and promotes the open source movement. Among other things, we maintain the Open Source Definition, and a list of licenses that comply with that definition.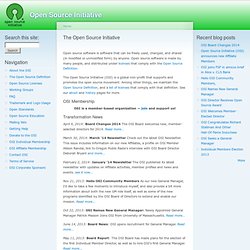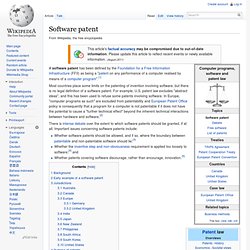 A software patent has been defined by the Foundation for a Free Information Infrastructure (FFII) as being a "patent on any performance of a computer realised by means of a computer program".[1] Most countries place some limits on the patenting of invention involving software, but there is no legal definition of a software patent. For example, U.S. patent law excludes "abstract ideas", and this has been used to refuse some patents involving software. In Europe, "computer programs as such" are excluded from patentability and European Patent Office policy is consequently that a program for a computer is not patentable if it does not have the potential to cause a "further technical effect" beyond the inherent technical interactions between hardware and software.[2]
Software patent
The Software Patent Institute (SPI) is a nonprofit corporation formed to provide prior art related to software technology with the intention of improving the patent process. We strive to aggregate hard-to-access software data which is not readily available online or in electronic form elsewhere. Our source documents include computer manuals, older textbooks, journal articles, conference proceedings, computer science theses, and other such materials which may contain valuable prior art.
Software Patent Institute - SPI.org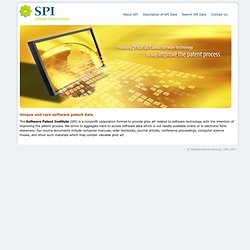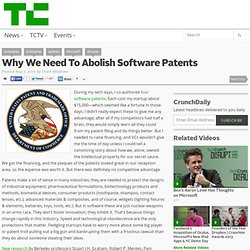 During my tech days, I co-authored four software patents. Each cost my startup about $15,000—which seemed like a fortune in those days. I didn't really expect these to give me any advantage; after all if my competitors had half a brain, they would simply learn all they could from my patent filing and do things better. But I needed to raise financing, and VCs wouldn't give me the time of day unless I could tell a convincing story about how we, alone, owned the intellectual property for our secret sauce.
Why We Need To Abolish Software Patents
Executive summary: BitLaw and the rest of the Interent contains a great deal of information on the patenting of computer software. This topical index provides one-stop shopping for learning about software patents.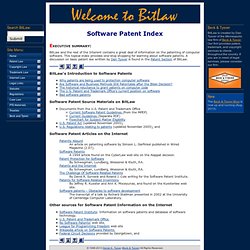 Software Patent Index
If you would like to keep up with news and announcements from the foundation and all its projects, you can subscribe to the Apache Announcements List or follow the Foundation Blog. Highest performing "NoSQL" distributed Big Data database in use at hundreds of organizations including Adobe, CERN, Comcast, Disney, eBay, GE, GitHub, GoDaddy, HP, Hulu, IBM, Instagram, Intuit, Netflix, Plaxo, Polyvore, Sony, and The Weather Channel Forest Hill, MD –08 April 2014– The Apache Software Foundation (ASF), the all-volunteer developers, stewards,... Open Source collaborative software development platform in use at DARPA, DLR German Aerospace Center, Open Source Projects Europe, and SourceForge, among others, to manage source code repositories, bug reports, discussions, wiki pages, blogs and more Forest Hill, MD –01 April 2014– The Apache Software Foundation (ASF), the all-volunteer developers, stewards, and...