Mad Scientist
Drunk scientists pour wine on superconductors and make an incredible discovery. Levitating frog. Magnetic levitation. Magnetic levitation, maglev, or magnetic suspension is a method by which an object is suspended with no support other than magnetic fields.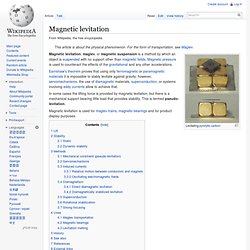 Magnetic pressure is used to counteract the effects of the gravitational and any other accelerations. Earnshaw's theorem proves that using only ferromagnetic or paramagnetic materials it is impossible to stably levitate against gravity; however, servomechanisms, the use of diamagnetic materials, superconduction, or systems involving eddy currents allow to achieve that. In some cases the lifting force is provided by magnetic levitation, but there is a mechanical support bearing little load that provides stability. This is termed pseudo-levitation.
Magnetic levitation is used for maglev trains, magnetic bearings and for product display purposes. Anders Mad Scientist Page. This page is dedicated to all Seekers of Truth, regardless of how warped the truth may be.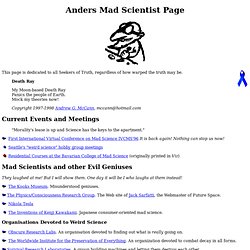 Death Ray My Moon-based Death Ray Panics the people of Earth. Mock my theories now! Copyright 1997-1998 Andrew G.
---