HTML
Asteroids
Iso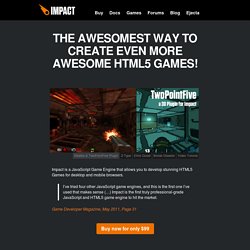 Impact is a JavaScript Game Engine that allows you to develop stunning HTML5 Games for desktop and mobile browsers. I've tried four other JavaScript game engines, and this is the first one I've used that makes sense (…) Impact is the first truly professional-grade JavaScript and HTML5 game engine to hit the market. Game Developer Magazine, May 2011, Page 31 Buy now for only $99 Play Everywhere Impact runs on all HTML5 capable browsers: Firefox, Chrome, Safari, Opera and (behold) even Internet Explorer 9.
Play Drop!
Bindings Overload
Technical Debt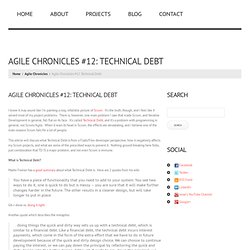 This article will discuss what Technical Debt is from a Flash/Flex developer perspective, how it negatively affects my Scrum projects, and what are some of the prescribed ways to prevent it. Nothing ground breaking here folks, just corroboration that TD IS a major problem, and not even Scrum is immune. What is Technical Debt? Martin Fowler has a good summary about what Technical Debt is.
Integers are Your Friends
Two weeks ago Bruce and I released JSGameBench version 0.1. Today marks the release of version 0.2, a much faster and cleaner version. We continue to learn both from tightening the code and from the strong HTML5 community.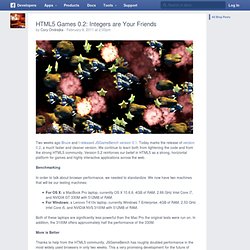 Elevator Action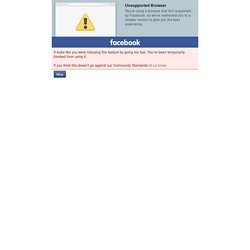 Speed, it seems to me, provides the one genuinely modern pleasure. Aldous Huxley, 1949 Bruce Rogers and I graduated from Facebook's Engineering Bootcamp in January and began researching how HTML5 could apply to games across the Web. We found HTML5 poised to become a potent platform for game development but still hampered by significant performance variance among browsers and drawing techniques.
Speedy Sprites
Loading... Made by Evan Wallace This demo requires a decent graphics card and up-to-date drivers. If you can't run the demo, you can still see it on YouTube. Interactions: Draw on the water to make ripples Drag the background to rotate the camera Press SPACEBAR to pause and unpause Drag the sphere to move it around Press the L key to set the light direction Press the G key to toggle gravity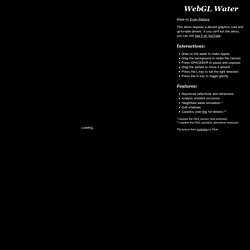 Browsers performance
Caveats I continually abuse 2 terms below, Backlog and Sprint. Sprints don't have to be 2 weeks, but for the sake of simplicity, I assume they are. Also, Backlogs contain user stories, not requirements or features. However, I assume for the sake of this article your features are already formed into user stories.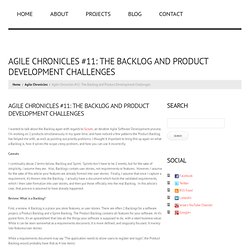 The Backlog
1h keynote
Two weeks ago, Cory, Conor and I released version 0.2 of JSGameBench with increased performance and more refined recommendations. Today, with the release of version 0.3, we get our first taste of the future of high performance web applications: WebGL. The Glorious Future, Here Now
WebGL : the future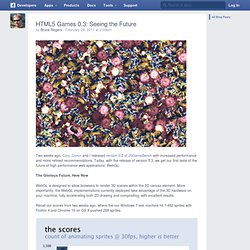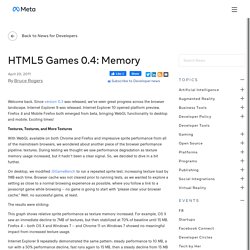 Welcome back. Since version 0.3 was released, we've seen great progress across the browser landscape. Internet Explorer 9 was released. Internet Explorer 10 opened platform preview. Firefox 4 and Mobile Firefox both emerged from beta, bringing WebGL functionality to desktop and mobile. Exciting times!
Memory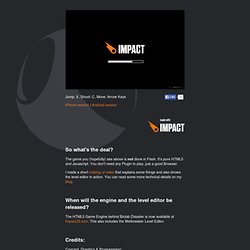 Jump: X, Shoot: C, Move: Arrow Keys iPhone version / Android version The game you (hopefully) see above is not done in Flash. It's pure HTML5 and Javascript. You don't need any Plugin to play, just a good Browser.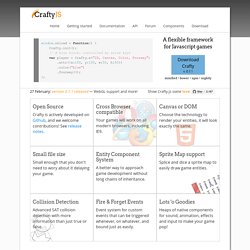 Show Crafty.js some love: Cross Browser compatible Your games will work on all modern browsers; even IE9! Canvas or DOM