Future Science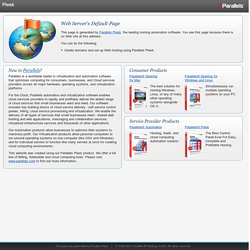 The World Market for Nanocoatings The general coating industry has declined but specialized coating surface engineering sectors are witnessing strong growth driven by the needs of high-end industries, such as oil and gas and electronics. Nanocoatings are opening up new market opportunities in the global coatings arena. Properties such as anti-microbialism, thermal insulation, dirt and water repellency, hardness, corrosion resistance, flame retardancy, UV stability, anti-graffiti, self-cleaning, moisture absorbing, gloss retention and chemical and mechanical properties are improved significantly using nanostructured materials.
We come from the future.
Putting your hand in the Large Hadron Collider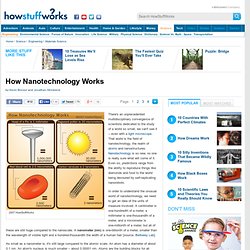 There's an unprecedented multidisciplinary convergence of scientists dedicated to the study of a world so small, we can't see it -- even with a light microscope. That world is the field of nanotechnology, the realm of atoms and nanostructures. Nanotechnology i­s so new, no one is really sure what will come of it.
All futurism is speculation. It's time someone made some claims. I've picked developments I honestly consider plausible. Here are my 11 predictions for the world of 2030. I'm backing these claims up with previous writings. To access the relevant article, just click the title of each point.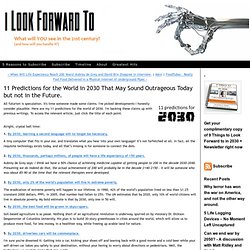 11 Predictions for the World in 2030 That May Sound Outrageous Today but not in the Future. - I Look Forward To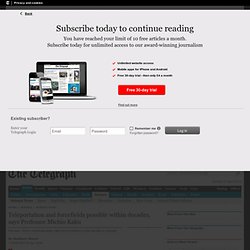 Teleportation, telepathy, forcefields and invisibility are Class 1 impossibilities, meaning they are likely to be realisable within a few decades or at most a century. Class II impossibilities may take centuries or millennia to perfect, while Class III impossibilities are truly impossible. Class 1
Wired 12.05: NextFest: The Shape of Things to Come
Fasten your seat belts: The long-awaited future of travel gets real. It's always been just over the horizon: a world of flying cars, levitating trains, personal helicopters. Now it's here. Almost. Around the globe, engineers and dreamers have been building fantastical - if sometimes impractical - ways of just saying go. Consider Guy Negre's zero-emission car that goes 100 miles on a tank of air.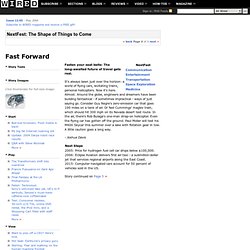 Anders Main Page This is the main page of Anders Sandberg's little corner of the Net. Andart My blog: essays on various matters.
Anders Main Page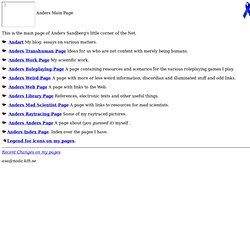 Lindsay France/University Photography Hod Lipson, assistant professor of mechanical and aerospace engineering, right, and engineering graduate student Evan Malone work with a Fab@Home machine in the Computational Synthesis Lab in Upson Hall Feb. 22. On the stage is a Lego tire duplicated by the Fab@Home.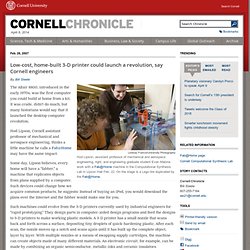 Welcome to the future! Below, you will find a speculative timeline of future history. Part fact and part fiction, the timeline is based on detailed research that includes analysis of current trends, long-term environmental changes, advances in technology such as Moore's Law, future medical breakthroughs, the evolving geopolitical landscape and more. Where possible, references have been provided to support the predictions. We also have a blog covering the latest news and breakthroughs. FutureTimeline is an ongoing, collaborative project that is open for discussion – we welcome ideas from scientists, futurists, inventors, writers and anyone else interested in future trends.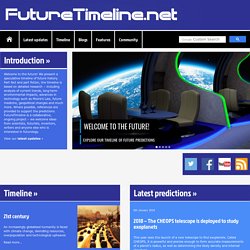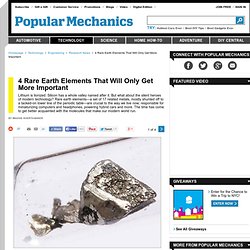 Sir William Crookes, a 19th century British chemist, once wrote that, "rare earth elements perplex us in our researches, baffle us in our speculations and haunt us in our very dreams." These weren't easy elements to isolate or to understand, and so there was a very long lag time between the discovery of the rare earths, and the discovery of practical uses for them. It didn't help that individual rare earth elements don't occur by their lonesome—they travel in packs. To get one, you have to mine all of them.