Goldman sachs
Rags to riches: Goldman Sachs' Sidney Weinberg
Sidney Weinberg was born in 1891, one of eleven children of Pincus Weinberg, a struggling Polish-born liquor wholesaler and bootlegger in Brooklyn. Sidney was short, a "Kewpie doll," as the New Yorker writer E. J.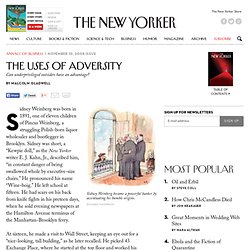 To put the problem in the simplest terms, the interests of the client continue to be sidelined in the way the firm operates and thinks about making money. Goldman Sachs is one of the world's largest and most important investment banks and it is too integral to global finance to continue to act this way. The firm has veered so far from the place I joined right out of college that I can no longer in good conscience say that I identify with what it stands for.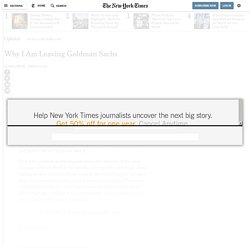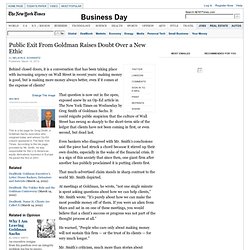 Public Exit From Goldman Raises Doubt Over a New Ethic
That question is now out in the open, exposed anew by an Op-Ed article in The New York Times on Wednesday by Greg Smith of Goldman Sachs. It could reignite public suspicion that the culture of Wall Street has swung so sharply to the short-term side of the ledger that clients have not been coming in first, or even second, but dead last. Even bankers who disagreed with Mr. Smith's conclusions said the piece had struck a chord because it stirred up their own doubts, especially in the wake of the financial crisis.
William Cohan - The Daily Show with Jon Stewart - 04/28
Exclusive - William Cohan Extended Interview Pt. 1 - The Daily Show with Jon Stewart - 04/28
Exclusive - William Cohan Extended Interview Pt. 2 - The Daily Show with Jon Stewart - 04/28
1929_Sidney%20J.%20Weinberg,%20October%2029,%201929