Data vis tools
Review April 20, 2011 06:00 AM ET Computerworld - You may not think you've got much in common with an investigative journalist or an academic medical researcher. But if you're trying to extract useful information from an ever-increasing inflow of data, you'll likely find visualization useful -- whether it's to show patterns or trends with graphics instead of mountains of text, or to try to explain complex issues to a nontechnical audience. Want to see all the tools at once? For quick reference, check out our chart listing all the tools profiled here.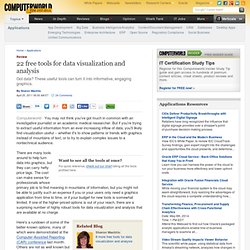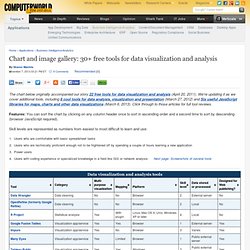 November 7, 2013 03:21 PM ET The chart below originally accompanied our story 22 free tools for data visualization and analysis (April 20, 2011). We're updating it as we cover additional tools, including 8 cool tools for data analysis, visualization and presentation (March 27, 2012) and Six useful JavaScript libraries for maps, charts and other data visualizations (March 6, 2013). Click through to those articles for full tool reviews.
Image gallery: 22 free tools for data visualization and analysis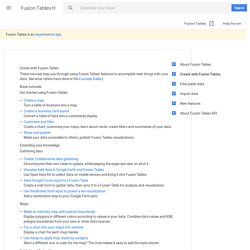 These tutorials step you through using Fusion Tables' features to accomplish neat things with your data. See what others have done in the Example Gallery. Basic tutorials Get started using Fusion Tables: Create a map Turn a table of locations into a map.