Site
The 14th of july challenge is very simple : Organize a miniatures parade (in the garden, on the kitchen table, on your bed, wherever you want whith whatever miniatures you want to use) and take a picture. And on the 14th of July 2012, publish the picture on your blog, and leave a comment on this very post to anounce it. All links will be posted together on Figgybloggy so everyone can have a look at everyone.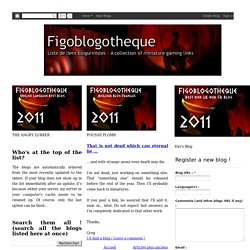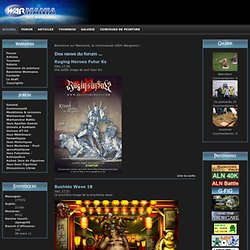 La 9ème édition des JFJ (Journées Figurines & Jeux) se déroulera les Samedi 8 et Dimanche 9 Mars à Sartrouville (78), dans le gymnase situé avenue Carnot. Démonstrations de jeux, animations, ventes de décors, jeux et figurines, concours de peinture, tournois, ludothèque éphémère, bring and buy… Le succès de cette manifestation n'est plus à démontrer, avec une moyenne de près de 700 participants depuis plus de trois ans. Pour cette neuvième édition, nous réalisons comme toujours une figurine exclusive (inspiration infirmière de bataille cette année) sculptée par Florent Kristner et David Rossbachs, sur un concept de Gtfkrou.
Warmania - 100% Wargames
Le coin des blogurinistes
LA TOILE D'UN POUSSEUR DE FIGURINES (3126)
Je n'ai pas entendu siffler le train décembre 8th, 2012 Ma seconde partie de la campagne Old West du club a été brève et catastrophique ! Je devais essayer de monter dans le train qui était gardé par la cavalerie US d'Eric.
Blog figurines et Jeux de rôles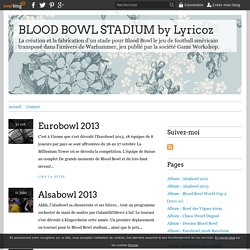 BLOOD BOWL STADIUM by Lyricoz
Jeudi 31 octobre 2013 4 31 /10 /Oct /2013 14:07 C'est à Vienne que s'est déroulé l'Eurobowl 2013. 18 équipes de 8 joueurs par pays se sont affrontées du 26 au 27 octobre La Millenium Tower où se déroula la compétition.
Figurines