Lesbian Goings On
Gay. Gay Rights. Women's Rights. Human Rights. The Lesbian Herstory Archives. Henrietta Hudson. GO Magazine - the cultural roadmap for the city girl. Events & Happenings in New York City!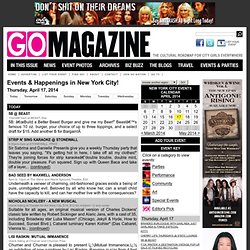 Thursday, April 17, 2014 10pm–2am at BEAST, free 5B: "Build a Better Beast Burger and give me my Beer! " Beast's famous 10 oz. burger, your choice of up to three toppings, and a select draft for $15. Add another B for Bargain! SheWired.com - The World's Fastest Growing Site for Women Gay, Straight and In-between. Online Dating - Connect with Singles - Go on Awesome Dates | HowAboutWe. The Pink Elephant – An online magazine for and by lesbians. OurScene TV - Life/Style TV for the Lesbian, Gay, Bisexual and Transgender Community. Grace The Spot - Lesbian entertainment, culture and humor. Pink News - News, reviews and comment from Europe's largest gay news service.
Welcome To Pinke.biz. Curve Magazine - Lesbian Dating & Personals, Gay-Friendly Travel, Celebrities, Queer Culture. Lesbian Travel Guide / Home Girlports. Lesbiatopia. Ten Classic Books Every Lesbian Should Read - Curve Magazine - Web Articles 2009. Kate Lacey Rubyfruit Jungle by Rita Mae Brown (1973)Brown broke new ground with her lesbian love story, and in doing so, gave permission to many girls to put aside their JuicyFruit gum to embrace the rubyfruit within.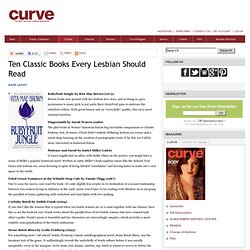 With great humor and an "everydyke" quality, this 1973 novel remains timeless. Fingersmith by Sarah Waters (1980)The plot twists in Waters' historical fiction beg inevitable comparisons to Charles Dickens, but, of course, Chuck didn't include titillating lesbian sex scenes and a sweat shop focusing on the creation of pornographic texts. If he did, we'd all be more interested in historical fiction. Patience and Sarah by Isabel Miller (1969)If Laura Ingalls had an affair with Nellie Olsen on the prairie, you might have a sense of Miller's popular historical novel. Lesbian Resort in Bethlehem, New Hampshire: The Highlands Inn: Vacation Paradise for Women. Effing Dykes. The Lesbian Lifestyle.
---