Lesbian Goings On
Gay Rights
Women's Rights
Human Rights
Welcome to the Lesbian Herstory Archives The Lesbian Herstory Archives is home to the world's largest collection of materials by and about lesbians and their communities. Please read our History as well as our Mission and Statement of Purpose to learn more. We are located at 484 14th St. in Park Slope, Brooklyn, between 8th Avenue and Prospect Park West. You can visit the Archives anytime we're open, to browse through photographs or files, read a book, watch a video, listen to a CD or LP, do research or to volunteer.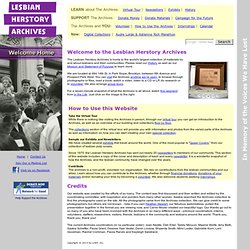 The Lesbian Herstory Archives
Henrietta Hudson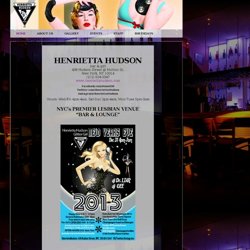 NYC's PREMIER LESBIAN VENUE ~~ "BAR & LOUNGE" Serving the lesbian community as a cultural meeting place for 18 years! #1 lesbian bar, Best "Pick- Up" spot, BEST MUSIC! Henrietta Hudson – 7 days 7 nights, hook ups, singles nites, bodyshots, friends, lovers, ambience, music, video bar, extra bathrooms, handicap accessibility, 2 full bars, outdoor smoking lounge and SIDEWALK CAFE~ spring, summer & fall.
GO Magazine - the cultural roadmap for the city girl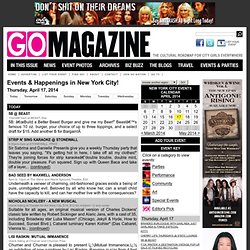 Events & Happenings in New York City! Thursday, April 17, 2014 10pm–2am at BEAST, free 5B: "Build a Better Beast Burger and give me my Beer!" Beast's famous 10 oz. burger, your choice of up to three toppings, and a select draft for $15. Add another B for Bargain!
SheWired.com - The World's Fastest Growing Site for Women Gay, Straight and In-between
Online Dating - Connect with Singles - Go on Awesome Dates | HowAboutWe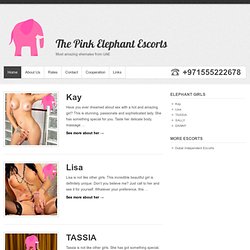 The Pink Elephant – An online magazine for and by lesbians
Kay Have you ever dreamed about sex with a hot and amazing girl? This is stunning, passionate and sophisticated lady. She has something special for you. Taste her delicate body, massage … See more about her → Lisa
OurScene TV - Life/Style TV for the Lesbian, Gay, Bisexual and Transgender Community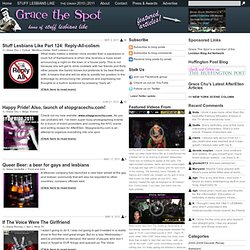 By Grace Chu in Blogs Seeking Simone is a web series that follows Simone Selkin's bumbling attempts to date her way through Toronto, and the first episode of the second season recently premiered. Judging from the sheer insanity in her encounters with Toronto's finest ladies, I'm concerned about New York City's proximity to Toronto. I wonder if winds from the northwest could blow the cuckoo into the Big Apple like winds blew volcanic ash all over Europe from the Icelandic volcano last year.
Grace The Spot - Lesbian entertainment, culture and humor
Pink News - News, reviews and comment from Europe's largest gay news service
Welcome To Pinke.biz
The Life Of Someone Who's Always Been Single And How It Works: ''The Life Of Someone Who's Always Been Single And How It Works'' references personal experiences from coming out by asking Google for a gay quiz, having a roller-coaster type of relationship with a girlfriend, dating straight girls with no attachments and finally ''dating'', and the real meaning of the word, all tied up by friends in couples pressuring singles like me to be in a relationship.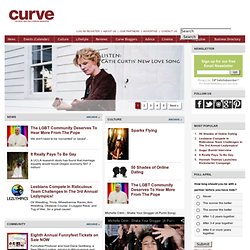 Curve Magazine - Lesbian Dating & Personals, Gay-Friendly Travel, Celebrities, Queer Culture
Lesbian Travel Guide / Home Girlports
No comments by Cynthia Rodriguez We do not know how to communicate anymore. Communication has become a lost artform.
Lesbiatopia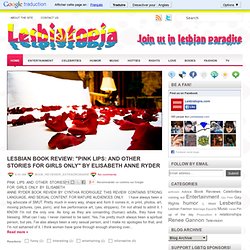 Kate Lacey Rubyfruit Jungle by Rita Mae Brown (1973)Brown broke new ground with her lesbian love story, and in doing so, gave permission to many girls to put aside their JuicyFruit gum to embrace the rubyfruit within. With great humor and an "everydyke" quality, this 1973 novel remains timeless. Fingersmith by Sarah Waters (1980)The plot twists in Waters' historical fiction beg inevitable comparisons to Charles Dickens, but, of course, Chuck didn't include titillating lesbian sex scenes and a sweat shop focusing on the creation of pornographic texts. If he did, we'd all be more interested in historical fiction. Patience and Sarah by Isabel Miller (1969)If Laura Ingalls had an affair with Nellie Olsen on the prairie, you might have a sense of Miller's popular historical novel.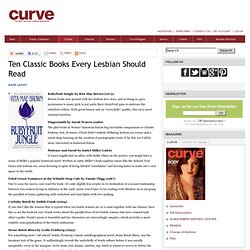 Ten Classic Books Every Lesbian Should Read - Curve Magazine - Web Articles 2009
Lesbian Resort in Bethlehem, New Hampshire: The Highlands Inn: Vacation Paradise for Women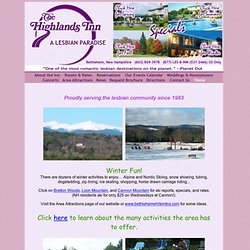 The Highlands Inn is a lesbian institution. Every lesbian should visit this community of womyn travellers at least once, ...in every season. Be part of our herstory and add the Highlands Inn to your list.
Hiya box-shockers! Welp, it had to happen sometime. After five years of writing this mess without ever taking more than a couple months off, Effing Dykes is going on holiday for awhile.
Effing Dykes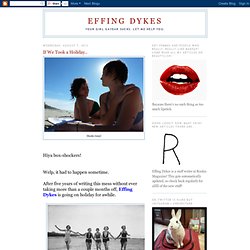 The Lesbian Lifestyle