Videos para ve otra vez
Sugar rune chapter two. Sandalias con liston. Pantuflas+Llavero Hello Kitty 2/2 (Cómo Hacer Pantuflas) Mis Ideas Recicladas. Bisujet 5 Como hacer un llavero. PULSERAS COLLARES Y DEMAS.avi. ElectroStyle : Vertigo Tecktonik. 2NE1 Park Bom Look. Broadcast Yourself. Canal de marioraja. Welcome to YouTube!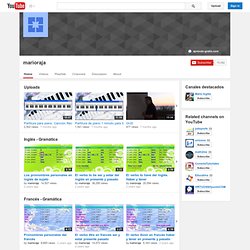 The location filter shows you popular videos from the selected country or region on lists like Most Viewed and in search results.To change your location filter, please use the links in the footer at the bottom of the page. Click "OK" to accept this setting, or click "Cancel" to set your location filter to "Worldwide". Lee Sun Hee - Fox Rain [Eng. Sub] AleaJactaProduccion's Channel. Wong Fu Secret Agents. Canal de AleaJactaProduccion. Fahrenheit Uptown girl sub español.
---