Windows
tumblRipper]
"Toolwiz Time Freeze Manual" - Toolwiz Time Freeze user video feedback. "Toolwiz Time Freeze Manual" - Toolwiz Time Freeze user video feedback. "Time Freeze has a simple interface for starting and stopping its main features as well as adding files to the File Protection feature (Time Freeze warns not to include Windows system files) and enabling password protection or changing your password." –CNET Editors' Review Read the full review at: ToolWiz Time Freeze-CNET Editors' review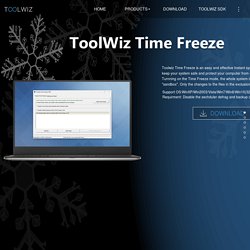 Time Freeze
CrystalDiskInfo Portable
disk health monitoring CrystalDiskInfo monitors HDD/SSD health status and temperature, and does all the usual monitoring/graphing of S.M.A.R.T. information. It also tells you how many times the hard disk has been turned on and how many hours it's been on for. Version 6.1.10 for Windows, Multilingual 2MB download / 5MB installed (Details)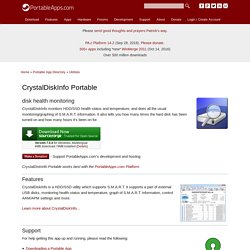 JeS Updater
Do you have to many windows to organize even with your multi-monitor setup? No worries! With JeS Multi-Monitor Suite you can create an unlimited number of Virtual Desktops to organize large collections of windows. Those Virtual Desktops are used to separate collections of windows and easily switch between them using the Virtual Desktop switch menu (see also the images). Continue reading JeS Multi-Monitor Suite 1.0.0.4 Beta is now available for download!
SpaceSniffer is a freeWare (donations are welcome) and portable tool application that lets you understand how folders and files are structured on your disks. By using a Treemap visualization layout, you have immediate perception of where big folders and files are placed on your devices. Treemap concept was invented by Prof. Ben Shneiderman, who kindly permitted the use of his concept into this tool. Start a scan process and see the overall situation. Bigger are the elements on the view, bigger are folders and files on your disk.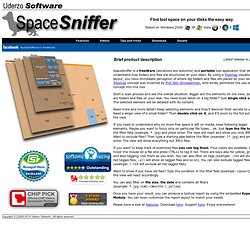 SpaceSniffer
Eye On Network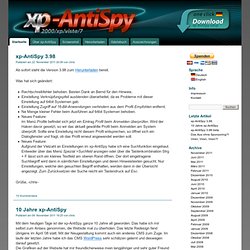 xp-AntiSpy
Hallo,in letzter Zeit bekomme Ich wieder des öfteren Mails in denen darauf hingewiesen wird, das sich ein Virus im xp-AntiSpy befände. Es passiert immer mal wieder das Virenscanner anschlagen obwohl sich kein Virus in dem untersuchten Programm befindet. Sogar wichtige Bestandteile des Betriesssystems werden manches mal für verdächtig gehalten und gesperrt oder im schlimmsten Fall gelöscht. Das sind im allgemeinen so genannte 'False Positives', also Falscherkennungen des jeweiligen Virenscanners.
foobar2000 is an advanced freeware audio player for the Windows platform. Latest news New releases: foobar2000 v1.3 final and foobar2000 v1.3.1 beta 1.
foobar2000
Nonstandard Web Browser It appears that your browser does not comply with the W3C web standards which define how web pages are encoded, transmitted, and rendered. This site would look much better in a standards-compliant web browser, but its content is accessible to any browser or Internet device. WinSCP 5.5 released Published: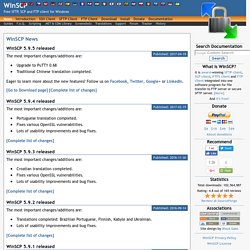 WinSCP
Thanks for your interest in getting updates from us. To use this site, you must be running Microsoft Internet Explorer 5 or later. To upgrade to the latest version of the browser, go to the Internet Explorer Downloads website. If you prefer to use a different web browser, you can obtain updates from the Microsoft Download Center or you can stay up to date with the latest critical and security updates by using Automatic Updates. To turn on Automatic Updates: Click Start, and then click Control Panel.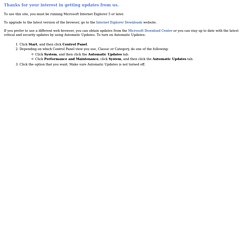 Windows Update
IrfanView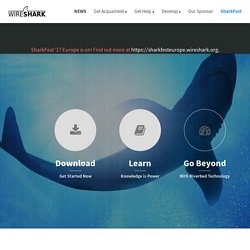 Wireshark
Riverbed is Wireshark's primary sponsor and provides our funding. They also make great products. Free 30 day trial Save hours on network and application issue diagnosesMonitor physical and virtual environmentsGUI packet capture and analysisFully integrated with Wireshark
Virus Effect Remover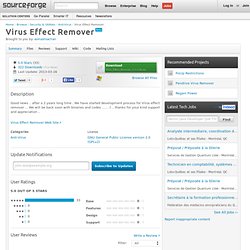 ★ 4.5 Stars (162) 321 Downloads (This Week) Last Update: Download Virus_Effect_Remover_3.2.2.26.zip Browse All Files Windows
* Memtest86+ V4.10 (04/05/2010) * Download - Memtest86+ V4.10 source code (.tar.gz) - 263.1 KB * Memtest86+ V4.00 (22/09/2009) * Download - Memtest86+ V4.00 source code (.tar.gz) - 263.1 KB * Memtest86+ V2.11 (22/12/2008) *
Memtest86+
Virtualdub
What is VirtualDub? VirtualDub is a video capture/processing utility for 32-bit and 64-bit Windows platforms (98/ME/NT4/2000/XP/Vista/7), licensed under the GNU General Public License (GPL). It lacks the editing power of a general-purpose editor such as Adobe Premiere, but is streamlined for fast linear operations over video. It has batch-processing capabilities for processing large numbers of files and can be extended with third-party video filters.
µTorrent
Notebook Hardware Control
What is Notebook Hardware Control (NHC) With Notebook Hardware Control you can easily control the hardware components of your Notebook Notebook Hardware Control helps you to:- control the hardware and system power management- customize the notebook (open source ACPI Control System)- prolong the battery lifetime- cool down the system and reduce power consumption- monitor the hardware to avoid system failure- make your notebook quietEasy to use, friendly program surface and for free NHC isn't only very powerful; it has a friendly program surface, it's easy to use and free for private use. A large number of users appreciate these advantages and NHC becomes one of the leading programs to control the power and hardware of modern notebooks. NHC Professional Edition
UMPlayer
Advanced yet Simple to use UMPlayer comes packed with dozens of advanced features, such as skinnable interface, built-in subtitles search, audio / subtitles sync, enhanced filter rendering and YouTube™ player / recorder, yet has a simple and intuitive user interface that was designed for ease of use. Cross-Platform UMPlayer is written under the Qt platform and is available for Microsoft Windows, Apple Mac OS/X, and GNU/Linux opertaing systems.
Trad-fr
PC Tools Firewall Plus
Spybot
SuperCopier
Glary Utilities
SpaceMonger
Screen2Avi
Hard Drive Eraser
Radio Sure
PuTTY: a free telnet/ssh client
Ping Tunnel
Ophcrack
Ninite
Notepad++
Nokia Ovi Suite
Net Tools
MozBackup
MediaCUB
mandolux
K-Lite Codec Pack
Hitachi HDD tools
Hotspot Shield
Giveaway of the Day in French
The Freenet Project - /index
Defraggler
DeepBurner
Baseline Security Analyzer (for IT Professionals)
WinDirStat
Disk Inventory X
Contig v1.54