Surveillance d'un site web en "dur"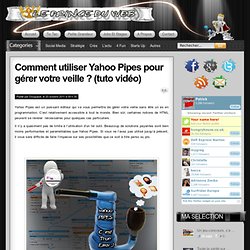 Yahoo Pipes est un puissant éditeur qui va vous permettre de gérer votre veille sans être un as en programmation. C'est relativement accessible à tout le monde. Bien sûr, certaines notions de HTML peuvent se révéler nécessaires pour quelques cas particuliers. Il n'y a quasiment pas de limite à l'utilisation d'un tel outil.
Voici l'article que j'ai publié dans l'ebook « Regards croisés sur la veille ». N'hésitez pas à commenter, critiquer et à me donner vos usages qui permettraient de compléter la méthode que je vous présente. N'oubliez pas que si Yahoo Pipes est la colonne vertébrale, le flux RSS est le système nerveux, l'idée est donc de couvrir l'ensemble du cycle de la veille avec ce format. Les outils ne l'intégrant ou ne pouvant le générer sont automatiquement écartés dans une optique de plateforme unique :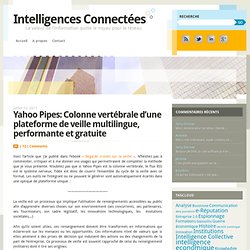 WebSite-Watcher - Software to check websites for updates and changes (web page monitoring) by sirchamallow Sep 6
NotiPage
NotiPage - Web Pages Monitoring Software by sirchamallow Sep 6
NotiPage - Free software downloads and software reviews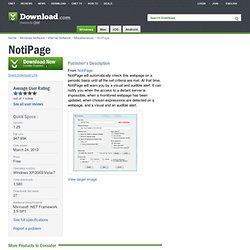 CNET TechTracker will now automatically install software without requiring further action by you. (Note: This feature automatically accepts associated EULAs and third party applications on your behalf.) You have selected the following software to Smart Install: CNET TechTracker will attempt to install this software without interrupting you again. If an application requires manual installation, CNET TechTracker will download the installer and prompt you to take further action.